Attendees at the recently concluded Inland Marine Expo in St. Louis heard encouraging news about system-wide freight investments in the gateway port of New Orleans, as well as recent infrastructure investments in Midwest ports. Both panels were hosted by Mary Lamie, executive director of St. Louis Regional Freightway and executive vice president of Multi-Modal Enterprises. 
In the first panel, Brandy Christian, president and CEO of the Port of New Orleans, gave an update on work at the $1.5 billon Louisiana International Terminal container facility site being developed in St. Bernard Parish, a 1,200-acre site with a 50-foot draft and berthing. The St. Bernard site was the only high-and-dry site during Hurricane Ida, as it benefitted from the Corps of Engineers' 100-year-flood protection measures put in after Hurricane Katrina. The port is wrapping up permitting on the site and completing final design, she said. Louisiana's governor is signing a bill establishing a $50 million fund for truck routes at the port. 
Container Developments
The Port of New Orleans hosts 60 industrial real estate leases and can move up to 600,000 twenty-foot-equivalent units (TEUs). New Orleans is the sixth busiest cruise port in North America, handling 1.3 million passengers. "We are very happy we diversified," said Christian, who noted that since the $140 million investment in the Napoleon Avenue Container Terminal, about 50 percent of port business is now containers. Four gantry cranes imported from China are being put together now and will be up and running by July.  The Port of New Orleans is now the biggest container-on-barge facility after the Port of Virginia, she said. 
As container vessels get larger, the question is how much container traffic from the coasts can be picked up by the Gulf Coasts, Christian said. New Orleans is a net exporter of containers due to trade imbalances, and even saw some recent declines in total container volume as carriers have emphasized containerized imports rather than moving empties. Some carriers have dropped New Orleans from their ports of call as they get behind in their European and Asian ports of call. "Export ports are struggling," she said. "We've had great success on the export side."  Importers are looking at New Orleans as they face wait times of seven to nine days on the East and West coasts. "Retailers are looking to the Gulf," and this is where rail connections become important. 
Sign up for Waterway Journal's weekly newsletter.
Our weekly newsletter delivers the latest inland marine news straight to your inbox including breaking news, our exclusive columns and much more.
New Orleans offers a number of advantages, including vessel berthing on arrival, Christian said. "We have a tremendous relationship with the International Longshoreman's Association," she noted. 
The port of New Orleans also saw an 80 percent growth in break-bulk cargoes over the past year.  About 60 percent of bulk cargoes at the docks arrive by barge, although if rubber is excluded the figure is more like 80 percent, she said. About 28,000 TEUs are moved by barge.
Christian spoke of how Louisiana is working with refineries on alternative fuels.  "The Mississippi River could be a gateway for green alternatives," she said. Although the Port of Houston is the heart of the Energy Coast, Christian said 90 percent of its traffic is for local consumption. 
Pittsburgh Progress
Scott Harshman, marketing program manager of the Port of Pittsburgh (speaking for May Ann Bucci, executive director of the Port of Pittsburgh Commission, who was unable to attend), began by wryly noting several high-profile incidents drawing unwelcome attention to infrastructure needs in the Pittsburgh area—including a sinkhole collapse that engulfed a school bus on the eve of a visit by President Joe Biden. That wound up being a major trending news story on social media and took a year to fix, but it helped communicate urgency about Pittsburgh's infrastructure needs. 
The Pittsburgh area includes 17 locks and dams and more than 130 terminals along 200 miles of navigable rivers. In 2018, the Port of Pittsburgh moved 21.6 million tons of freight worth $2.5 billion. Bulk products led the way, with coal still important despite the closure of many coal plants. The nearby Marcellus Shale has ensured that oil, gas and chemicals are top cargoes, along with coke, cement and aggregates. The Shell cracker plant in Monaca in Beaver County, a $6 billion investment that will bring in 8,000 jobs, would not have been possible without low-cost water transport, he said. 
The Lower Monongahela River lock and dam replacement project, which has been authorized for 30 years, should be completed by 2024. The aging Emsworth Locks and Dam creates the Pittsburgh pool, and several of its major components remain at risk of failure. Emsworth received $77 million in funding in the Infrastructure Investment and Jobs Act.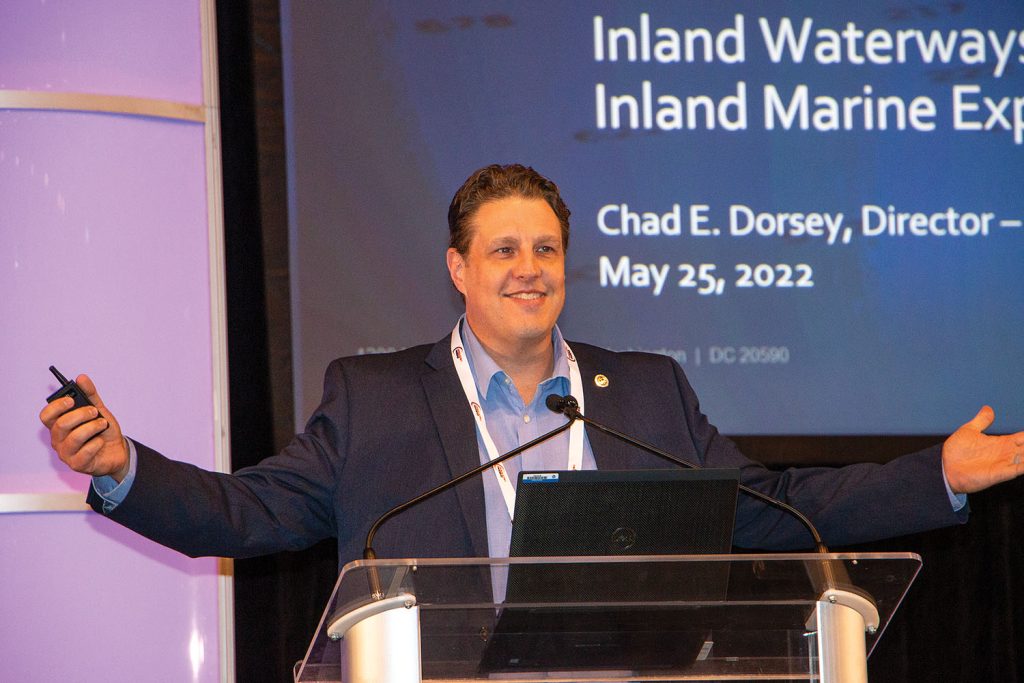 USDOT Grants
Chad Dorsey, director of the Inland Waterways Gateway at the U.S. Department of Transportation, discussed the several grant programs for which ports are eligible. These include the $1.5 billion Rebuilding American Infrastructure with Sustainability and Equity (RAISE) program (formerly known as BUILD), established under Infrastructure Investment and Jobs Act (IIJA). The INFRA program (known statutorily as the Nationally Significant Multimodal Freight & Highway Projects) awards competitive grants for multimodal freight and highway projects of national or regional significance to improve the safety, efficiency and reliability of the movement of freight and people in and across rural and urban areas.
An especially significant program for ports is the Port Infrastructure Development Grant program administered by the Maritime Administration. Congress provided first-year funds of $293 million for the program in the FY2019 Consolidated Appropriations Act, and continued funding the program at $225 million in FY2020 and $230 million in FY2021. For FY2022, the IIJA appropriated $450 million to the PIDP. Dorsey displayed a map of port and waterways grant recipients from the U.S. Department of Transportation website. There are also grants for designated Marine Highways, a group that keeps expanding.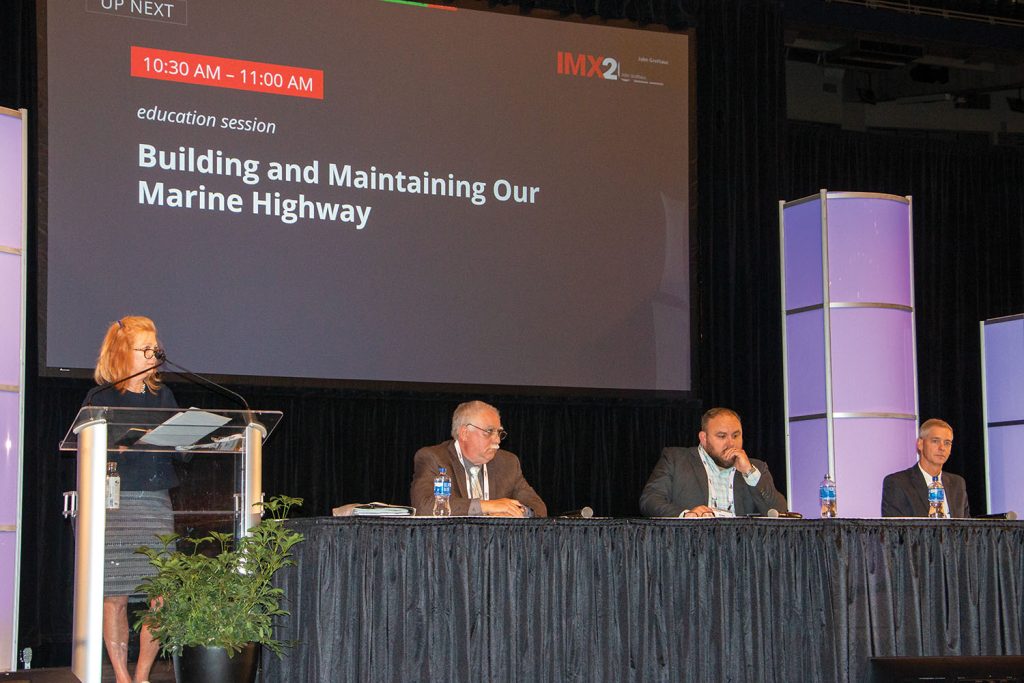 Midwest Port Investments
The second panel featured Mark Coulter, vice president and general counsel of Port KC, who has been with the Kansas City Ports for 11 years. Coulter described how a PIDP grant for the port was leveraged by being used for planning to attract private investment. A market study by consulting firm KPMG showed that the Kansas City port's future was as a distribution center. This period has seen $26 billion in private construction in downtown Kansas City and on its waterfront, including construction of the first purpose-built women's soccer stadium. The port is developing an intermodal terminal.
Jon Grothaus, program manager for Missouri River studies at the Kansas City Engineer District, joined the panel remotely. He provided updates on the Lower Missouri River Bank Feasibility Study. The Missouri River, said Grothaus, is a self-scouring river maintained by dikes and revetments. The Kansas City Engineer district has done tremendous work repairing them after the widespread damage of the 2019 floods, but some are still being repaired.  "The river has changed since the last time it was studied," said Grothaus, thanks in part to the $200 million plus that has been spent on its channel and banks since 2019.
Dennis Wilmsmeyer, executive director of America's Central Port, located in southwest Illinois near St. Louis, detailed recent projects at the port, including new roads allowing the port to move trucks further away from warehouses. A new road will be completed this summer, including a sixth entrance to the port complex. The port recently completed two new rail tracks to the Granite City harbor to facilitate grain loading. 
Wilmsmeyer's port lies within the American Bottoms, a low-lying area that recently had to repair its levees that were decertified by the Federal Emergency Management Administration. "FEMA told us our levees didn't exist anymore," said Wilmsmeyer. So three counties in southern Illinois worked together with the state legislature to pass sales tax increases to pay for new levees so that businesses could continue to have access to flood insurance. This past April, the region received its letter of accreditation from FEMA certifying a 100-year standard of protection for its 65 miles of levees. 
Ed Weilbacher, general manager at the Kaskaskia Regional Port District, which operates several terminals on Illinois' Kaskaskia River, touted the district's growth and recent accomplishments. "We are the only entity that is allowed to develop in the riverfront," Weilbacher said. The river has doubled its tonnage over the past 10 years, and now moves 1.5 million tons of cargo a year with gypsum, fly ash, steel and grain being the main cargoes. With the help of grants from the Illinois Department of Transportation totaling $2.7 million, a second rail loop has been installed on the Kaskaskia River Port District rail line, along with gates and signals for two rail crossings.   
In response to questions from the floor, both Weilbacher and Wilmsmeyer said the secret to successful grantsmanship is cooperation. Weilbacher noted that the Kaskaskia stakeholders have been cited by the Corps as a model for other groups to emulate for their three-way partnership with the Corps and the Illinois Department of Natural Resources.
"We can no longer stand to have containers stand off the coast at Long Beach," Weilbacher said. "We can no longer afford undersized facilities and equipment."