Ports Of Indiana CEO Draws On Multimodal Background
Although Vanta E. Coda II became CEO of the Ports of Indiana four years ago, his background includes more than 25 years of marine and multimodal experience on both the Great Lakes and the inland river system.
Coda said he views himself as a logistician and a transportation person first and foremost. He notes that he has worked across various transportation modes on both blue and brown water, with projects taking him across the globe. He has also spent time managing rail and trucking operations.
"For me it's the entirety," he said. "What I tell this group and other groups I have been in is all modes matter. I really think of it as being involved across the system."
Multimodal Background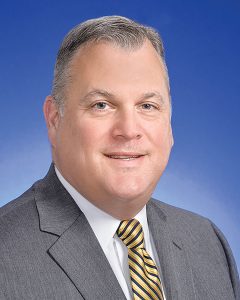 Some of Coda's first experiences with the maritime industry came in Owensboro, Ky., where his father ran a coal terminal. He attended the University of Kentucky, where he studied history and political science and then started a graduate program in historic preservation.
Sign up for Waterway Journal's weekly newsletter.
Our weekly newsletter delivers the latest inland marine news straight to your inbox including breaking news, our exclusive columns and much more.
He decided to change directions after realizing that rather than independent research and study, he preferred a career where he would be interacting with people. Reading his father's copy of Journal of Commerce got him thinking about logistics.
"When I decided that I wanted to pursue a career, I went through and thought about the people that my dad worked with, some of his peers."
He said he liked the fact that they were down to earth and relatable.
"There's not a lot of ego in our industry," Coda said. "You're only as good as your last day."
He decided the industry suited his personality.
"That's what attracted me to the business," he said. "I did not come to logistics naturally or with the idea that I was going to be like my father, but that's where I ended up."
Coda asked his father if he knew anyone outside of himself that he could talk to about logistics.
"I'm not going to ask any of your friends for a job," he said he told him. "I just want to know what they do."
Coda's first job in the business was with the Illinois Central Railroad as an assistant market manager doing pricing and tariff work. From there, he got into sales and management. Sometimes he refers to himself as a "reformed railroader."
He worked his way up to become the director of marketing and sales following the IC's merger with the CN railroad.
As he had a key role in CN's strategic planning for chemical transport, the Westlake Group of Companies hired him in 2000 to work for its vinyl subsidiary in Calvert City, Ky.
"I got to parlay my rail experience into working with the inland water system and working with my dad's terminal system," he said. He said in those early days he figured, "If I get stuck, I can always ask Dad."
Five years later, American Commercial Lines (now American Commercial Barge Line) recruited him to be director of regional sales for the Gulf region, managing an international portfolio that included expansion of its project cargo business and the company's first wind generation movement. Coda also served as director of fuel transportation for Dynegy Inc. and director of global logistics for Nabors Industries.
He was hired as executive director of the Duluth Port Authority in 2013. There he led the completion of $24 million in infrastructure renewal projects, opened the CN Duluth Intermodal Terminal and launched the Duluth Cargo Connect initiative.
He came to the Ports of Indiana in 2018 as CEO.
Priorities
In thinking about his priorities as CEO for the Ports of Indiana, Coda recalled that his predecessor had challenged him while he was on the way out and Coda was on the way in.
"He said 'Listen, Vanta, if I come back in five years and this is the same organization, you've failed."
In thinking about that advice, he said, he is driven to do all he can to bring about better economic opportunities for the state through both expansions at the port while constantly being in search of how the port can do its work both faster and better.
The port system currently has an $8.2 million annual economic impact, but Coda said he would like to see that grow exponentially.
"You can't accomplish any of this without good people," he said. "We want to concentrate on keeping and bringing in people of like mind who care about the infrastructure and its development and its leveraging via the private sector for the benefit of the state."
One thing Coda likes about working for the Ports of Indiana is that he doesn't have to think in terms of quarter to quarter as he would with a publicly traded company, he said.
"Here we get the luxury of thinking in 50-year increments," he said. "What I challenge my team to do is to think in those terms. What's next? What's on the horizon? Sure, we have short-term things we need to complete, but ultimately what we need to do is to build for the next 50 years so with the work that we do they can look at that and say thank goodness somebody did that."
Coda said he is excited about all the progress at the Ports of Indiana so far and all the work left to do.
While the Jeffersonville port recently finished construction of projects related to a TIGER grant, the Burns Harbor port still has about 18 months left to go on a FASTLANE grant project and a PDAP grant, and Jeffersonville is working on Marine Highway project designations.
"Currently we are in the process of three federal grants, and hopefully we can go out and win some more for our shareholders, which are the people of Indiana," Coda said.
Outside of work, Coda stays busy with his family. He is married, and he and his wife have three sons, ages 21, 17 and 11. They enjoy youth sports and participating in the Boy Scouts.