Q&A With Joe Starck, President Of The Great Lakes Towing Company
Joe Starck is president of The Great Lakes Towing Company, a role he has held since January 2014. The Great Lakes Towing Company, commonly called "the Towing Company" across the Great Lakes region, operates the largest fleet of tugboats on the U.S. Great Lakes-Saint Lawrence Seaway. The Great Lakes Group of Companies also includes Great Lakes Shipyard, Plotz Machine and Sarter Marine Towing. The Waterways Journal recently interviewed Starck to learn more about his company, industry on the Great Lakes-Saint Lawrence Seaway, and issues facing ports and operators along the "fourth coast" of the United States.
WJ: How would you describe your company to an individual or group who wasn't already familiar with it?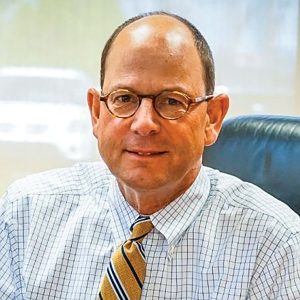 JS: The towing company is the largest U.S.-flag tugboat operation on the Great Lakes, with 36 tugs stationed in 13 ports, servicing more than 40 U.S. ports and harbors between Duluth, Minn., and Buffalo, N.Y. The company is the primary supplier of ship-assist and harbor towing services on the U.S. side of the Lakes, including nearly all of the U.S.- and Canadian-flag domestic fleets ("Lakers") and the visiting foreign-flag ships ("Salties") that navigate the Great Lakes. The operation also includes tug and barge marine transportation services for project moves.
The company also operates a full-service shipyard in Cleveland, Ohio, doing business as Great Lakes Shipyard. The yard is an operating division of the company, providing critical repair and maintenance services to the fleet as well as a multitude of government and commercial vessels. At the center of this operation is our 820-metric-ton Marine Travelift. Most workboats, including science vessels, dinner boats, tugs and barges, utilize Great Lakes Shipyard for their drydocking and repair services. The yard also provides dockside repairs to many of its customers on an as-needed basis.
The company recently acquired Plotz Machine, a nearby machine shop specializing in repairs and reconditioning of shafts, bearings, pumps and motors. It's a job-shop that the shipyard (and our fleet) has relied on for years. When the owners were getting ready to retire, we worked out a deal to make sure the shop didn't get into the wrong hands and that the talented employees would continue to provide us with their expert skills, including exceptional inside and outside machinist services.
WJ: How has your past professional experience shaped and informed you in your role as president?
JS: After graduating from New York Maritime in 1990, I went to sea on a 25,000 DWT MSC tanker. That was a good experience, but it really wasn't what I wanted to do long-term. Fortunately for me, I met Ron Rasmus, and he offered me a job. When I started in 1991, I was assigned to the shipyard, providing engineering and estimating support to Joe White, who was the shipyard GM at the time. After about 18 months in that job, the towing company purchased a shipyard in Pensacola, Fla. We had six tugs under an MSC time charter contract to the Naval station there. When the local yard, Runyan Shipyard, became available, we thought it made sense to acquire it. I spent about three years there and was exposed to all kinds of government work. When I returned to Cleveland, we were entering a stage of new-build programs. I was given the opportunity to manage those contracts and act as owner's rep in the yards, one at Halter-Lockport, La., and the other at Marco Shipyard in Seattle. The new Z-Class tugs were designed by Jensen Maritime, and I worked closely with Jonathan Parrott, who taught me all kinds of new things about Z-drives and ASD tugs at a time when ASDs were the "state-of-the-art" in the industry. Those five new tugs were completed in 1999. The three that were built by Marco went on a long-term MSC time charter to the Navy at Pearl Harbor, which became another fantastic experience for me. In the meantime, around 1997, I was sent on an expedition, traveling all over the country to find a couple good tugs for a new harbor towing operation we started in San Juan, Puerto Rico. I met all kinds of great people in the industry during those days.
Then, in the early 2000s back in Cleveland, the yard started getting into new construction itself. It started out as a way to keep our ABS-certified welders fully employed when there wasn't enough repair work to keep them busy. That turned into a full-scale operation that produced more than a hundred truckable/sectional products between 2002 and 2008.
In 2006, the company decided to redevelop its shipyard and build new shops and facilities to handle plans for growth of the shipyard business. We knocked down the existing five buildings and erected a new high-bay fab shop and an office building where we relocated to from downtown Cleveland in the fall of 2006. The redevelopment continued, adding 1,500 feet of new bulkheading, a lift well for a new 700-metric-ton Marine Travelift, an assembly building, as well as other office spaces for yard management. And the yard continues to expand to the west, adding more engineered fill for boat drydocking space. We can now have about 15 tugs and/or barges out of the water simultaneously. We've upgraded to the 820-metric-ton Travelift, added more weight-handling gear and acquired the machine shop. It's a far cry from the one-boat-at-a-time, 250-ton drydock operation we had when I started over 30 years ago!
There's been a lot of water under the bridge over the years: operations, engineering, chartering, new builds, government contracting, business acquisitions, expansions, facility development, and so on and so on. … Those experiences prepared me well for the role I'm in today. I'm just trying to keep the ball rolling here. It's a juggling act. But we find that as long as we keep moving, and changing with the times, we can maintain our resilience and keep the company in business for another 120 years.
WJ: What does Great Lakes Towing see in terms of international transport (between the United States and Canada) versus U.S. only? What are some unique issues related to operating on the Great Lakes?
JS: The Great Lakes-St. Lawrence Seaway System is composed of both foreign and domestic trades. Domestic trade (between U.S. and Canadian ports) includes aggregates, such as iron ore and limestone, used for steel making; coal for power plants to generate electricity; deicing salt used on the countries' roadways; as well as sand, cement and other stone used for construction. Foreign trade primarily consists of two cargoes; imported finished steel from Europe into ports like Cleveland, Detroit, Milwaukee and Chicago/Burns Harbor, used for the automotive and household industries; and exports of grain back to Europe from ports like Duluth, Thunder Bay and Toledo.
The towing company is not involved directly with the movement of the cargoes themselves of course, rather the vessels that utilize our services are, so it is important for us to watch and understand these cargo markets for forecasting our towing business. For example, the increased infrastructure spending these last few years has had a positive impact on our domestic business as more construction product is moved. The foreign trade can be a little more complex, as both the steel and grain markets often must align in order for a voyage from Europe into the Lakes to make sense. It is very rare to see a vessel come into or depart the St. Lawrence Seaway System in ballast, so we keep an eye on trends in both markets in trying to forecast that business.
WJ: What are some shipyard trends you're seeing? How does owning/operating your own shipyard give you a strategic advantage? How are current market conditions impacting your shipyard operations?
JS: The shipyard business is almost impossible to predict. Some years, we are swamped with government work. Other years it's all commercial. Lately, we're seeing a surge in commercial tugs, primarily being driven by the new U.S. Coast Guard Subchapter M regulations. This really isn't "new" business, but it should add some frequency to the tugboat maintenance and repair segment. I can say that operating our own yard has its benefits. When we have an urgent repair issue, we can always address the problem quickly and efficiently. In fact, I really don't see how the company could have survived all these years without its own yard. It can be very powerful and a huge competitive advantage.
WJ: What vessel construction projects do you currently have underway?
JS: The new tug construction program is moving into the final phase of our 10-tug Damen 1907 ICE Series. We are about to complete the seventh hull. It will go into service later the summer. We ordered engines for Hull Nos. 8, 9 and 10 last fall. And we just ordered steel for Hull No. 8. Construction on the stern module of that tug will start as soon as Hull No. 7 is out of the way.
The biggest problem we see is finding ways to fund construction of the boats without passing the complete cost of recapitalizing the fleet on to our customers. It's not an easy task. We also don't want to risk overburdening the company with debt. We've had some support from the EPA, but we'll need a lot more if we are to replace our legacy fleet of G-tugs, which are powered by World War II-vintage diesels. These are antiques, and the cost of maintenance and repairs on these tugs and engines is becoming irrational. We have every intention of completing the 10-tug Damen new builds within the next two or three years. Then, by that time, we foresee design and development of all-electric tugs reaching a stage that will make economic sense for our operation.
WJ: Do you see crossover between inland rivers towing and transportation on the Great Lakes? Do you see that as a growth area?
JS: There are some synergies between the inland rivers and the Great Lakes. The inland river system, for example, moves a lot of grain from the Plains states down the Mississippi to New Orleans for export to countries around the globe. We have been reluctant to get into that market, though, since we see it as having eggs in the same basket. For example, if the grain trade is slow on the Lakes, it's likely slow on the inland river system as well. We prefer to look for opportunities in other markets where we see we might be able to fill a gap or a need.
WJ: What do you see as the biggest challenge moving forward?
JS: People. I don't know of anyone who wouldn't answer that question any differently. We are working with our local trade schools and community colleges to develop the next generation of skilled tradesmen. But there has been a bit of a paradigm shift in thinking about education. Career jobs in the trades are much more in demand today than they were five or 10 years ago, and the opportunities to make a very nice living in the trades are more plentiful than many careers that might come from a traditional college degree.
WJ: What's most exciting to you about the company and the market in particular at this time?
JS: Exciting? Huh … Good question. Not sure, exactly, but I do love going to work every day. There are challenges, but every day is different. When my calendar is open on any given day, I wonder to myself "What's going to happen today?" Sure enough, there will be some excitement that requires action. We have a fantastic team. Great leadership from experienced managers. It makes the job fun.