The Memphis Engineer District has contracted with Great Lakes Dredge & Dock for the rental of a 24-inch hydraulic cutterhead dredge, discharge pipe and attendant plant to dredge nine harbors this year.
"Dredging these harbors involves removing sediment from the authorized navigation channel to maintain a specific depth for safe navigation in and out of the harbors," Project Delivery Team Manager Vickie Watson said. "The Memphis District is responsible for maintenance dredging of 10 harbors along the Mississippi River. These harbors serve as vital links to rail and highway transportation systems in the region, helping to deliver products and commodities to and from global markets."
The contract was awarded June 2 for $7,335,450. It is for the first option year of a three-year contract that included a base in 2021, first option in 2022 and second option year in 2023. Dredging was expected to begin July 1 and to be completed by the end of December, although the contract runs through February.
Crews will dredge nine different harbors this year. They will start in Memphis, Tenn., then head upriver to Hickman, Ky., and proceed downriver from there.
Get the latest infrastructure and dredging news in your inbox.
Powered by the Waterways Journal and International Dredging Review, our monthly Infrastructure Report newsletter covers dredging, construction and civil engineering.
"We're leap-frogging," said Stan Ekren, vice president–rivers and lakes manager at Great Lakes Dredge & Dock. "We're packing up equipment in one location while we're dredging in another location."
The dredging will return the channels within the harbors to their authorized depth. GLDD will complete a hydrographic survey of the harbor, and the Memphis district will determine how best to spend the budget allocated for each harbor, with GLDD completing another survey at the end of dredging to show that the work was completed, Ekren said.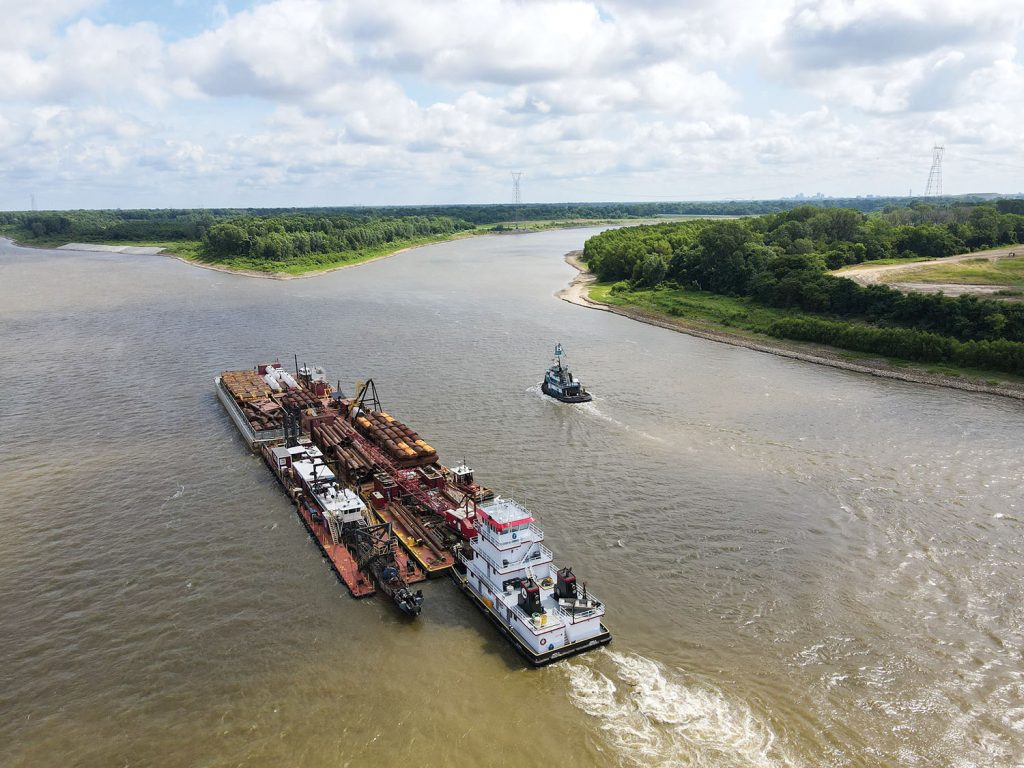 It is work GLDD is quite familiar with, as the company has been providing dredging services since 1890 and has completed projects on six continents, he said.
"In an average year, Great Lakes Dredge & Dock dredges more than 50 million cubic yards," Ekren said.
The company is the largest provider of dredging services in the United States.
Watson said that last year, the base year of the three-year project, went extremely well.
  "They stayed within schedule and coordinated well with us as well as our partners," she said.
Funding for the dredging came from three sources this year, each of which has an accompanying non-federal sponsor.
The president's budget allowed for dredging for four of the harbors:
• Memphis Harbor/McKellar Lake – Randy Richardson, International Port of Memphis, Tenn.
• Wolf River Harbor – Robert Knecht, city of Memphis, Tenn.
• Elvis Stahr Harbor – Greg Curlin, Hickman-Fulton County Riverport Authority, Hickman, Ky.
• Helena Harbor Phillips County – John Edward, Phillips County Port Authority, Helena-West Helena, Ark.
The Disaster Relief Supplemental Appropriations Act allowed for the funding of four additional harbors:
• Northwest Tennessee Regional Harbor – Jimmy William, Port of Cates Landing, Tiptonville, Tenn.
• Caruthersville Harbor – John Ferguson II, Pemiscot County Port Authority, Caruthersville, Mo.
• Helena Harbor – Mayor Kevin Smith, Helena-West Helena, Ark.
• New Madrid County Harbor – Timmie Lynn Hunter, New Madrid Port Authority, city of New Madrid, Mo.
Finally, Infrastructure Investment and Jobs Act funding allowed the dredging of a final harbor:
• Osceola Harbor – Mayor Sally Longo Wilson, city of Osceola, Ark.
Caption for top photo: The Great Lakes Dredge & Dock Company dredge Iowa dredges in New Madrid County Harbor in 2021. The Memphis Engineer District has contracted with GLDD to dredge nine harbors in 2022. (Photo courtesy of Great Lakes Dredge & Dock)