Sean Duffy Sr., executive director of the Big River Coalition and executive vice president of the Louisiana Maritime Association, received this year's C. Alvin Bertel Award in a June 24 luncheon ceremony held at the newly opened Four Seasons Hotel's Plimsoll Ballroom, located near the foot of Canal Street in New Orleans.
The award has been given annually since 1967 to honor individuals who have had a significant impact on Louisiana's port and maritime community. Past recipients include Port of New Orleans President and CEO Brandy Christian (2020), New Orleans maritime legend Bill Bergeron (2018), former Coast Guard Sector New Orleans commander Capt. Frank Paskewich (2007), and Robert R. Barkerding Jr. And Sr. (2017 and 1969, respectively).
Duffy's own father, George, is also a past Bertel Award recipient. George Duffy, who passed away May 19 at the age of 80, received the Bertel Award in 1992.
Billy Nungesser, lieutenant governor of Louisiana, congratulated Duffy for the honor first by recalling how his father and Alvin Bertel, the namesake of the award, would speak often about some of the same river issues that are still important today—namely dredging.
Sign up for Waterway Journal's weekly newsletter.
Our weekly newsletter delivers the latest inland marine news straight to your inbox including breaking news, our exclusive columns and much more.
"Their love and passion for this river, for the maritime industry was incredible," Nungesser said.
"And Sean, your love, passion, hard work to keep commerce flowing on this river is second to none. Now, if we had a Louisiana secretary of navigation, you would be the guy. I'm just throwing that out there."
Attendees then viewed a video made for Duffy that featured Capt. Ron Branch, president of the Louisiana Maritime Association; Capt. Michael Miller, president of the Associated Branch Pilots (Bar Pilots); Eddie Belk, chief of civil works programs integration for the U.S. Army Corps of Engineers; and George Duffy.
In the video, Miller highlighted how the Mississippi River and the maritime industry are part of Duffy's family heritage.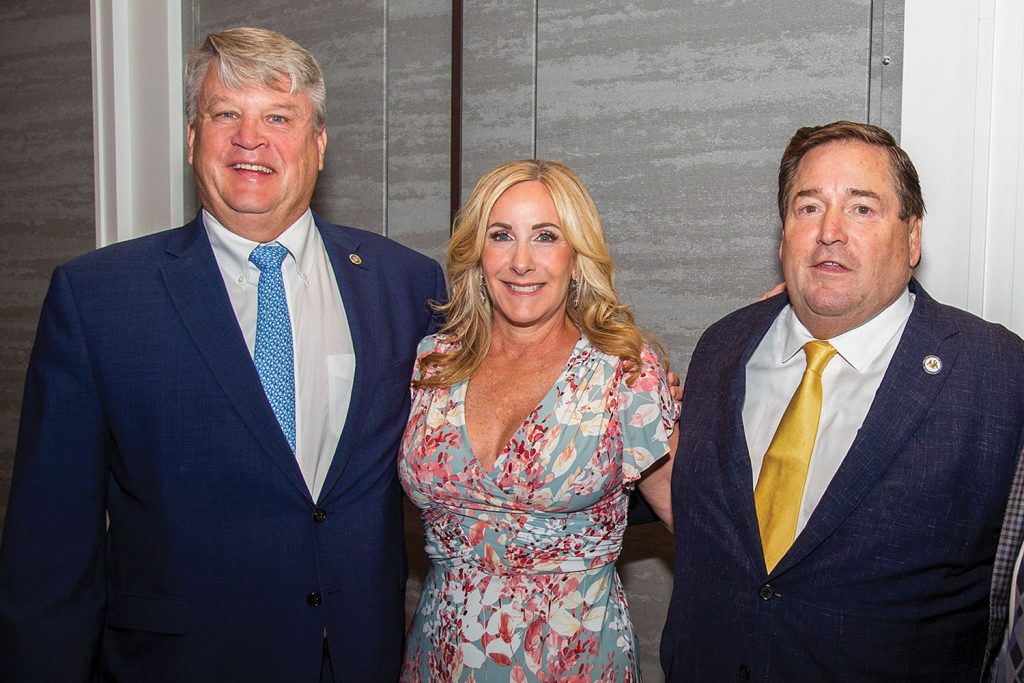 "His family was in the maritime industry, so he jumped in feet-first and has hit the road ever since," Miller said.
Duffy's wide range of experience, from working as a deckhand early on all the way to now testifying before Congress and advocating for policies and funding that support navigation on the Mississippi River, has shaped him into someone able to relate and connect with anyone, Belk said.
"Sean has the unique ability to earn the trust and confidence of others at all levels," Belk said. "He can talk to a U.S. senator, he can talk to a House member, or he can go down to the deckhand on a barge and connect. He just has a gift there that's incredible."
On the video, George Duffy expressed how proud he was of his son.
"He's built reputations that are outstanding," he said. "And it's just a pleasure to have a son who's kind of followed me. It's extremely important, the work that Sean is doing. It is the most important thing we can do for the state of Louisiana."
Branch recalled some words of wisdom Duffy learned from his dad.
"George told Sean one time, he said, 'You're not always going to be as smart as everyone, but you can always outwork them,'" Branch said. "Sean's done that. He's outworked everybody. Day, night, he's always on the job, staying focused and getting the results that he wants, we want and the industry wants."
Duffy, in accepting the award, said he knows full well, while this year's C. Alvin Bertel Award was given to him individually, the award comes as part of a team effort. 
"Please know, I am quite proud to accept the distinguished Bertel Award," Duffy said. "I am humbled, honored and privileged to accept this award. However, I am a team guy and only accept this award for the Big River Coalition and the Mississippi River navigation community and you, Team Mississippi River."
Duffy also thanked his wife, son and his stepchildren, along with Branch, Miller, the board of the Big River Coalition and the government agencies he works so closely with, including the Corps of Engineers, Coast Guard, Customs and Border Patrol and the National Oceanic and Atmospheric Administration.
Duffy was also open with how staying at the Four Seasons, which is part of the World Trade Center building, and receiving the award reminded him of his father.
"I have not shared the following with anyone, but when I was about 10, my dearly departed dad had an office in the World Trade Center," Duffy said. "I would always walk past the Bertel Award bowl in its glass display case in the lobby. Thus, I have known about the coveted Bertel Award for most of my life. It was a beautiful, eye-catching display that I was drawn to, but never in my wildest dreams did I think my dad or I might one day be so recognized."
Duffy, a rugby champion, also recognized his former teammates who were present for the award luncheon.
In closing his speech, Duffy borrowed a phrase from the rugby field: "With you."
"I want to thank you," Duffy said to friends and colleagues in the crowd. "You're important to me. This river is important to us. We have to demonstrate to the country and the state the importance of navigation. We have to stand together as brothers and sisters and hold hands and advocate for this river. And with that, I'm going to end by saying, 'With you.'"
Caption for top photo: Sean Duffy with the C. Alvin Bertel Award. (Photo courtesy of Sean Duffy)