When people hear the word packet, most might envision the splendor of the legendary J.M. White, or the majestic Queen City. However, not all packets were large and palatial. Short-trade packets traditionally were smaller vessels, often with limited quarters. In the waning days of the packet trades, many small packets weren't even steam-powered; some were propelled by gas or diesel engines.
The V.J. Kurzweg was one such packet. It was built by Canulette Shipbuilding Company, Slidell, La., in 1925. It had a steel hull 155 by 32 feet and was sternwheel. It was powered with a Fairbanks-Morse four-cylinder diesel engine of 240 hp. Fairbanks-Morse often ran front-page ads in The Waterways Journal in the 1920s and 1930s, many featuring the Kurzweg and/or its engine. The boat was registered to the Sherburne Transportation Company, Plaquemine, La., which was affiliated with the Consolidated Companies Inc. of Plaquemine, headed by one Victor J. Kurzweg. 
According to an article by the Iberville Museum in 2020, Consolidated began as a small retail grocery and developed into a large wholesale food distributor under Kurzweg. The V.J. Kurzweg operated on a weekly schedule between New Orleans and New Iberia, La., on Bayou Teche. The Iberville Museum article says that the boat would leave New Orleans upbound and make stops at Consolidated facilities at Lutcher and Donaldsonville before transiting the Plaquemine Lock into Bayou Plaquemine, going down then to Grand River, Bell River, Bayou Long and Flat Lake. After stopping at Morgan City, La., it would head up the Atchafalaya River and into Bayou Teche to the final destination of New Iberia.
During 1935–1937, the Kurzweg made summer trips from New Orleans to St. Louis. The June 26, 1937, issue of The Waterways Journal notes in the St. Louis news column by Andrew D. Franz that, "The diesel sternwheel packet V.J. Kurzweg arrived here from New Orleans Tuesday afternoon with a full cargo of 500 sacks of sugar, beer cases and barrels and departed Friday morning with a full cargo of grocery sundries and beer. The crew composes: Capt. W.E. Blakeman, master and pilot from New Orleans to Memphis, with W.F. West on the other watch. From Memphis to St. Louis the pilots were Capts. Clarence Moxley and Stuart Wilcox. F.L. Cargol was chief engineer; and Colby Blake, assistant engineer; Clem Foret, watchman; and Raymond Blakeman, sailorman."
Sign up for Waterway Journal's weekly newsletter.
Our weekly newsletter delivers the latest inland marine news straight to your inbox including breaking news, our exclusive columns and much more.
Mention was made in the same column of the August 4, 1937, issue that the diesel towboat Margaret (also owned by Sherburne Transportation) arrived with a "barge of sugar." In the September 4, 1937, issue is news that the Margaret and the Kurzweg would alternate on a regular schedule between New Orleans and St. Louis. 
The Kurzweg was retired in 1943 and sold in 1947 to the Baton Rouge Coal & Towing Company and dismantled. One of the very last packets to operate, it looked every inch a steamboat save for the absence of twin smokestacks. The Iberville Museum article claims that locals on the New Orleans–New Iberia route referred to it as "a cow without its horns" due to the missing stacks.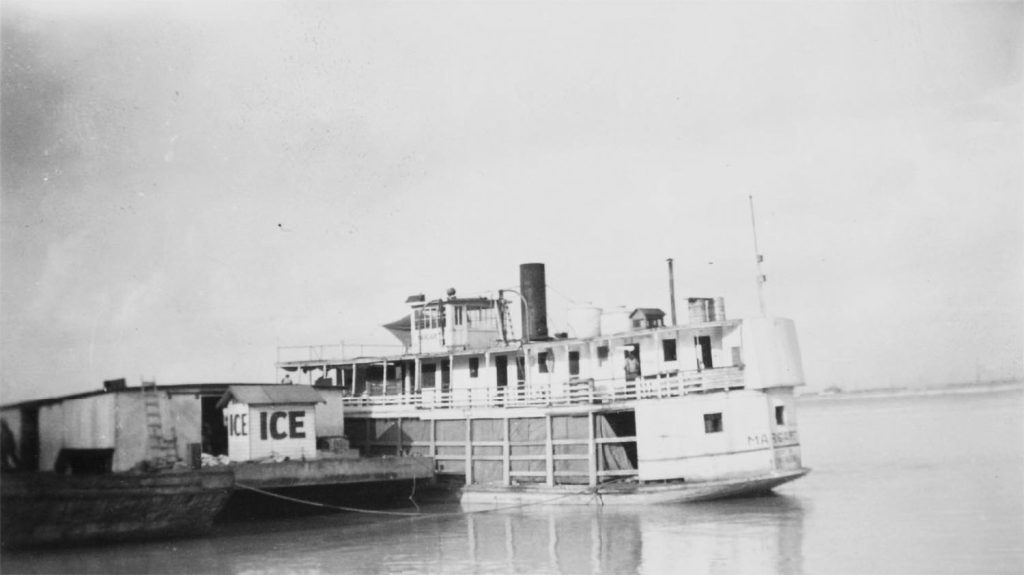 Details on the Margaret mentioned above are sketchy, but according to the Inland River Record it was a single-screw towboat built at Madisonville, La., in 1908 with a wooden hull 85 by 24 feet and in 1945 had a Fairbanks-Morse diesel engine of 180 hp. It had been named Josie but was renamed when acquired by Sherburne Transportation. It was later sold to Red River Barge Line, Plaquemine, which rebuilt it, adding 10 feet to the length and repowering it with a GM diesel of 330 hp. It was last listed in the 1965 issue of the Inland River Record.
Caption for top photo: The 155- by 32-foot V.J. Kurzweg was powered by a Fairbanks-Morse diesel engine. (David Smith collection)