When summer sets in on the Upper Ohio River, heat and humidity tend to show up with it. In the pre-air-conditioning days of a bygone era, a favorite way to beat the heat was to take a short trip on an excursion boat and enjoy the breeze afforded by the movement of the vessel.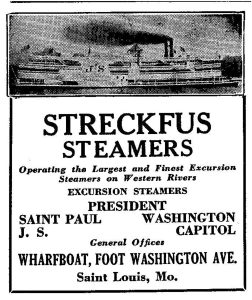 Louisville and Cincinnati had home-based steamers that the populace could always count on for them to take advantage of. Other towns within the valley eagerly anticipated the arrival of the tramp excursion steamers that would appear in warm weather to provide such service. Moonlite at 8:30, a delightful book by Capts. Clarke C. '"Doc" Hawley and Alan L. Bates, provides great insight into this time of river history.
Steckfus Steamers of St. Louis would typically have one or two of their boats in the Upper Ohio tramp trade each summer season. From 1925 to 1937, one of the most popular of their boats to do so was the Washington. 
The Washington was a product of the upper Ohio, with the hull built at Murraysville, W.Va. (one of the last constructed at that yard), and the boat completed at Wheeling, W.Va., in 1880. The boat was named Sidney, with a wooden hull 221.3 by 35.5 feet and engines 17's with a 5-1/2-foot stroke. Way's Packet Directory shows that the boat came out in the Wheeling–Cincinnati trade painted yellow with colorful trim and Capt. William M. List as master.
Sign up for Waterway Journal's weekly newsletter.
Our weekly newsletter delivers the latest inland marine news straight to your inbox including breaking news, our exclusive columns and much more.
A steam line burst at Goose Island, Ohio River, on March 10, 1882, killing four people and scalding 16. The vessel was later sold to the Diamond Jo Line for Upper Mississippi service, and still later was sold to Streckfus Steamers to replace the JS, which had burned on June 18, 1910. Streckfus converted the Sidney into an excursion boat. In 1921, Streckfus took the boat to the Mound City (Ill.) Marine Ways, where it was completely rebuilt and renamed Washington.
As the Washington, Way's shows the boat as having engines 18's and 7-foot stroke, some larger than those of the Sidney. There is no mention as to whether or not these engines were installed during the 1921 rebuild, but at some point after 1928 it received four boilers that had been on the Greater New Orleans. When on the Ohio River, the Washington was managed for Streckfus by Capt. D. Walter Wisherd, who was based first at Cincinnati and after 1931 in Pittsburgh. The list of officers and pilots contained in Way's reads like a veritable Who's Who of the upper Ohio for that time; masters were Coburn Pratt, Edgar F. Mabrey and C. W. Elder; pilots were Lee Willis, Grover Litten, Homer Litten, Charles H. Ellsworth, William I. Weldon, Phil C. Elsey, and two more very notable men: best friends William S. Pollock and Frederick Way Jr., known at the time as the "Gold Dust Twins." The Cincinnati News column in the August 10, 1935, issue of The Waterways Journal notes that the Washington ran two excursions out of Cincinnati on August 6, "in between which her pilots, Capts. William S. Pollock and Frederick Way Jr., were visitors on the Greene Line wharfboat, greeting their many friends." A mate aboard for several years during this time was Capt. T. Kent Booth.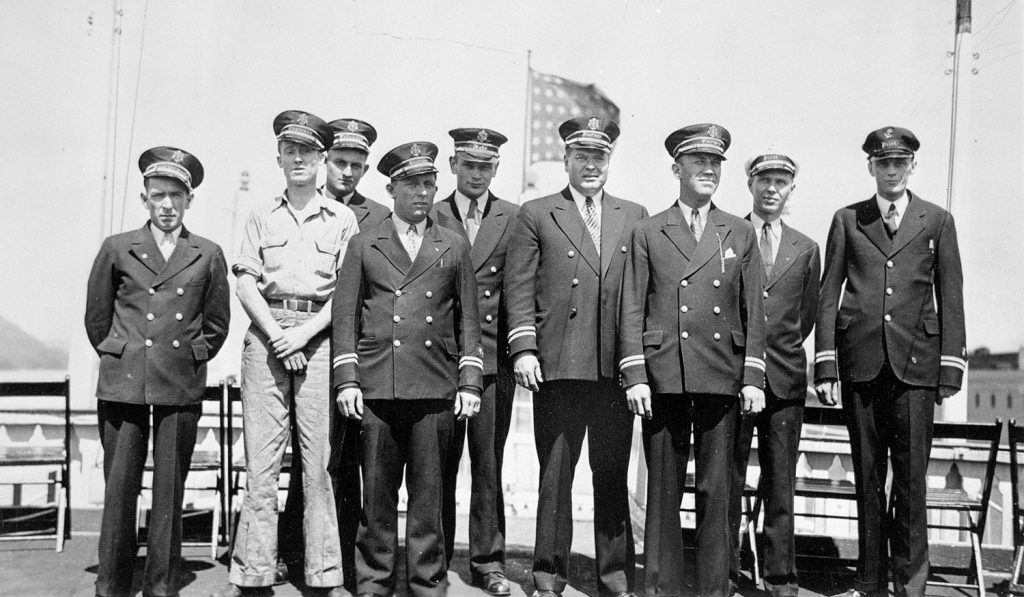 Several of these officers made a transition to the towing industry. Capt. Clarence W. "Heavy" Elder, a musician turned pilot, later was with Ashland Oil & Refining Company, as was Capt. Kent Booth. (Capt. Booth was master of the original Tri-State when it made the first trip with a device called a radar, this in November 1946.) Capt. Fred Way not only towboated some for Ashland Oil and others, but also became the foremost river historian of his time. Capt. Phil Elsey was a towboat pilot and became a traffic manager for Raymond City Coal Company, Socony Vacuum Oil Company and Armco Steel. Capts. Grover and Homer Litten were later towboat pilots, and Capt. William S. Pollock had a long career with the Mississippi Valley Barge Line.
The Washington spent the summer of 1937 tramping the waters of the Upper Ohio and was dismantled at St. Louis in 1938. The smokestacks and pilothouse were placed behind a private estate overlooking the right bank of the Missouri River near Mile 9. They can still be seen there today, though by some accounts the original pilothouse burned and was replaced by a replica.
Caption for top photo: The Washington was built at Murraysville, W.Va., and completed at Wheeling, W.Va., in 1880. (David Smith collection)