The developer of a towboating board game is looking for river industry professionals and their families to help test it.
Matthew Hyner, simulation and database manager for Seamen's Church Institute, came up with the idea for his game, titled Underway, during a long drive from SCI's Center for Maritime Education in Paducah, Ky., back home to Houston, Texas, when COVID-19 restrictions first began to be put in place. 
"In my time at SCI I've heard several conversations about children asking parents how they spent their time away from home while working," he said.
When he connected this with a discussion before he left with one of the SCI chaplains about several mariner well-being projects he had been working on, the idea of using a board game centered on the brown-water industry came to mind.
Sign up for Waterway Journal's weekly newsletter.
Our weekly newsletter delivers the latest inland marine news straight to your inbox including breaking news, our exclusive columns and much more.
"Somewhere in my brain in the middle of the 11-hour drive back, things came together, and the idea was born of a using a board game to create talking points for the towboater and child to help along a conversation about what you're doing when you're away for two weeks," he said.
The result was Underway, a game for two to four players, geared toward children in the middle elementary school years—old enough to read simple instructions and prompts and match colors, but young enough to still be drawn toward board games.
"My initial plan was to take another game my then 4-year-old son and I had been playing and rebrand it to boats and barges, but over time it grew into its own game with its own rules and gameplay that I have been slowly working into a product," Hyner said.
Game Play
Like actual river mariners, players start out with a set of manifest cards, giving them instructions, and then draw cards to control the movement of plastic towboats and barges along the inland rivers. They collect three different barges of cargo—represented by various colors—and try to get them to their assigned port, all while earning points.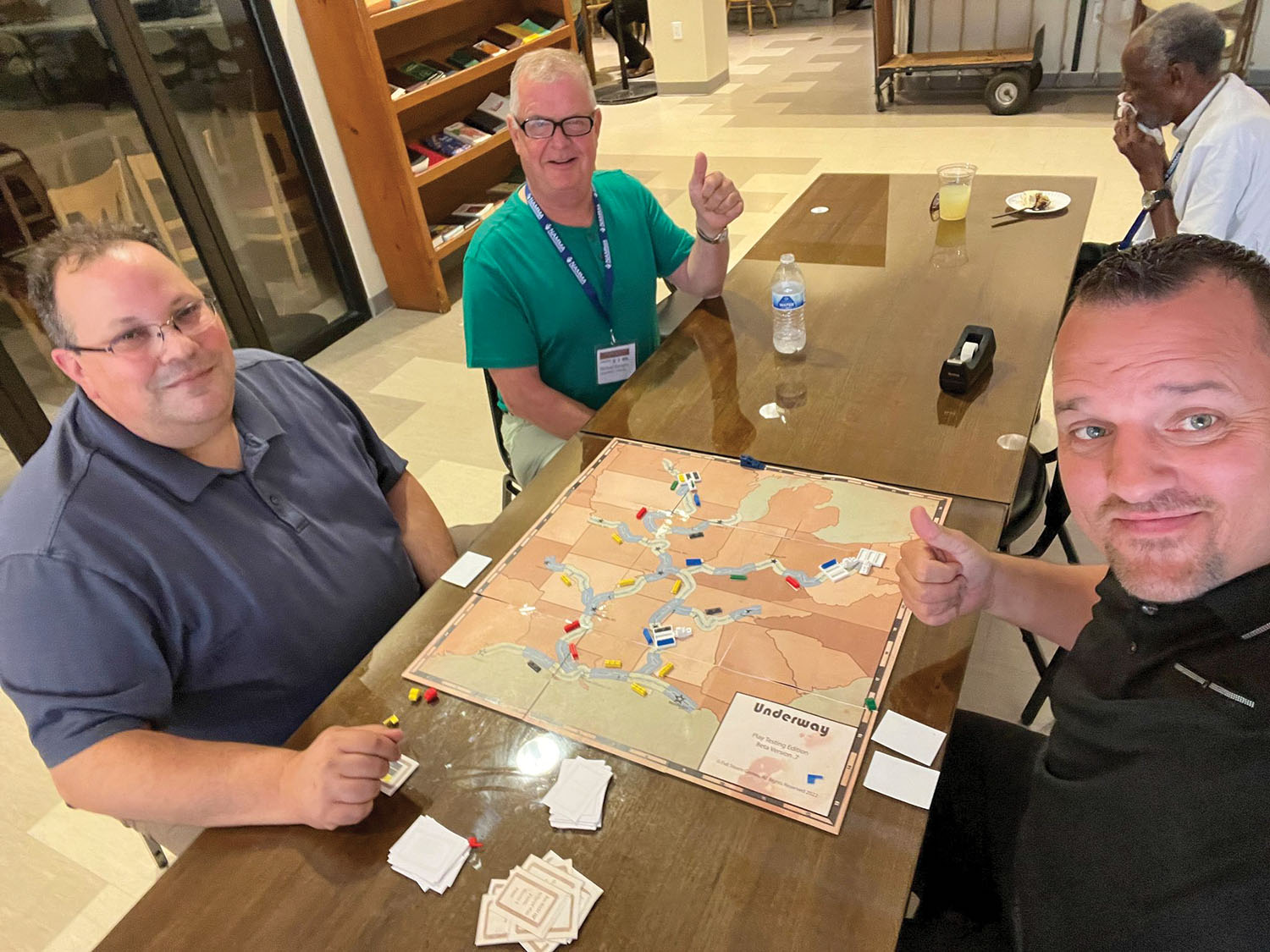 Certain cards are designed to foster conversations about day-to-day events working on a towboat while giving players a bonus, such as the one that reads, "Learned something new in simulator training. Receive five points," or others indicating the captain has recommended the player for a promotion or that the player has rescued a man who fell overboard.
Other cards could include obstacles and penalties, such as one that indicates an allision with a bridge.
The game takes about a half hour to play. Friends and neighbors have given positive reviews so far, as has a local group of board game enthusiasts, but Hyner is looking to expand his play testing.
People in the maritime industry with children ages 8 and up may now sign up to play test the game and offer feedback August 20 at SCI's Center for Maritime Education in Houston. Participants may sign up for morning or afternoon play windows for up to four people at www.underwaygame.com.