Women in Maritime Operations (WIMOs) celebrated its fifth anniversary July 27 with an event at the Southern Yacht Club on Lake Pontchartrain in New Orleans.
The organization has grown to more than 500 members in 22 states.
"I anticipate WIMOs tripling in size over the next five years," said Kasey Eckstein, WIMOs founder and executive director. "We were able to hire our first part-time employees this year, and that has made a world of difference in our productivity and member reach."
Eckstein said that within the next year WIMOs members in the Ohio Valley and Pacific Northwest are expected to fully establish their own chapters, with boards. Several other "seed chapters" have been started, and she looks forward to them following the same route in years to come.
Sign up for Waterway Journal's weekly newsletter.
Our weekly newsletter delivers the latest inland marine news straight to your inbox including breaking news, our exclusive columns and much more.
Early Years
Eckstein reflected on WIMOs' history.
"WIMOs was a very intimate environment in the early months of foundation," she said. "We started in New Orleans (now our Southern Louisiana chapter), and this city was the perfect founding city for WIMOs. NOLA is a very small city, so it was somewhat easy to find times and places that worked for the females living in the area. The maritime community is also very tight-knit in NOLA, so word spread fast, and before we knew it we were having regular meetings with 30-plus women attending."
When women living in other regions started reaching out to Eckstein and co-founder Jenna Gaudet, Eckstein said they knew they needed to expand the organization to a national reach.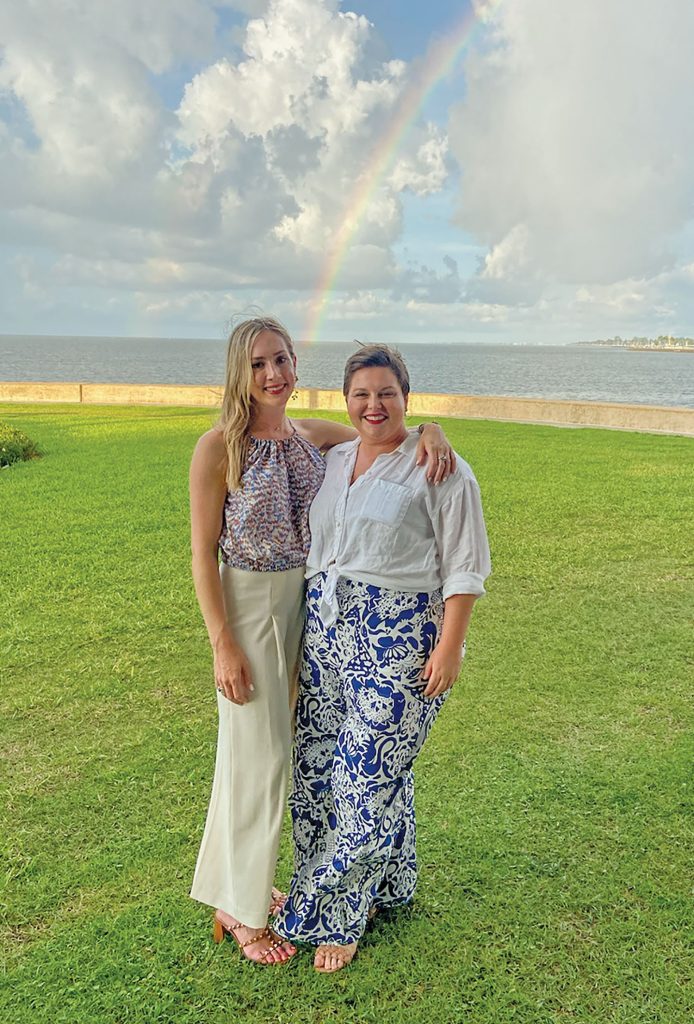 "I was in sales, traveling nonstop at this time, so I made it a point to meet with female leaders on the ground in the various maritime cities I was visiting," she said. "It was a team effort in helping to figure out who the potential leaders could/would be in the new cities."
WIMOs organized as a non-profit organization from the beginning because the goal was always to be an association that was more than a social club, Gaudet said.
"We wanted to provide more lasting benefits to members and the companies in which they worked in the industry," she said. "Education became one of our main initiatives, and with that, there came bills. As a 501 (c)(3), we knew we would be eligible for more grants, and we knew individuals and corporations alike would be more enthusiastic about supporting us if we were a designated non-profit. So ultimately it was to widen our reach and grow the organization to engage, educate and elevate more women in the industry."
The organization currently spends more than $20,000 a year on education for members, with funds coming from private grants set aside for non-profits. WIMOs anticipates doubling its educational expenditures in 2023, Eckstein said.
Like other organizations still young at the time the COVID-19 pandemic spread across the United States, WIMOs faced challenges. It responded by waiving membership dues in 2020 to avoid losing members.
"We started hosting webinars on a regular basis in order to keep our members engaged, as well as to provide our membership value, entertainment and camaraderie during a very boring and lonesome time," Eckstein said.
Board members continued working, expanding the organization and building out a brand new website and rebranding campaign.
Impact On Members
WIMOs members talked about the events that had the most impact on them personally.
"The most fun and interesting event I have been a part of was the Ohio River cleanups," said Gena Wilson, vice president of WIMOs' Southern Louisiana board. "I was fortunate enough to be a part of this event for two years in a row and I have fond memories of doing so. This river cleanup was my first chance to give back to the river and waterway industry that has supported me and my family for the past 40 years.  The Ohio River Cleanup gave me opportunity to work side by side with other women of this industry and form meaningful relationships that will last a lifetime."
Whitney Cruse, president of the west Kentucky chapter, said WIMOs has provided a "comfortable environment" for women to ask questions and learn more about all aspects of the industry.
"With the additional knowledge, women have a better understanding of what impacts their job and why," she said. "This is a win for the employee, employer and the industry. Additionally, networking through WIMOs has encouraged more women to attend industry functions, provided women with opportunities to make connections that ultimately close business deals and created a sense of community in an industry that is still predominantly male."
Merritt Parsons, vice president of the WIMOs southern Louisiana chapter, said WIMOs' lunch and learn events are ones that have had the most impact on her knowledge and performance. 
Board members work hard to diversify their educational events to cover all aspects of the industry, she said.
"Because of this, I am able to approach my job with a more well-rounded understanding of how what I do plays a part in the much bigger picture of maritime transportation," she said.
Other events promote networking among members.
"Our social events are the ones that constantly remind me that I work in the best industry with the best people," Parsons said. "Golf outings, cocktail hours and parties like WIMOween [a costumed Halloween event] have introduced me to amazing people who started as colleagues and have become close, trusted friends."
Overall, Parsons said, WIMOs has helped her career.
"The greatest thing that WIMOS has done for me in my career is to offer opportunities for exposure to various aspects of the industry and introductions to the people who make it all happen," she said. "The opportunities to network and the educational events have helped me build confidence in the knowledge and skills I have to offer. As a member of the SOLA board, I now play a role in shaping these opportunities for women newly joining the industry, which gives me a great sense of pride and fulfillment."
She added that WIMOs has given women in the maritime industry an opportunity to advance within the maritime industry as a whole, not just within their own organizations.
"It has offered a space for women who face similar challenges to connect with each other and offer support and guidance as well as an opportunity to learn from one another," she said.
Eckstein said WIMOs is still looking to expand to new cities.
"All it takes is one 'champion' living in that city to take the lead and get a chapter up and running," she said. "We have come so far since those early days, and now WIMOs National can give financial support to seed chapters like never before."
Eckstein encouraged women in cities without a chapter to reach out to the national organization about beginning one. For more information, visit www.wimos.org.
Caption for top photo: Women in Maritime Operations (WIMOs) celebrated its fifth anniversary with a party July 27 at the Southern Yacht Club in New Orleans. The non-profit association hosts educational and social events designed to engage, educate and ultimately elevate women within the industry. (Photo courtesy of WIMOs Association)