Col. Rhett Blackmon Assumes Command Of Galveston District
Col. Rhett Blackmon assumed command of the Galveston Engineer District from Col. Tim Vail during a change of command ceremony July 15 at the district's headquarters.
In addition to handing over command to Blackmon, Vail also celebrated his retirement from the Army after 25 years of service.
Col. Kenneth Reed, Southwestern Engineer Division commander, presided over the ceremony.
Reed opened with remarks on the importance of the time-honored military tradition of changing command and touched on the legacy Vail leaves behind at Galveston.
Sign up for Waterway Journal's weekly newsletter.
Our weekly newsletter delivers the latest inland marine news straight to your inbox including breaking news, our exclusive columns and much more.
"For those of you that know Tim, you are aware of his passion and dedication to improving the lives of folks along the Texas coast," Reed said. "I want to thank the Galveston District for the tremendous support provided to Col. Tim Vail's successful command. I trust that under Col. Blackmon's command you will continue to be the 'Champions of the Texas Coast.'"
Vail then took to the podium to welcome guests and address the Galveston District one last time.
After thanking his wife and family for their support, Vail thanked Reed for his guidance and leadership and welcomed Blackmon and his family to the Galveston District.
"I have been to every district in the Corps of Engineers and can assure you are taking command of the most strategically important civil works district in the Army," Vail told Blackmon. "The 'Champions' are fortunate to have such a wonderful command team."
Vail touched on all the work the Galveston District has done to increase resiliency along the Texas coast and bring value to its communities.
"We've spent the last three years preparing. We've rebuilt the Galveston District team. … We've strengthened our partnerships and earned their confidence and the confidence of our elected leaders that we can deliver. We've grown every facet of our organization and increased our capability, our capacity and our competence to meet this moment where we must be relevant for our partners, for our communities, for our state and for our nation," Vail said.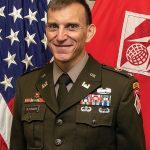 Col. Blackmon
Before accepting his current assignment, Blackmon completed a U.S. Army War College Fellowship at the University of Washington, in Seattle. Among other previous assignments, he served as deputy district commander at the Memphis Engineer District. 
In his first address as Galveston District commander, Blackmon cited the amount of work the district has started on the Texas coast just in the last few years and acknowledged how intimidating it is to take that on.
"Challenge accepted," he said. "As we deliver the increased storm resiliency, environmental restoration and safe navigation on the Texas coast, my confidence stems from my belief that there is no team of teams better suited to meet the current moment than the team of teams represented here today."