Alter Logistics Company celebrated a ribbon-cutting August 5 to open its brand-new fertilizer warehouse in Saint Paul's South Port River Terminal. 
The new warehouse is paired with a new rail project that was the result of a private-public partnership between Alter, the Saint Paul Port Authority and the Minnesota Department of Transportation. The warehouse is part of a $25 million total terminal project that also includes a stormwater retention installation.
Asked about the origin of these projects, Jeff Goldstein, chairman and CEO of Alter Logistics, said, "This grew out of our strong relationship with the Saint Paul Port Authority. Four years ago, Kathryn Sarnecki at the port advised us of a grant program for private rail infrastructure improvements through Minnesota DOT. Approval of that application got our long-term customer ADM thinking about how they could use those improvements to significantly expand their fertilizer volumes through our Saint Paul Port Terminal, which kicked off this warehouse construction project and other site upgrades." 
Goldstein added, "This could not have come to successful completion without the efforts of Alter's leadership team consisting of Senior Vice President Paul Ferguson, Marketing Vice President Tom Streight, Facility Manager Steve Sauro and Director of Operations Jeremy Goldstein. Their contributions were invaluable. We acknowledge and thank the many vendors and skilled trades people for their efforts on these projects." 
Sign up for Waterway Journal's weekly newsletter.
Our weekly newsletter delivers the latest inland marine news straight to your inbox including breaking news, our exclusive columns and much more.
ADM Fertilizer, based in Minneapolis,, will use the new warehouse under a long-term contract. The 40,000-ton warehouse will have seven large storage bins for bulk products and three micro bins, plus a high-capacity blending/loadout system.
Marcus Construction designed the new building and is performing as the primary and general contractor for the new facility. The new warehouse was built with connectivity to the existing 17,000-ton fertilizer warehouse system integrating the terminal's water, rail, and road transportation access. Alter partnered with Sackett-Waconia for mechanical system design and equipment as well as the existing terminal upgrade.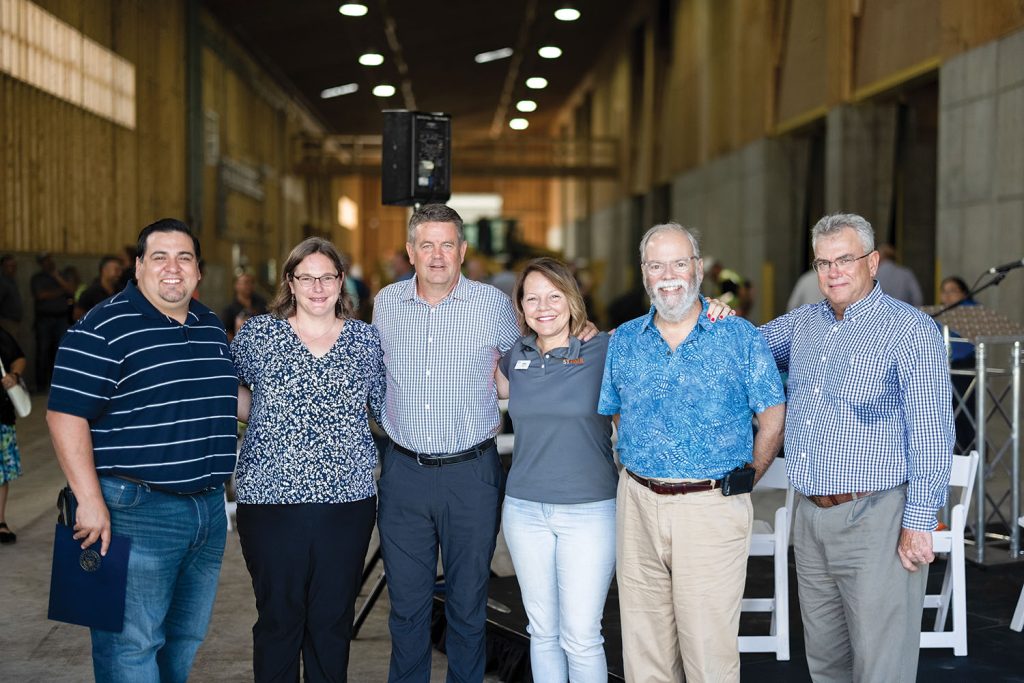 The facility will receive product from a new 800-tons-per-hour barge unloading system as well as a 400-tons-per-hour rail unloading system. The new barge receiving system feeds both the new facility and Alter's existing facility on the site, which will now enable discharge of railcars into either building. The new building's loadout equipment utilizes dual in-floor conditioner/drag conveyors feeding bucket elevators, which in turn feed directly to trucks or rail.
The building features storage bays for macro products as well as micro bins for specialty products. The 320-foot-long facility has 150-foot storage bins, a 40-foot-wide alleyway for end loader operation and an enclosed two-lane truck loadout. Rail cars can be loaded using an overhead conveyor coming from the high-speed loadout system.
The new facilities will "further enhance the capacity of the intermodal terminal that combines rail, barge and truck transportation connecting worldwide overseas imports to Saint Paul as a critical part of North America's supply chain," according to Alter Logistics.
The facility incorporates Sackett-Waconia's high speed "precision blending" system with 250 tons of overhead storage, legal-for-trade weighing system and industry-leading HIM2.0 blender serving two-lane loading for prescription blends or straight products, as well as railcars for straight products.
Other improvements on the site include an expansive installation of a stormwater containment and management plan, according to standards established by the Minnesota Pollution Control Agency.
TKDA Engineering, based in Saint Paul, has been actively involved in all aspects of the three projects as well as lending a supervisory role overseeing the new building construction.
Caption for top photo: Alter Logistics Company's new fertilizer facility in Saint Paul, Minn. (Photo courtesy of Alter Logistics Company)