Retired Coast Guardsman Opens 4 Rivers Marine Surveying
Steven Hearn, a retired Coast Guardsman with maritime instruction experience, has opened a marine surveying business in western Kentucky.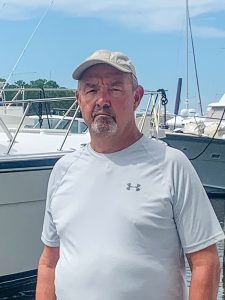 Hearn, 60, of Gilbertsville retired from the Coast Guard in 2011 after 30 years in the service, of which 25 was spent aboard the Coast Guard river tenders Cimarron, Chippewa, Kankakee and Obion. At the time of his retirement, he was the Coast Guard's ancient silver mariner, the enlisted person with the earliest date of qualification as a cutterman.
Following his retirement from the Coast Guard, Hearn ran the Marine Way Training Center for West Kentucky Community & Technical College from 2012 to 2019.
Now he is taking on a new venture, completing the six-week Chapman School of Seamanship in Florida in May and shortly afterward incorporating 4 Rivers Marine Surveyors.
So far, Hearn has inspected a houseboat and a 50-foot cruiser, but he hopes to eventually expand his business into inspecting commercial barges and perhaps also eventually towboats. He expects the business to operate throughout the Midwest.
"There's a need for it in our area," he said of marine surveyors. "Boating in the last couple of years has really exploded, especially with COVID."
Marine surveying involves a detailed inspection of a vessel to determine its value and seaworthiness. Often such inspections are required by insurance companies. Sometimes a person who is considering purchasing a vessel will ask for an inspection before finalizing a deal.
"I'd almost relate it to a home inspection, but a little more entailed because we're also making sure it is in compliance with some federal regulations and the ABYC [American Boat Yacht Council],"Hearn said.
Hearn is working on putting together a business website. For now, he said, information about his business has mainly been spreading by word of mouth. He may be reached by email at stevenhearn02@gmail.com.