Jeffersonville, Ind.-based American Commercial Barge Line (ACBL) has announced its plans to operate the forthcoming mv. Hydrogen One, which will be the world's first methanol-fueled towboat. Hydrogen One, which is being developed through a partnership between Maritime Partners (MP), e1 Marine, ABB and Elliott Bay Design Group, will convert methanol to hydrogen to charge fuel cells, with a switch gear driving the vessel's thrusters.
Maritime Partners will own the vessel and charter it to ACBL. According to reports, Intracoastal Iron Works in Bourg, La., will build Hydrogen One, with construction to commence next month. MP and its partners have said they expect Hydrogen One to come online in late 2023. According to the design and development partners, Hydrogen One will offer a 550-mile, four-day range between refueling, be scalable from 1,700 hp. To 3,500 hp., offer zero emission standby power, require no shore power connection and feature L-drive propulsion.
ACBL CEO Mike Ellis said it made perfect sense for the company to charter Hydrogen One from a relationship standpoint and an environmental stewardship perspective.
"First, we have a strong relationship with the team at Maritime Partners," Ellis said. "When they became involved with this project, we knew we wanted to partner with them and operate this vessel. Second, this project aligns with our strategy and ESG (environmental, social and governance) goals and initiatives. We have to find more sustainable solutions to meet our customer demands. All of these reasons led to our desire to be a part of this project."
The maritime industry already represents the most fuel-efficient and environmentally responsible mode of transportation, when compared to road and rail and relative to the volume of cargo moved. Still, Ellis said it's important for the maritime industry to continue to push for reduced emissions and efficiencies.
"We are excited to be a key player in developing a more sustainable reduced carbon footprint supply chain for our customers and all of our stakeholders through our partnership with Maritime Partners on this project," he said. "Working with our industry partners through organizations like the Blue Sky Coalition (of which we are a founding member) and AWO's Decarbonization Task Force, our industry will continue to be transformative and drive to our carbon reduction goals.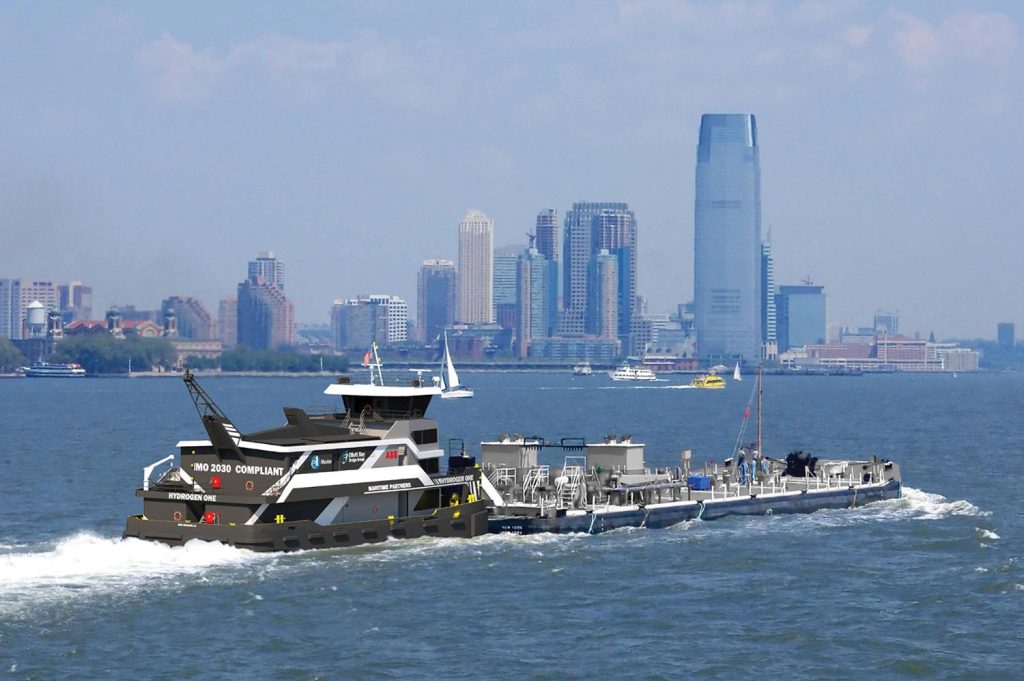 "The Hydrogen One project is a seminal, foundational project on that path and utilizes proven, efficient technologies that are already commercially available," Ellis added.
Because Hydrogen One will use methanol as a feedstock, there will be no need for compressed or cryogenically stored fuels, like liquefied natural gas or compressed hydrogen. What's more, methanol is already available or able to be sourced by fuel suppliers. The end result will be clean energy that will produce no emissions or particulate matter, with little noise or vibrations.
Ellis said ACBL and the development group are currently assessing the operational, compliance and maintenance aspects of Hydrogen One.
"At this time, we are still in the discovery phase of determining the operating parameters and costs associated with this vessel," he said.
As with any groundbreaking vessel, the design and regulatory framework is an ongoing process, but Ellis said Hydrogen One has a head start thanks to the fact the methanol-to-hydrogen system has been used in other applications.
"Because we are dealing with proven technologies that are already in commercial use, the most challenging aspect of this project has been the physical arrangement and layout of the systems on the vessel," he said. "Going forward, the remaining work association with the U.S. Coast Guard approvals will be instrumental in keeping Hydrogen One's delivery date."