For 41 years, seven days a week, Bruce McGinnis and Larry Salyers have been each other's first morning phone call.
McGinnis, CEO of McGinnis Inc., hired Salyers, who now serves as fleet manager for McGinnis' National Maintenance and Repair of Kentucky, when Salyers was 17.
Salyers was fresh out of high school and working at his father's service station in 1981 in Franklin Furnace, Ohio, when McGinnis pulled in one day. He said he was having trouble finding enough people to work for him and his father at their business in South Point, Ohio. Salyers said he would be interested in working for McGinnis. The decision to go with McGinnis that day changed Salyers' future.
"I had learned to weld growing up at the service station, around the farm at home, and while at vocational school my last two years of high school. Things were working out perfectly because McGinnis Inc. was a barge company, and they repaired/welded barges. The only little bitty problem was that I was hired to cut the grass on the grounds," Salyers recalled with a chuckle.
As soon as he turned 18, however, Salyers was on the river, cleaning barges, working as a deckhand, painting and anything else he was asked to do. He went from being a deckhand to a dispatcher, got his pilot license and moved to Paducah, Ky., in 2001 to be the fleet manager.
Those years of working together have meant a lot to both men, it was clear at a ceremony September 10, when McGinnis named a boat the company purchased the mv. Capt. Larry Salyers.
"As soon as he told me (about the name), a warmth came over me, just that he thought that much of me," Salyers said.
McGinnis called Salyers not only a great employee but a great person.
"My relationship with Larry and this family, I just can't say enough about how I feel about him and what I think about him," McGinnis said.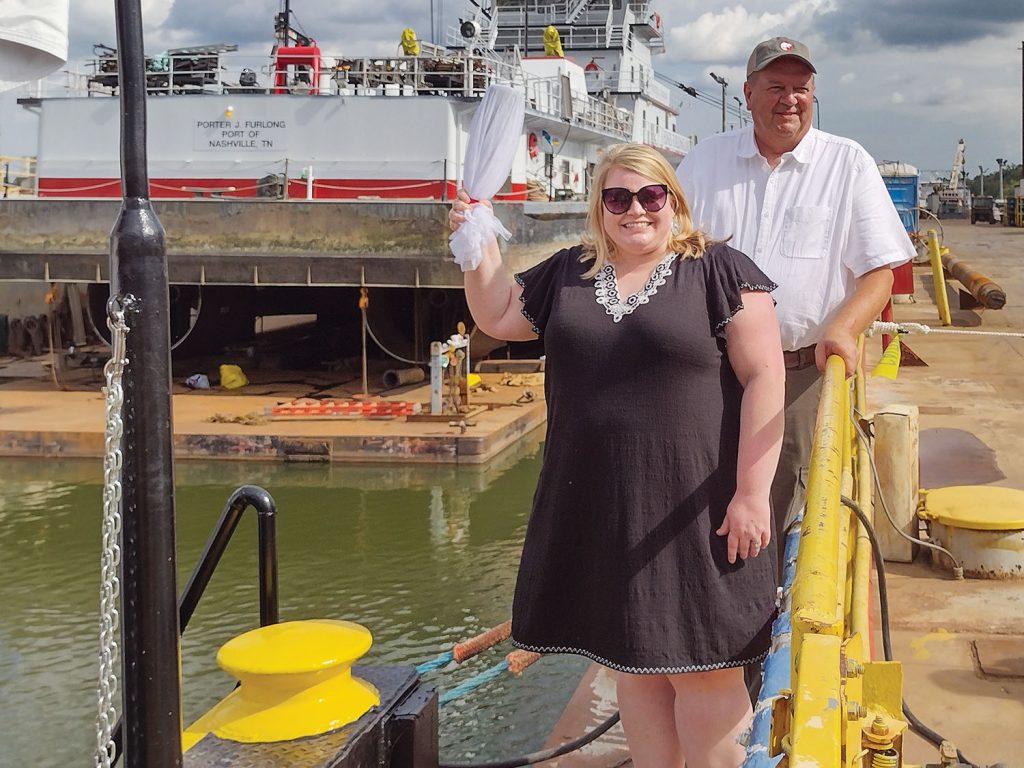 McGinnis mentioned both Salyers' workmanship and his "can-do" attitude and said he was glad to have him beside him during both the good times and the more challenging ones.
McGinnis currently owns and operates 50 boats in Paducah, South Point, Cincinnati, St. Louis, New Orleans and other locations. He noted that because the operation is spread out a bit and pilots can be hard to find, hire and train, sometimes either he or Salyers find themselves headed to another state to run a boat. McGinnis' license is on its ninth issue, and Salyers' is on his seventh. That kind of hands-on experience is invaluable, McGinnis said.
"You want to find out how your shipyards run, go run one of their tugs for two weeks, 12 hours a day. You'll find out really quickly what you've got. You've got to be able to do that. He can do it. I can do it. I've got a few guys who can, but it's getting harder and harder to find people."
With the mv. Capt. Larry Salyers, McGinnis said, "Larry has put a lot of personal time and effort into this boat for me, and that means a lot to me."
Salyers said having the boat named after him was a great honor.
"I am beyond blessed and feel so honored because I know there are many, many others within his organization more deserving than myself," he said.
Salyers said he is proud to work for McGinnis.
"Mr. McGinnis knows more of his employees and their family members by name and genuinely cares about them more than any other person of his stature and has been a fine man to work for," he said.
Salyers was joined by several family members, including his father, brother and sisters, for the short christening ceremony. 
One sister, Helana Darrow, spoke on behalf of the family, saying how proud they are of him.
"He totally loves this company, and for him to be honored in this way means more than words can ever express," she said.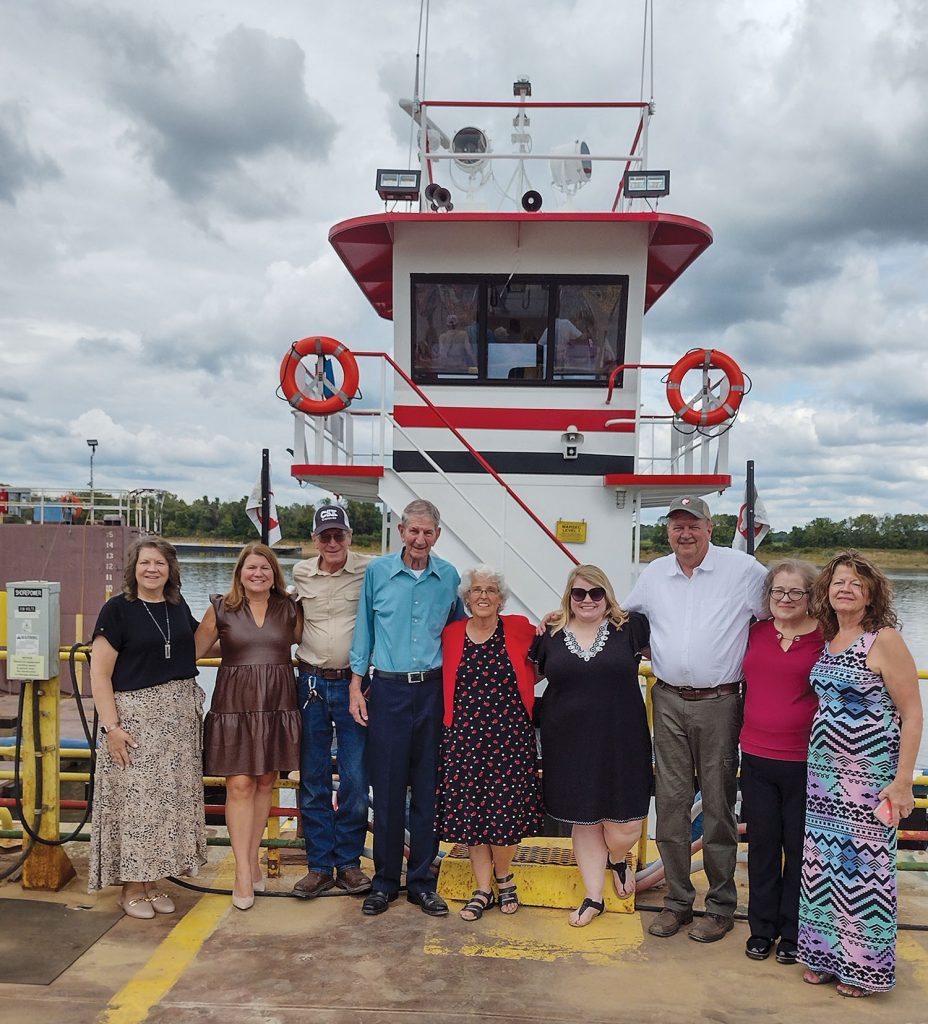 Following a blessing of the boat from Terah Huckabee, executive director of marine operations, Salyers' wife, Mary Beth Salyers, performed the traditional bottle-breaking. Huckabee also presented a Bible to Capt. Salyers.
A dinner at Woodlawn Cumberland Presbyterian Church followed the ceremony.
Vessel Specs
McGinnis Inc.'s mv. Capt. Larry Salyers is a twin-screw boat with two Caterpillar C-18 engines producing 700 hp. each, coupled to Twin Disc MG 516 reduction gears at 5.05:1 ratio. The vessel has two Cummins 4BTA auxiliary engines.The boat is 52 feet by 22 feet by 7 –feet, 6 inches and has a pilothouse eye level of 25 feet.
The boat carries tankage of 8,500 gallons of fuel, 725 gallons of water and 140 gallons of lube.
Shafts are 4.5 inches by 15 –feet, 2.5 inches, with Johnson Packing Glands seals.
The boat was built by Marine Builders Inc. in 1997. McGinnis purchased it from TVA about six months ago. It was formerly named the mv. Mayor Bob.
The boat has 52-foot fabricated keel coolers, an electric over hydraulic Vickers Pump for main and backup steering and engine alarms by Caterpillar, Cummins and Murphy.
Wastewater treatment is a Humphrey Model 10A (U.S. Coast Guard certified MSD).
The mv. Capt. Larry Salyers has Cali bamboo flooring, bead board paneling and composite tile ceilings.
Electronics and communications equipment include Koden MCD-2000A radar, two Standard Horizon VHF radios and Standard Horizon loud hailer purchased from and installed by GMENI Marine Electronics & Supply in Paducah.
The boat has a two-part epoxy and urethane paint on the exterior with oil-based enamel paint on the interior, Hempel Paints from Coating System & Supply in Paducah. Blasting and painting were by Calvert Marine Painting of Calvert City, Ky.
Additionally, the bow and three stern void spaces were water blasted and coated by Calvert Marine Painting and are protected with Z TECH Barge Guard from Coating Systems & Supply.