Diesel-powered propeller towboats had been making great strides since the early 1920s with yards such as the Howards, Wards and Nashville Bridge, and it was only natural that Dravo would become interested in that concept.
Dravo had its origins in 1890 when Francis "Frank" Rouaud Dravo joined with William H. Black to form Dravo-Black to sell steam power plants. In 1891, Black withdrew, and the firm became F.R. Dravo & Company. In 1893, Frank Dravo was joined by his brother, Ralph Marshall Dravo. This grew into the Dravo Contracting Company and other interests. The Union Barge Line Corporation (UBL) had been formed in January 1928, and in January 1929 Dravo assumed management of UBL. By August 1932 it was a majority owner.
Dravo Contracting had built several steam sternwheel towboats, as well as some small diesel sternwheelers. In 1917, Dravo had built the twin-screw steam towboat Peace, which was used in their construction division until about 1930, at which time they had also built two large twin-screw steam towboats for the new Mississippi Valley Barge Line Company, the Ohio and Tennessee. In 1933, a decision was made to augment the UBL fleet of steam sternwheel towboats with two new diesel craft. The Dravo brothers took a personal interest in the design of these boats, and Frank Dravo always referred to the first one as the Peace, which it was ultimately named. However, he wouldn't live to see it completed. On the evening of February 26, 1934, he boarded a train at Sewickley, Pa.; the train derailed a few minutes later, and Dravo was killed in the crash.
The new Peace came out in October 1934 with much fanfare. The boat was of steel construction, with overall dimensions of 162 feet, 4 inches by 34 feet, 6 inches by 8 feet. A brass plaque honoring Francis R. Dravo was placed in the officers' lounge. It had a full second cabin surmounted by a large pilothouse, with two tall smokestacks rising behind the pilothouse. In nearly every aspect it resembled a steamboat of that day and time.
Sign up for Waterway Journal's weekly newsletter.
Our weekly newsletter delivers the latest inland marine news straight to your inbox including breaking news, our exclusive columns and much more.
Power was provided by a pair of Winton diesel engines, six-cylinder, four-cycle, 14-inch bore by 18-inch stroke rated at a combined total of 750 hp. at 250 rpm. This horsepower was comparable to the UBL steam sternwheel boats C.W. Talbot, J.D. Ayers and Sam Craig. The traditional Dravo ad on the back cover of The Waterways Journal for several issues had photos of the Peace and its appointments.
The Peace left Pittsburgh bound for New Orleans on October 25, 1934, with what was described as Union Barge Line Tow No. 150, which included an exhibition barge made up of displays by 16 leading industrial companies that heavily utilized inland waterway transportation. Many of those companies, including Union Barge Line, Carnegie Steel and J&L Steel, had large ads in The Waterways Journal, as did the Winton Engine Corporation and others who had supplied equipment used in construction of the Peace.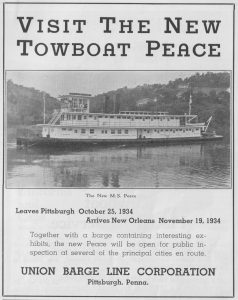 According to a tentative schedule published in the October 27, 1934, issue of the WJ, the Peace and the exhibition barge were to be open to the public at Pittsburgh, Wheeling, Huntington, Cincinnati, Louisville, Evansville, Paducah, Memphis, Vicksburg, Baton Rouge and New Orleans. Capt. Elmer Culp was aboard as master, and the Ohio River pilots were Capts. Grover Litten and Hazel Litten.
Tragedy struck the Dravo companies while the Peace was en route as Ralph Marshall Dravo died of a heart attack on November 11, 1934. The following year, a near-duplicate vessel named Neville was placed in service for UBL. A brass plaque was hung in the officers' lounge of the Neville honoring the memory of Ralph M. Dravo.
The Dravo Contracting Company continued to build steam sternwheel boats such as the Champion Coal, Omar and Charles T. Campbell, but would again refine the diesel prop towboat design in 1940. With the successful addition of the kort nozzle to Dravo's small single-screw towboat Pioneer in 1937, both the Peace and Neville were retrofitted with the thrust-increasing device. In 1948, both boats were repowered with GM 12-567 diesels, which were originally rated at 1,500 hp., and later upgraded to 1,800 hp. They were also fitted with Falk 2.48:1 reduction gears during the repowering project.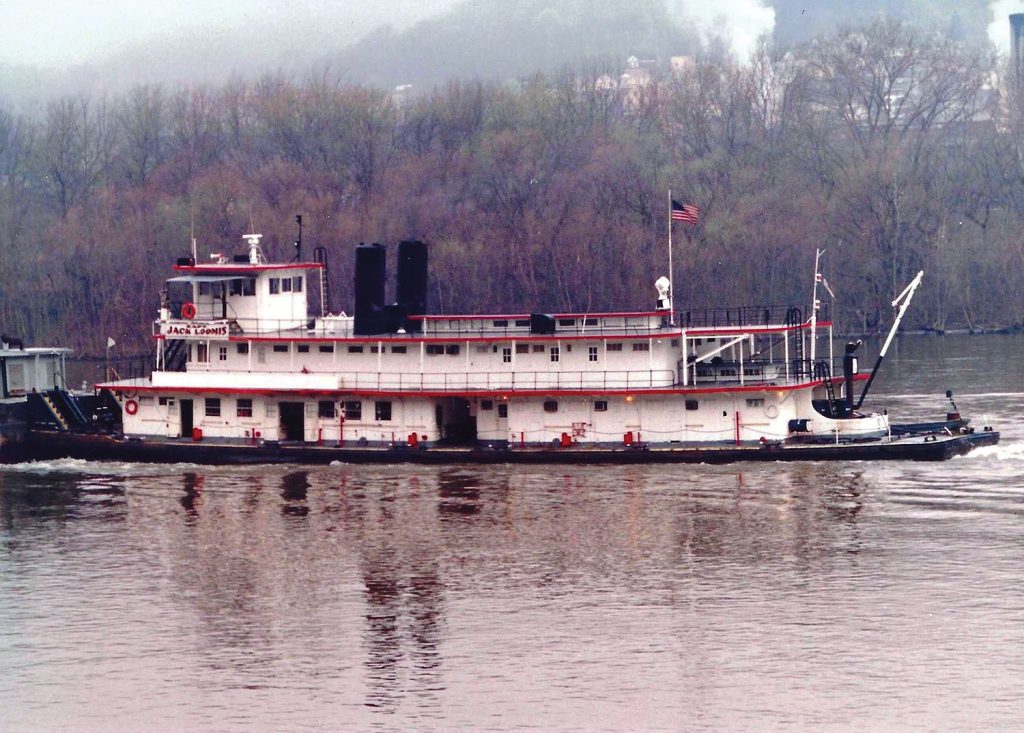 The Peace (radio call sign WA 9401) was sold in 1961 to C&P Towing Corporation and operated by Walker Towing Corporation, Paducah, Ky. In 1967, it was renamed Joseph E. Walker, the same year that Dravo built a new 5,200 hp. boat for UBL named Peace. In 1980 it was sold to G&C Towing, Point Pleasant, W.Va., and renamed Capt. Jack Loomis. The boat was retired in 1988-89 and converted into a landing boat, utilized first at Point Pleasant, and later was sold to interests at Cave-In-Rock, Ill., and finally was used by Western Rivers Boat Management at Calvert City, Ky. It was scrapped in very recent years.
The Neville (WA 8618) did not have as long a running life as the Peace, and according to the Inland River Record was sold in the summer of 1958 to Fontain M. Johnson & Company, then soon transferred to Bartlett & Company, Kansas City, Mo., which placed it under Missouri River Barge Lines in December 1959. In 1966 it was sold to Bulk Towing Company, Point Pleasant, W.Va. (Capt. Bob Bosworth) and renamed Edward S. Bosworth. In 1968 the Bosworth companies were sold to M/G Transport Services, Cincinnati. It was renamed Bald Eagle in 1970, and very soon afterward sank on the Upper Mississippi. It was dismantled and then for many years was a fixture at Newport, Ky., opposite Cincinnati as Helen's Newport Yacht Club. After several ownership changes it was scrapped about 2008.
These two boats, while not perfecting the design of diesel prop towboats, certainly set the standard for the next several years. The hulls were beautifully shaped with finely modeled bows, and the sheer and camber were evident from almost any angle. The internal framing was massive when compared to boats today and is most likely the reason that both boats existed in some form for more than 70 years.
Caption for top photo: Dravo glamour shot of the new Peace. (Dan Owen Boat Photo Museum collection)