Shamrock Marine, a Baton Rouge, La.-based provider of personnel and supply launch services and warehousing, started with a simple idea to meet a practical need—one that founder Duncan Armentor had experienced himself. A veteran river pilot with the New Orleans-Baton Rouge Steamship Pilots Association, Armentor had, at times, needed to board a ship, yet had no access to a launch to get to it.
Recognizing the need for a new launch service, Armentor purchased a crew boat in 2004, and the following year Shamrock Marine was born.
In the years since, the company has grown to include a fleet of crew boats; delivery vehicles; a sprawling dock, floating warehouse and an office fashioned out of a towboat's wheelhouse on the east bank of the Mississippi River in Baton Rouge; a shoreside warehouse in Baton Rouge; a dock in Carville, La.; and a warehouse in Channelview, Texas.
And as of this past summer, the Armentor-led lineup of operations on the Mississippi River in Louisiana now also includes a towing company and fleet, following his acquisition of M&P Barge Company. Named after founding brothers Murray and Perry Verret, M&P includes five towboats, crew boats, various crane and deck barges, and the 225 Red Eye Fleet, located about 5 miles downriver from the Shamrock wheelhouse office.
M&P towing vessels include the GW Dunn, the Uncle Bud, the Mister Cue, the Gabrielle Elizabeth and the Donnie Verret.
"The mv. Donnie Verret does lock-assist through Port Allen 24 hours a day," Armentor said. "She's a bigger boat with 1,500 hp. to assist boats through the lock."
The Uncle Bud is on long-term charter, Armentor said, and the Mister Cue primarily operates the ferry at Angola. The others are available in the Baton Rouge harbor and downriver to New Orleans.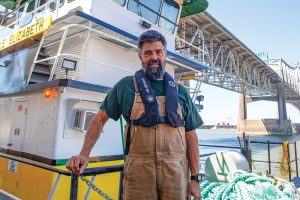 "With all the customers I'm already servicing with Shamrock, we can combine services," Armentor said. "Now, not only can we do their crew changes, groceries and supplies, we can also assist them in and out of the lock, and we can assist in shifting barges up and down their fleets and in and out of their tows. It offers a tremendous amount of service for all of our customers."
With the addition of M&P's team of around 28 employees, Armentor's combined workforce between Shamrock and the towing company stands at about 50.
Career Pathways
Armentor said the addition of M&P isn't just exciting from a business development perspective. Bringing the companies together also creates new pathways for his employees at both M&P and Shamrock. Crew boat captains with Shamrock now could have the chance to move into the wheelhouse with M&P, he said. Likewise, deckhands working on the towboats could move up to piloting the crew boats.
"It's phenomenal how we can cross-train guys and give them opportunities to move up," he said.
Besides the M&P vessels, Shamrock's dock in Baton Rouge is staying busy, with supply warehousing and deliveries and with harbor tugs mooring there as well. In addition, American Cruise Lines vessels dock at Shamrock for passenger day trips in Baton Rouge and to take on supplies.
At the heart of all that, Armentor said, is family. Armentor said it is an honor for him to carry on the M&P legacy that the Verret family started, while also following in the footsteps of his grandfather, Henry Wardell Ortte III, who started a barge company called Marine Operators in the mid-1950s. Armentor's uncle, Steve, eventually took over that business, and one of Marine Operators' former barges, MOP 15, served as an early dock for Shamrock. MOP 15 now makes up part of Shamrock's dock in Baton Rouge.
With both his grandfather and his uncle in the business, Armentor is a third-generation mariner and maritime business leader—and the fourth generation is already on the way. Armentor's three children plan on continuing the family business. He has a son and a daughter who are students at Great Lakes Maritime Academy, and his youngest child, a daughter, is at Louisiana State University studying business. Armentor said his older daughter, who is an accomplished gymnast, gave up competitive gymnastics in order to pursue a different dream.
"She approached me one night and said, 'Dad, would you be upset with me if I hung up my leotard and came out here to work on the river?'" Armentor said. "To have them around like that, I've been blown away."