Eckstein Trade & Transport LLC is a new business specializing in the recruitment of women in maritime and related industries.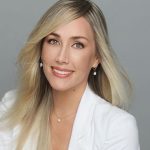 Founded by maritime industry veteran Kasey Eckstein, the business is based in Houston, Texas.
Eckstein formerly worked for Marquette Transportation and then Ingram Barge Company before starting her own business venture. She also is the founder and president of WIMOs (Women in Marine Operations) Association, which focuses on educating, engaging and elevating women within the industry.
"Eckstein Trade & Transport is a woman-owned recruitment agency that specializes in female placement services in the maritime industry, as well as in overlapping industries such as oil and gas," Eckstein said. "The Eckstein Trade & Transport logo is an 'ET&T bridge' and our slogan is 'Bridging the Gap.' The name and logo symbolize that ET&T will help bridge the gender gap in the maritime industry. We plan to eventually expand our services and help bridge gaps in other areas of the industry."
Eckstein noted that the maritime industry has been discussing its aging workforce for years.
"Now, it has officially aged," she said. "The younger generations highly value a diverse workplace, and it is no secret that our industry is predominantly male. Therefore, hiring more women is an obvious step that we can take to diversify our workplaces in order to do a better job of attracting the younger generations."
She said she feels there is a need for Eckstein Trade & Transport's services because she has seen first-hand how many employers are making commitments to hire more women.
"Employers are looking for quality female talent to fill roles that have traditionally been filled by men," Eckstein said. "Due to my involvement with WIMOs Association, for years employers have been reaching out to me asking if I know women qualified for various positions. I realized the growing need and then decided to do something about it."
Eckstein invites those interested in staying in the loop on job opportunities to send Eckstein Trade & Transport their resume by visiting the business' website at ecksteintradeandtransport.com.
Additionally, she said, "Any employers can also reach out to us there to discuss working together on hiring initiatives. Anyone considering a career change, or entering the industry, should send us their resume so that they can be considered for some of the career opportunities we are working on filling."