Arkansas Gov. Asa Hutchinson keynoted the Helm Fertilizer Terminal Expansion groundbreaking at Helena Harbor, Ark., on October 6.  The governor was joined by local elected officials, the board of directors of Helena Harbor and Helm officials to celebrate the occasion.  Helm is expanding its current Helena location with a new dock, a new direct transfer conveyor system and a new warehouse, at an estimated cost of $12 million.
John C. Edwards, general counsel and economic development director of Helena Harbor, served as master of ceremonies of the Helm groundbreaking.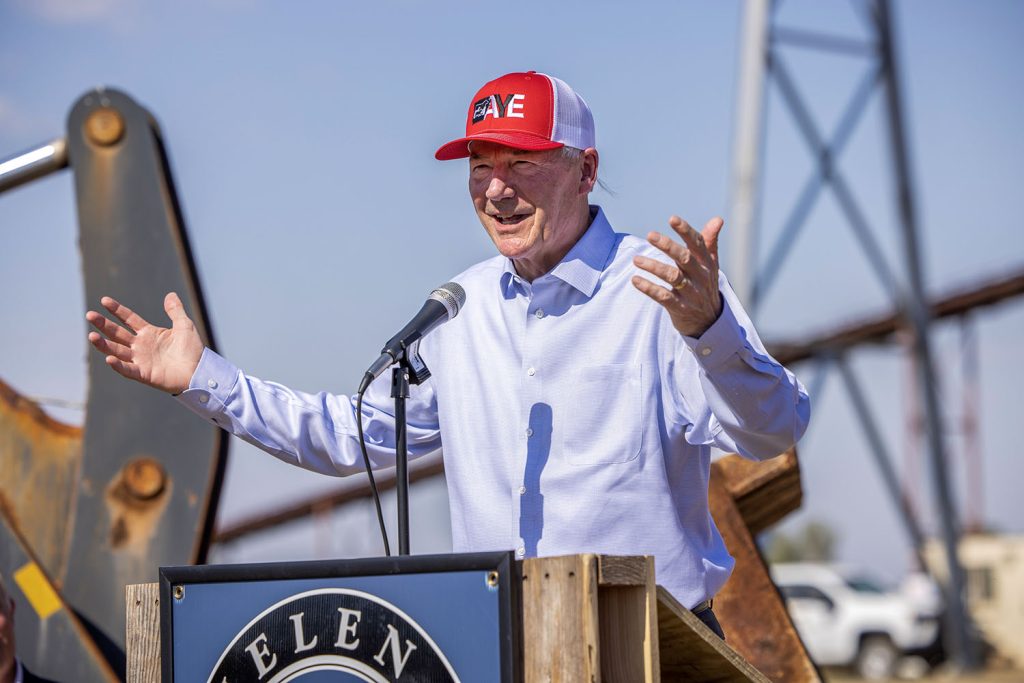 Edwards thanked Scott Shirk, president and CEO of Helm Fertilizer Terminals, saying, "Scott has worked very hard in challenging times to make sure this expansion is being done well, and we all appreciate his trust and confidence in Helena Harbor."  Shirk is a U.S. Army veteran, having served in Iraq, and a graduate of West Point.
Helm, founded in 1990, has locations in Memphis, Tenn., and Alexandria, La. 
Sign up for Waterway Journal's weekly newsletter.
Our weekly newsletter delivers the latest inland marine news straight to your inbox including breaking news, our exclusive columns and much more.
Helm Helena Terminal Manager Mark Pruett welcomed those gathered to the Helm Terminal.  "This expansion is greatly needed with the increase in business Helm as experienced," he said. Prior to the ceremony, Pruett briefed Hutchinson on all aspects of the terminal operation and the impact the war in Ukraine has had on the fertilizer industry.
Helena-West Helena Mayor Kevin Smith thanked the Helm leadership team for expanding at Helena Harbor. Phillips County Judge Clark Hall noted the importance of Helena Harbor to the future of Phillips County and said businesses like Helm are "moving us forward."  
Edwards introduced Arkansas Waterways Commission Chair Phyllis Harden and noted that "she and the commission have been vital to the growth Helena Harbor has experienced by supporting funding for critical infrastructure."  
Helena Harbor Board Chairman Leroy Carter introduced Hutchinson and thanked him for all of his support over the years.  In July, the governor presented Helena Harbor with $535,000 in funding from the Arkansas Waterways Commission to help construct a staging lane for 18-wheelers.
COB Grant Announced
The groundbreaking is just one of a series of wins for the port. Port officials are also celebrating news that Helena Harbor has been awarded $2,872,414 in grant funding to support a container-on-barge terminal. 
Edwards said, "This is the largest single infrastructure and equipment investment in the history of Helena Harbor. It comes at a critical time when the need for developing inland river ports has become very clear." 
This grant will support investments made by the Arkansas Waterways Commission that provided funding for a container laydown yard. 
"Developing cost-effective transportation options that will utilize the Mississippi River is good for private businesses, takes stress off our highway network and is good for the environment," Edwards said.  He thanked the Biden/Harris administration, the Arkansas congressional delegation, the U.S. Maritime Administration, Hutchinson and the Arkansas Waterways Commission for supporting the award. 
In addition, Edwards thanked Aimee Andres of Inland Rivers, Ports & Terminals for her advocacy in supporting the inland river transportation system. "No one does this work in a vacuum, and we could not be here without the support of these great industry partners," he said.
Work on the project will begin after the formal notice to proceed is issued.  Under the terms of this program, all materials and equipment must be manufactured in the United States of America. Another grant application is pending, Edwards said, that will bring in a rail spur, if successful. 
Right now, the low water has halted barge traffic at the port. "There were a few barges loading half-loads last week," Edwards said. "The low water has got us shut down." But nothing could dampen his enthusiasm for the port's prospects. He mentioned a new AT&T fiber-optic cable that was recently laid in the port. "We're in development mode now, and we have a lot of balls in the air, but it's very exciting to us to see ground broken and to be on our way to developing all these projects." 
Caption for top photo: Groundbreaking for new Helm Fertilizer terminal expansion project at Helena Harbor. (photo by Karen E. Segrave/KES Photo)