Maritime Partners, a New Orleans-based maritime leasing and financing company, held a christening ceremony October 7 in Bayou La Batre, Ala.,  for the mv. Eric Livingston, a 3,400 hp. towboat built by Steiner Construction Company. The Eric Livingston is the eighth towboat Steiner Construction has built for Maritime Partners, with three more on the way.
The vessel is named for Maritime Partners' chief operating officer, Eric Livingston. Livingston has more than 30 years of experience in the leasing industry, and for the past 23 years, he has been involved with inland marine leasing. Livingston said he met Maritime Partners founders Bick Brooks and Austin Sperry about a year after they started the company, when he was working for GATX Corporation and based in San Francisco.
"GATX was selling their inland marine division, which I managed, and Bick and Austin purchased some of the assets we were selling," Livingston said.
Livingston joined Maritime Partners in 2019 as executive vice president of portfolio management—just in time for the company's explosive growth over the past several years.
"When I got here in mid-2019, we had about 300 vessels in our fleet," Livingston said. "Now, we have over 1,500. That kind of growth for someone in my position, which is to manage that portfolio, was a rocket ride. It was exciting and, obviously, a lot of work. It posed a huge challenge, but it was something I was excited to tackle. I was very grateful that Bick and Austin were willing to put their trust in me to manage a portfolio that size."
Livingston said that, while the Maritime Partners team has also grown over time, the personnel growth hasn't been as dramatic as the fleet.
"When I got here, we were seven people, and now we're 19," he said. "It's grown, but not as much as you would think it would, given the growth of the fleet, and that's because Maritime Partners is not an operator. We bareboat charter. The business model is very scalable without having to add a whole lot of head count."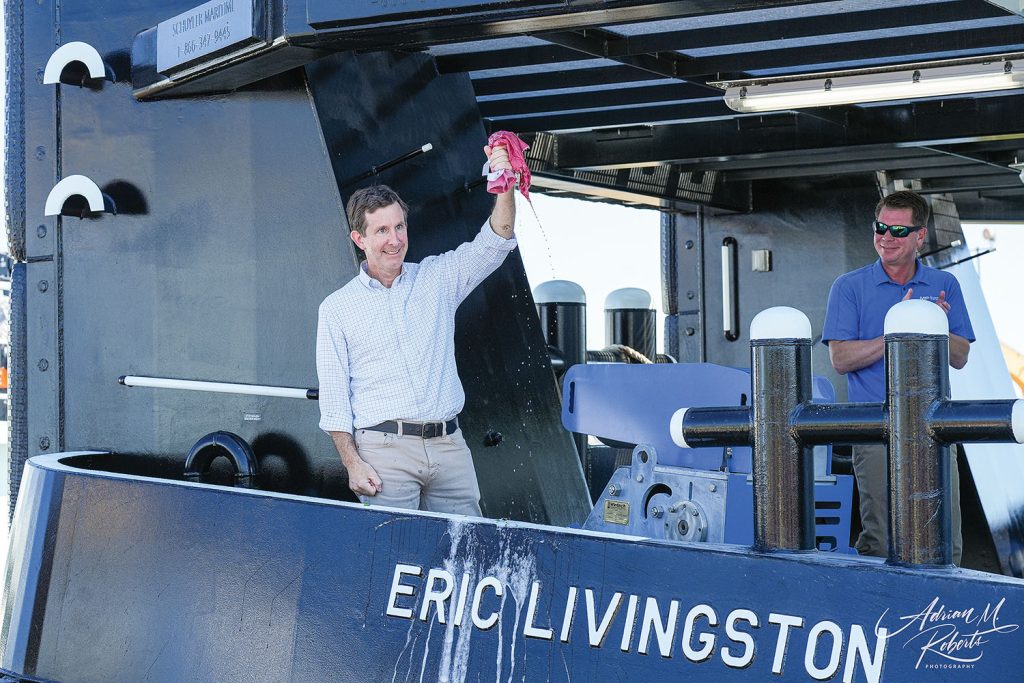 While Livingston was familiar with the task of fleet portfolio management when he moved from San Francisco to New Orleans in 2019, one thing that was new to him was life on the Gulf Coast. He described the Gulf Coast as "a much more relaxed environment" compared to the West Coast.
"The hardest transition was the weather," he said. "The weather in northern California is pretty perfect. The weather here is hot and humid."
Livingston said, regardless of the location, he's always struck by the goodness of the people in the maritime industry.
"The people are great, very fair, honest and down to earth," he said. "Even though you're dealing with a customer and trying to get business done, it's not cutthroat. Everyone is very fair, honest and willing to be reasonable."
Livingston said that, while Brooks and Sperry had previously allowed him to name vessels after one of his children and two of his grandchildren, having a boat bear his name was a huge surprise—and an honor.
"I would like to express my gratitude to Bick Brooks and Austin Sperry for naming the boat for me," Livingston said. "I was very surprised and very honored, and it's still sinking in."
Livingston said it's a little surreal to be responsible for marketing the mv. Eric Livingston to a leasing partner. Still, he's treating his namesake the same as every other vessel.
"It's just another asset that's part of our fleet," he said.
Delivered in September, the mv. Eric Livingston was christened October 7 at Steiner Construction's new 24-acre site, located just down the bayou from the original shipyard. (See WJ, March 21). Up next from Steiner Construction for Maritime Partners will be two 2,600 hp. 100-foot retractables and a 3,400 hp. 120-foot retractable.
The twin screw mv. Eric Livingston measures 120 by 34 by 10.5 feet, and when fully loaded with fuel and potable water (59,100 gallons and 8,380 gallons, respectively), it has a pilothouse eye level of 32 feet 9 inches, according to the overall design of Farrell & Norton.
The two Mitsubishi S16R Tier III mains from Laborde are rated 1,675 bhp. at 1,600 hp. each. The engines turn two 85-inch by 65-inch, four-blade Sound propellers on 8-inch, cold-rolled shafts with Wartsila seals from Dale's Welding. Reduction ratio is 6.145:1 through Reintjes 773 gears from Karl Senner. The engines are cooled by Fernstrum keel coolers.
Two 99 kw. Cummins QSB7 generators provide auxiliary power throughout the mv. Eric Livingston, including the captain's quarters and a private head on the texas deck, two single cabins and private heads on the second deck, and two two-man cabins and a shared head on the main deck. Sound and vibration damping is from Mascot. Wastewater is treated by a Seahorse CMP-40 unit.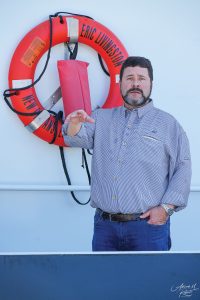 The galley features a Frigidaire side-by-side refrigerator, freezer, range and microwave. There are granite countertops in the galley, Torginol vinyl flooring and Spanish cedar woodwork throughout the vessel, all provided by Kern Martin. Air conditioning and heating is by R.S. Price & Son.
The steering and flanking rudders are controlled by an electric-over-hydraulic, full follow-up system manufactured and installed by Rio Controls, which also provided the vessel's alarm systems. Wheelhouse Electronics furnished the Furuno and Koden electronics package.
On deck are two 40-ton Wintech winches. The fendering is from Schuyler, and paint is from Sherwin Williams.
Livingston expressed his appreciation to Steiner Construction owner Bubba Steiner for both the vessel and the memorable christening.
"I would like to thank Bubba Steiner," he said. "We were going to do a very small, private christening, but Bubba insisted on doing something bigger. He had the shipyard folks there. He cooked a meal—Bubba's a great cook. I was very grateful for that. He's just that kind of guy."