Marquette Transportation Names Darin Adrian President Of River Division
Longtime leadership team member Darin Adrian has been named president of Marquette Transportation Company's river division.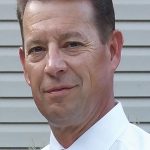 Adrian has been with the company more than 36 years, most recently as executive vice president-river division. The company made the announcement on October 4.
"In his role as President-Marquette river division, Darin will oversee the sales and logistics and operations of Marquette's river division, which encompasses our 62-towboat large horsepower fleet," said Damon Judd, president and CEO of Marquette Transportation Company. "As a senior executive with Marquette, Darin will remain heavily involved in Marquette's customer partnerships, mariner relationships and in helping to identify and execute business opportunities at each of Marquette's three divisions. Darin will also continue to provide senior leadership in promoting cooperation and operational efficiencies amongst our River, Gulf-Inland and Offshore teams."
Adrian is to report directly to Judd and will communicate regularly with John Eckstein, Marquette's chairman, along with the board of directors, Judd said.
He added that Adrian was the right choice for the position because he has been a "steady leader" throughout his tenure and contributed to Marquette's growth and success.
"Darin is passionate about the importance of Marquette's culture, the strength of Marquette's mariners and our commitment to best-in-class customer service and long-term partnerships that is supported by the hard work of our vessel crews and shore-based teams," Judd said. "Darin has played an active role within the industry and working with our industry partners at the U.S. Coast Guard and U.S. Army Corps of Engineers as we collectively work through operational challenges like the current low-water situation. His knowledge of the system is immense."
Judd said Adrian is a trusted and respected business partner to everyone on the leadership team.
Additionally, "He leads by example and has exemplary character," Judd said. 
Adrian began his career with Marquette Transportation Company in 1986 as a dispatcher in the traffic department when Marquette was headquartered in Cassville, Wis. 
At the time, the company had four boats and about 60 barges, Judd said. He was part of the core team that moved to Paducah, Ky., in 1990 and was promoted to manager of the traffic department in 1991. In 2001, he was named vice president of sales and logistics before being named to the role of executive vice president-river division in 2010.
In addition to his internal role at Marquette, Adrian has held leadership roles in several industry organizations, including the River Industry Executive Task Force (RIETF), where he served as chairman from 2019-20, American Waterways Operators' board member for the Midwest and Ohio Valley regions, the AWO executive committee and as a past member of Seamen's Church Institute's River Bell committee.
"I am both honored and humbled that John, Damon and the Marquette board have put their confidence and trust in me and I look forward to helping lead this great team at Marquette in my new role," Adrian said. "Marquette's roster is full of committed and dedicated individuals, shoreside and on our vessels, who give 110 percent each and every day.  It's easy to lead in an organization with that overall perspective."