Buffalo Marine Service christened the newest boat in its fleet, the Jacques-Imo, October 19.
The ceremony was held at Star Fleet on the west bank of the Mississippi River with the city of New Orleans in the background. 
The 76- by 35-foot boat was purchased from Kirby Inland Marine and will operate in the bunkering and line-haul business for Houston-based Buffalo. Originally built in 2012 at Bayou La Batre, Ala., by Raymond & Associates as the Scott A. Settoon for Settoon Towing of Pierre Part, La., it was acquired by Savage Inland Marine and operated as the Savage Opportunity. Most recently, Kirby Inland Marine owned it as the Gene McGlothlin.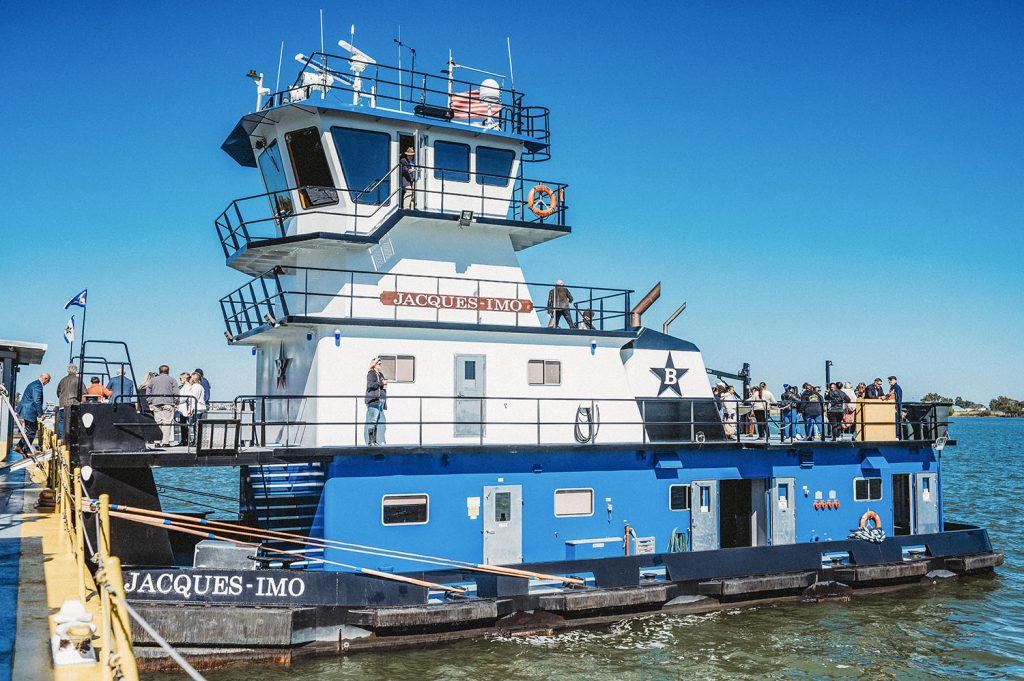 Buffalo Marine has 20 pushboats and 36 barges in its fleet with 180 employees.
"When I buy a used boat, I want the finished product to be worthy of donning the Buffalo star," Buffalo Marine President Tim Studdert told the christening audience. He said he looked at, and rejected, a lot of boats, noting all would require too much rehabilitation and the associated costs. 
At Kirby Inland Marine's fleet, he crossed over a boat to look at two others that were for sale. What he decided was he wanted the boat he had crossed over, but he was told that one was not for sale. 
After some negotiation, Studdert was able to work with Richard Northcutt, an executive vice president with Kirby, to acquire the boat, with the caveat that all the repair work had to be done at Kirby-owned San Jac Marine in Channelview, Texas.
Honoring A Restaurant
Tim Studdert and his Dad, CEO Pat Studdert, were trying to decide on a name for the new boat, along with General Counsel Tom Marian. It was Tim who finally suggested that Marian's favorite restaurant in New Orleans, Jacques-Imo's, should be honored.
The Buffalo Marine/Jacques-Imo's connection was attributed to the restaurant owner's affiliation with the Coast Guard. Jacques Leonardi was a 1984 graduate of the Coast Guard Academy and a classmate of Tom Marian.
Tim Studdert and Marian discussed how instrumental Leonardi and his wife, Amelia, were as Buffalo Marine pushed into the New Orleans market in 2007.
 "Jack and Amelia welcomed us into their home, rolled out the red carpet for many a customer and friend and treated numerous Buffalo Marine crew members to some of the best Creole cuisine in the city," Studdert recalled.
As many a denizen from New Orleans will attest, Jacques-Imo's is a well-known restaurant on Oak Street in the upscale Riverbend/Carrollton section of the city. The Leonardis take great pride in the reputation their restaurant has earned since it first opened its door in 1996.
In light of Jacques' Coast Guard background, support of the industry and generous hospitality to Buffalo Marine, it was decided that the new boat would be named Jacques-Imo, honoring a friend and all the work that Leonardi had helped with over the years.
Marian, who served as master of ceremonies at the christening, kept the audience laughing with more zingers than a late-night talk show host as he remembered his time and the people at the academy and with Buffalo Marine.
Leonardi, it turns out, was roommates with Steven Poulin, who is now vice commandant of the U.S. Coast Guard. Adm. Poulin took personal leave to attend the ceremony, along with four other members of the Class of 1984. 
A total of 15 active and retired Coast Guard members attended the ceremony, including active members Rear Adm. Richard Timme, commander of the Eighth District, and Capt. Kelly Denning, commander of Sector New Orleans. Retired Coasties Rear Adm. Joel Whitehead, Capt. Ron Branch, Capt. Frank Paskewich and Capt. Thomas Marian (Tom's father, Class of 1958) also attended. 
The Rev. Steven Ryan performed the blessing, along with the opening and closing prayers, which honored mariners and their contribution to international commerce.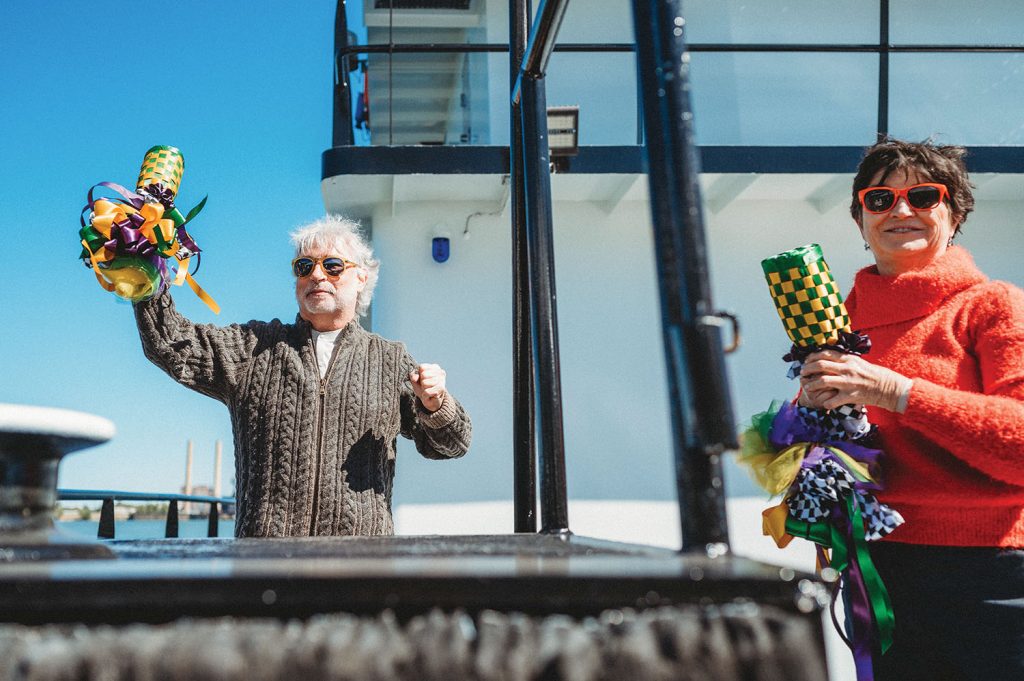 'Nawlins' Cuisine
Leonardi was raised on a farm in upstate New York and was exposed to the cuisine of his French mother and Italian father, along with the use of fresh seasonal ingredients.
While stationed in New Orleans in 1986, Leonardi fell in love with the city and its cuisine. While continuing to serve as an active-duty officer during the day, he worked the night shift part time at Chef Paul Prudhomme's K-Paul's Louisiana Kitchen. It was there that he learned the basics of "Nawlins" style cooking.
In 1996, the Leonardis purchased a building that would become the home of Jacques-Imo's. It took help from legendary Chef Austin Leslie, a little creativity with food dishes and a lot of hard work to make Jacques-Imo's one of New Orleans' most popular restaurants. 
Locals and tourists wait up to two hours for a table, and reservations for five or more fill up weeks in advance. Jacques can be seen nightly, mingling with his patrons.
In 2002, his itch to expand proved too much, and he opened a now, local-favorite po'boy shop called Crabby Jack's on Jefferson Highway, not far from the Mississippi River. Now locals and tourists can enjoy lunch at Crabby Jack's and dinner at Jacques-Imo's.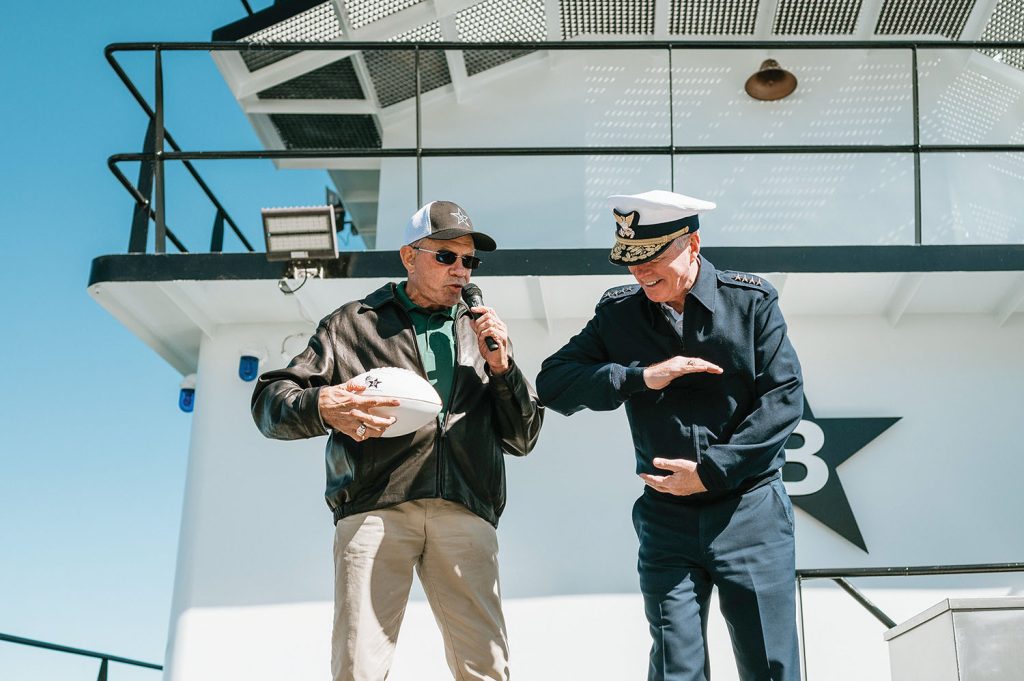 Buffalo Marine Footballs
During the ceremony, Pat Studdert presented Poulin with a football, a tradition with Buffalo Marine.
"I wanted to give Steve a football earlier when he retired," Studdert said, "but he just kept getting promoted."
"Carrying the Ball for Buffalo Marine" is inscribed on the footballs that are given to all new-hires and to others who provide support for the company. Employees who leave Buffalo Marine must return their football.
After attending the University of Houston on a track scholarship, Pat Studdert became a successful football coach, and he claims to be the only former head football coach in the bunker business. He was the first high school head coach to employ the complicated wishbone offense.
Buffalo Marine was originally formed in 1935 as Gissel Marine. It grew to own and operate dredges, along with tugs and barges carrying clean and dirty fuels.
Hard times hit the company, forcing a reorganization in 1961. Pat Studdert worked part time for the company, but his father suggested he "stay with the coaching job because we don't know if we are going to make it."
Coming out of bankruptcy, the company took the name Buffalo Marine and kept only two towboats and two barges for its ship bunkering business, "the only thing we did really well," Pat Studdert said.
Studdert coached his last season in 1976 before moving to Buffalo Marine full time. In 1980, his father, Tom Studdert, died, and Pat took over.
Pat Studdert would use the same discipline and teamwork concepts from his coaching days to build Buffalo Marine; hence the significance of the footballs.
While Studdert was delivering his remarks, the mv. C.J. Studdert passed astern of the moored Jacques-Imo, pushing two loaded 30,000-barrel tank barges. Studdert pointed this out as the passing towboat twice saluted the gathering with its horn.
 Studdert added that he and his wife, Tracee, were extremely proud of the fact that their son's namesake push boat happened upon the scene. It truly underscored the Buffalo Marine family legacy.
The Jacques-Imo
The boat now known as the Jacques-Imo was unmanned during the severe freeze that hit Texas a couple of years ago. Not being winterized, all the plumbing froze, splitting piping. After the weather warmed, water from the piping caused significant cosmetic damage to the interior.  Walls had to be opened up to get to the damaged piping. It was a major refit.
Tim Studdert thanked Mitch Jones, a vice president with San Jac Marine, for overseeing the reconditioning. 
In the wheelhouse and galley, the logo of Jacques-Imo's was inlaid into the floor by Chad Bird of Polyspec of Houston. 
Measuring 76 by 35 feet, with a draft of 7.6 feet, the Jacques-Imo has two new Cummins KTA38 engines with 7:1 Twin Disc MG540 gearboxes. Tim Studdert credits Brandon Weaver of Cummins Houston with helping locate the two, 1,000 hp. engines that are in short supply.
Generator sets are 67 kW Cummins 6BTA and are installed aft in a separate room, making the engineroom much quieter than normal. Fendering was replaced by Schuyler Marine.
Virtually the entire power train was reworked, including the Wartsila water-lubricated stern tube seals, Duramax Brass bearings, grid cooling and 76- by 63-inch stainless steel wheels.
Buffalo Marine also had wheelhouse electronics reworked, including two radars, loud hailer, satellite compass, AIS and electric wind gauge, all supplied by Furuno. The VHF radios are from Icom. The intercom system is by Newmar, and the swing meter is a Sigma 300.
The Jacques-Imo has four staterooms and sleeps six. Much of the interior woodwork was revamped, along with the sound and vibration dampening. The fire safety equipment has a Rio Fire Panel. Air conditioning uses three, 3-ton Carrier residential units. All the galley equipment was replaced with stainless steel appliances.
After blasting and painting, San Jac Marine's reconditioning left the Jacque-Imo looking like a new-build boat. 
During his remarks, Marian recounted how tough the maritime business can be, citing Hurricane Katrina, the recession of 2008-09, the government-induced slowdown after the Deepwater Horizon explosion and COVID-19.
"But the maritime industry comes together very successfully in keeping the supply chain moving," Marian said. "While mariners work in the wheelhouse, others sit a home clicking away at orders on the internet."
As a final comment, Marian thanked classmates at the Coast Guard Academy for taking on new responsibilities in training the many underclassmen, while he met and focused his attention on one, his future wife Nancy, who also was a Coast Guard underclassman. They are still together, 40 years and five children later.
Jacques and Amelia Leonardi took advantage of the honor Buffalo Marine bestowed on themby hiring a school bus and bringing many of their employees and family members from the restaurant, both to help with the catering and to enjoy the christening festivities at Star Fleet. It was the first visit on a towboat for most, introducing them to the commercial marine world.
Caption for top photo: Amelia Leonardi breaks champagne bottle to christen the mv. Jacques-Imo. (Photo by Katie Sikora courtesy of Buffalo Marine)
For more pictures from the christening, click on the slideshow below.
Rear Adm. Richard Timme, Vice Commandant Steven Poulin, Cheri Felder and Tom Marian. (Photo by Katie Sikora courtesy of Buffalo Marine)