Milwaukee Port Director To Be Seaway Administrator
The White House announced November 4 that President Joe Biden has appointed former Milwaukee port director Adam Tindall-Schlicht as the next administrator of the Great Lakes St. Lawrence Seaway Development Corporation (GLSLSDC). Tindall-Schlicht resigned his position at Port Milwaukee on October 19; his last day at the port was October 28.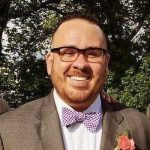 The U.S. Seaway has been without an administrator since 2016 when former Ohio Rep. Betty Sutton left the post. In April, 40 members of Congress from both houses wrote to Biden, urging that the position be filled. Tindall-Schlicht will be the first Great Lakes port director to serve as administrator since 1983.
"My position as port director has been the greatest experience of my professional life thus far," said Tindall-Schlicht in a statement released by the port. "Serving the residents of the city of Milwaukee and promoting statewide economic growth through the port's commercial, recreational and cruise operations has been a privilege."
"We are witnessing unparalleled growth across Milwaukee Harbor," Milwaukee Mayor Cavalier Johnson said. "Much of that progress is attributable to Adam, who has been tireless in his advocacy, strategic partnership building, fundraising efforts and stewardship at the port. I am deeply appreciative of his contributions to the city of Milwaukee."
Sign up for Waterway Journal's weekly newsletter.
Our weekly newsletter delivers the latest inland marine news straight to your inbox including breaking news, our exclusive columns and much more.
Tindall-Schlicht has served as director of Port Milwaukee since August 2018. An interim port director will be announced in the weeks ahead. A nationwide search will soon commence to identify a permanent replacement for Milwaukee's port director.
"The GLSLSDC is a member of the [U.S. Committee on the Maritime Transportation System, an interagency coordinating committee] and, having known Adam for many years, we are looking forward to welcoming him to the team," noted Helen Brohl, CMTS executive director.