Guidry, Morton To Be Honored At River Bell Luncheon
The Seamen's Church Institute (SCI) will honor James C. Guidry, executive vice president of vessel operations for Kirby Corporation, with the River Bell Award at the annual River Bell Awards Luncheon on December 8.
Frank Morton, founder and director of Turn Services LLC, will receive the River Legend Award.
The crew of the mv. Miss Niz of Marquette Transportation and the crew of the mv. Michael Granger of Ingram Barge Company will both receive the Lifesaving Award.
The luncheon takes place at from 11 a.m. to 2 p.m. at the Paducah-McCracken County Convention & Expo Center, 415 Park St., Paducah, Ky. Tickets are available by emailing riverbell@seamenschurch.org or calling 212-401-4072.
Sign up for Waterway Journal's weekly newsletter.
Our weekly newsletter delivers the latest inland marine news straight to your inbox including breaking news, our exclusive columns and much more.
The Rev. Mark Nestlehutt, SCI's president and executive director, noted that the organization's commitment to mariners in the inland marine industry dates back to the mid-1990s, when SCI introduced advanced simulator training for inland and offshore mariners at its facilities in Paducah and in Houston, Texas.
SCI also provides chaplains that serve as first responders for crises and ongoing mariner support.
"SCI's commitment to this segment of the maritime industry has only deepened over time, and we have forged meaningful partnerships and relationships with company leadership and the mariners we serve," Nestlehutt said. "This year, we are honored to spotlight two individuals—Jim Guidry of Kirby, and Frank Morton of Turn Services—both respected leaders with a long history of dedication to the industry and who share SCI's commitment to mariner wellbeing."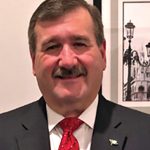 Jim Guidry
Guidry began his career in the maritime industry in 1983, serving in "every available capacity" aboard vessels owned and operated by his father's inland towing business, Guidry Enterprises Inc.
In 1987, he transitioned from the vessels to assume shoreside responsibilities, eventually serving as the vice president responsible for oversight and management of all aspects of the company.
In 1994, Guidry joined Kirby as a port captain of Sabine Towing & Transportation's fleet of inland boats and barges. He transferred to Houston, Texas, in 1996, when Kirby Inland Marine LP was formed by the combination of nine individual operating companies. Guidry currently serves as executive vice president of vessel operations for Kirby Marine Transportation group.
Guidry has served as the president of Texas Waterway Operators and co-chair of the American Waterways Operators' (AWO) River Industry Executive Task Force.  He is currently acting as the incident commander for the Kirby Corporation Incident Management Team as a qualified Type I planning section chief and incident commander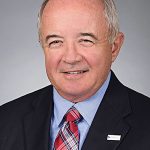 Frank Morton
Morton began his river career in 1968 first as a part-time laborer and later as a deckhand for Foretich Marine Contracting Company in Gulfport, Miss.
In 1972, he began working as a dispatcher for Minnesota Harbor Service of St. Paul, Minn. From there he went to J. Weeks & Associates in South St. Paul, where he was a part owner.
Morton then held a variety of positions, giving him experience in marketing, sales and logistics before spending 10 years as owner and president of HAR-WIN Inc., a barge operator and freight and equipment broker based in New Orleans, La. 
He went on to found, own and be president of two other Louisiana-based companies, Mohawk Services Inc. and Commercial Fleet Inc., before founding Turn Services LLC in April 1990. The company is a full-service barge fleet operator based in New Orleans. Morton has also served as president and executive director of America's Watershed Initiative, a non-profit umbrella organization advocating for the Mississippi River watershed, beginning in March 2019. He was the national chairman for AWO from 2014-2015 and has also served on AWO's leadership council, executive committee and national board of directors, among other positions.