Henderson County Riverport Authority Hires Weithman As Next Director
New Henderson County Riverport Executive Director Ben Weithman is not a stranger to the port business, nor to the construction and agricultural products that move through terminals along the river.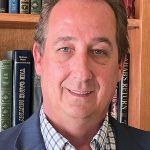 Weithman, 55, of Evansville, Ind., most recently served as the director of Ports of Indiana – Mount Vernon, but previously served as senior transportation market consultant/analyst for ag commodities at IHS Markit. He also spent four years as a grain merchandiser at Consolidated Grain & Barge. 
Weithman previously spent 20 years in various roles within a construction and real estate development business his family owned in north central Ohio. The business included warehousing, construction, commercial-industrial leasing and development of an industrial park.
He hopes to use that wide range of experience to benefit the people and community of Henderson County in his new role as the port authority's executive director.
Sign up for Waterway Journal's weekly newsletter.
Our weekly newsletter delivers the latest inland marine news straight to your inbox including breaking news, our exclusive columns and much more.
Weithman has been working closely with outgoing port director Greg Pritchett since October 25. Prichett, who has served the community as the riverport's executive director for the past 19 years, plans to retire at the end of the year.
"It's been really great getting the opportunity to work with Greg," Weithman said, noting that Pritchett is so well known that he "can't walk 10 feet in a restaurant without five or six people stopping to see how he's doing and what's happening."
Weithman said one of the reasons he wanted the job in Henderson is precisely because it would provide the opportunity to be more engaged in the local and regional community.
"We are the stevedores, we are the warehousers, and we are the landlords," he said of the port, adding that the port is much more directly engaged with tenants and customers.
While with the Mount Vernon port, Weithman had management oversight in Indianapolis responsible for balancing the state's overall needs, he said. In Henderson, he feels he can provide leadership that is much more community-focused and community-driven. 
That includes playing a role in the area's economic development.
"The port of Henderson is a unique asset that the leaders of Henderson County had the foresight to develop more than 40 years ago," he said. "One of the exciting things about taking on this position is the opportunity to really engage with the community and region with the goal of the port being a part of its success."
Additionally, Weithman said Pritchett already has a great team in place, including several long-tenured employees or, as he puts it, "people who know their jobs and do them well."
He said he is also enthusiastic about joining the Henderson Riverport at a time when Kentucky has just finished its first major riverport study.
"The state spent significant money doing strategic planning, with lots of really good ideas and an excellent roadmap," he said.
Weithman had been involved in the early parts of that study back when he worked at IHS Markit.
"It's a pretty exciting time to be a part of a port in the state of Kentucky because there are a lot of good things happening and a lot of good things I'd like to be a part of," he said.
While Weithman hopes to continue Pritchett's legacy of community connectivity, he said he also looks forward to working with the state to try to direct more funding toward Kentucky's riverports. 
"We're a little out-funded when it comes to our neighboring states, and the riverport study demonstrated that," he said.
Additionally, he said, he wants to use his wide range of experience and the connections the port already has as a starting point for reaching out to his network for potential new projects that would make sense for the region.
Outside of work, Weithman and his wife of 27 years, Lora, enjoy cooking together and taking walks. They are the parents of twin sons, Luke and Justin, who are now adults, along with a new grandson, Benny, who was born in September. Weithman also likes to spend time reading and, every now and then, playing a round of golf.