Randy Lane Takes Over As Ohio DOT Maritime, Freight Manager
As the new freight and maritime manager for the Ohio Department of Transportation (ODOT), Randy Lane will take over the state's efforts to improve economic development on the Ohio River and Lake Erie.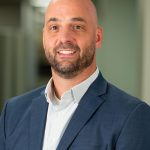 Lane, 45, replaces Mark Locker, who retired in July. Locker's 39-year career included leading a study on the economic impacts of the Ohio River a few years ago that contributed to the development of the Ohio Maritime Strategy and the creation of Ohio Maritime Assistance Program (MAP) grants to companies with projects on the Ohio River and Lake Erie within the state.
Lane took over the position September 26. He met with the Central Ohio River Business Association (CORBA) November 3 to introduce himself and his office. 
Lane's position is primarily based out of ODOT headquarters in Columbus, although he said he expects to travel throughout the state as needed. His job duties include implementing next steps and action items for the Transport Ohio Freight Plan, which the state adopted in August.
As part of that, Lane will coordinate freight and maritime priorities and initiatives, he said. He looks forward to working with partners across the state, along with local governments and regional and federal agencies to do so, he said.
"I'm just starting to work with partners to learn and understand as much as possible about how the Ohio River supports the growth of that region and the state as a whole and to understand the challenges and opportunities along the riverfront that help achieve that," Lane said.
Within the next 12 months, he said, he will also work on updating the Ohio Maritime Strategy, which was created in 2017 and involves the Ohio River, Lake Erie and their tributaries.
Lane will also oversee the MAP grants program, which has appropriated $23 million each over the last two bienniums for the state's public ports and the businesses located within them.
"Over the four years that the program has been in effect, we have awarded just over $8 million in total MAP program funding toward just about $35 million in total project costs," he said of Ohio River projects alone.
When Lake Erie projects are also considered, the MAP program has awarded $46 million to support projects valued at $125 million statewide.
Lane comes to ODOT with previous experience within its ranks. From 2004 to 2013, he served in the ODOT Office of Local Programs in administrator and program management roles. From 2013 until earlier this year, he served as director of programming for the Northeast Ohio Areawide Coordinating Agency (NOACA), a metropolitan planning organization overseeing the Cleveland area. That most recent position included working with the Port of Cleveland and Lake Erie economic activity.
In total, he has spent 20 years in transportation planning and programming.
"Why freight and maritime planning interested me is freight touches everything," Lane said. "It touches every mode in the state of Ohio, across air, water, highways and rail, and it touches everybody."
Outside of work, Lane is an avid sports fan of both the Cleveland Browns and the Cleveland Guardians. He has been married to his wife, Desiree, for almost 19 years, and they have three children.