In 1928, a diminutive sternwheel steam packet was built at Paducah, Ky. The boat had a wood hull that was only 64.9 by 21 feet and had a 4-foot depth. I have found no description of the machinery installed, but it was rated at 85 hp. The small boat sported two decks surmounted by a pilothouse situated back on the roof, and twin smokestacks were located forward of the pilothouse in true steamboat fashion. Named Queen of Dycusburg, according to Way's Packet Directory, it was owned by a Fred Joyce of Paducah and originally ran in a very short trade between Paducah and Dycusburg, Ky.
Dycusburg is a small town located near Mile 20 on the Cumberland River. About 1835, a ferry began operating at the site. The town was laid out by William Dycus, incorporated in 1847 as Dycusburgh (with an "h") and a post office opened there in 1848. Eventually several large tobacco warehouses were located nearby, handling 3-4 million pounds per year, and packets would regularly land there to pick up freight for shipment south.
According to Crittenden County History and Genealogy, there were at one time three hotels, a general store, at least two grocery stores, a hardware and a drug store located within the community. In 1894, the name of the town was changed, dropping the final "h" to become Dycusburg. The incorporation of the city was dissolved in 1981, and today, like so many other small towns, it is but a ghost of what it once was. The population in the 2010 census was listed as only 26.
By 1934, the Queen of Dycusburg had left the Paducah–Dycusburg trade and was operating from Memphis to points downstream. The owner, according to the 1934 List of U.S. Merchant Vessels, was C.E. Kennedy of Memphis. Way's states that it was owned in 1936 by Kennedy Dry Dock Company, but the Merchant Vessel List continues to show the owner as C.E. Kennedy through 1939. At some point before 1941, the boat was sold to James R. Hines Company, Bowling Green, Ky., and it then became a towboat operating on the Green and Barren rivers. It is interesting that Way's Packet Directory shows that the boat was sold to Hines, yet Way's Steam Towboat Directory carries no mention of the Queen of Dycusburg.
Sign up for Waterway Journal's weekly newsletter.
Our weekly newsletter delivers the latest inland marine news straight to your inbox including breaking news, our exclusive columns and much more.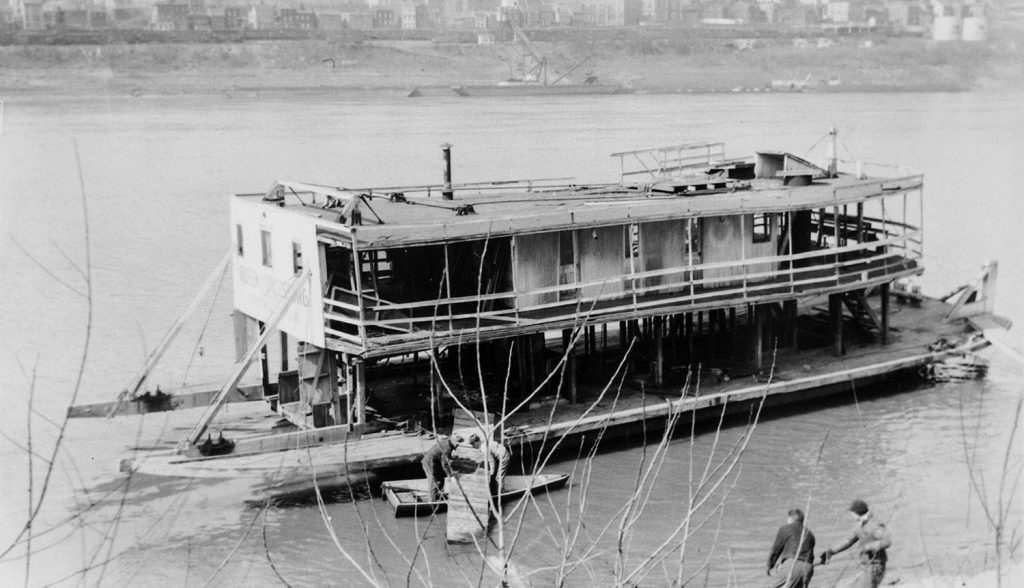 Hines continued to utilize the Queen of Dycusburg in towing until 1947. According to the 1948 edition of the Inland River Record, it was dismantled and sold to the Idle Hour Boat Harbor at Bellevue, Ky., opposite Cincinnati, where it was used as a head boat.
From this unprepossessing little boat sprang what would become Hines Inc. and continues today through Hines Furlong Line.