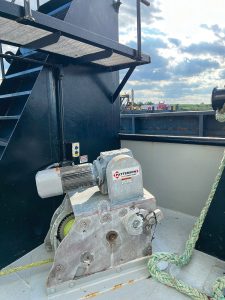 Dixie Towing recently upgraded the deck winches of its twin-screw, 1,800 hp. tug Dixie Trader with new winches from Patterson Manufacturing.
When Dixie Towing bought the tug in 2021, the vessel was approaching its 50th year in service. It needed new deck winches to take on the saltwater dredging support that makes up Dixie Towing's primary business, the company said.
The Dixie Trader was built in 1972 by Serodino Inc., of Guild, Tenn., as the Sun Trader for Sun State Marine Services Inc. of Jacksonville, Fla., a subsidy of Colonial Oil Company of Savannah, Ga.
Robert Gibbs Jr., vice president of Dixie Towing, said the company determined Patterson's 40E with 7.5 hp. motor and saltwater-corrosion package was the right choice for the Dixie Trader. The winches are outfitted with 150 feet of 1-1/4inch Riversteel line provided by SWOS of Houston, Texas.
Sign up for Waterway Journal's weekly newsletter.
Our weekly newsletter delivers the latest inland marine news straight to your inbox including breaking news, our exclusive columns and much more.
"Because our business is primarily dredge-support, we needed a winch not only strong enough to handle loaded 'Super Jumbo' hopper barges but also resilient enough to operate reliably in an environment where splashing salt water and mud is unavoidable," he said. "After several months of uninterrupted service, this pair of winches has proven to be the correct choice."
Patterson has provided winches paired with corrosion protection for decades to customers, including some for use in the Gulf Intracoastal Waterway.
 "Protecting products for corrosive environments, specifically saltwater, requires experience and attention to detail," said Taylor Grapes, president of Patterson Manufacturing. "Over the past 70 years, Patterson has continuously evolved our corrosion protection packages to ensure that, whether it is galvanizing or zinc plating, specialized paints or use of stainless steel and other corrosion resistant materials, your product will hold up over time and provide you with long-lasting quality and operational efficiency."