Speakers during the first day of Waterways Council Inc's 19th annual Waterways Symposium focused on current events, including the recent midterm elections, the economy and effects of the Ukraine War on the transportation of grains.
Held for the first time in Paducah, Ky., on December 7-8, the symposium was co-sponsored by The Waterways Journal.
Political Outlook
The symposium's first day keynote lunch speaker was Nathan Gonzales, editor and publisher of Inside Elections.
"I don't want to say nothing was a surprise," he said of the recent midterm elections, but added that since late summer his most likely of three possible scenarios involved the Republican party taking the House and the Democratic party taking the Senate. That proved to be true.
Sign up for Waterway Journal's weekly newsletter.
Our weekly newsletter delivers the latest inland marine news straight to your inbox including breaking news, our exclusive columns and much more.
"This wasn't a complete shock election compared to some we have had in the past," he said.
He analyzed the results, saying that although President Joe Biden's approval ratings have been low, Republicans largely proved unable to swing independent voters.
What was unusual is that for the first time since the populace began directly electing senators in 1914 (state legislatures voted on them before that year), not one currently serving senator up for re-election lost.
"You are living through history," Gonzales said.
He added, "Voters did not like the status quo, and yet we didn't have a 'throw the bums out' election."
Either voters didn't punish Democrats for Biden's perceived poor job performance, as indicated in polling, or they didn't like the Republican alternatives for Senate, Gonzales said.
Additionally, he noted that only one governor, Steve Sisolak, lost his bid for re-election.
Moving forward, each political party is likely to say there is no reason for change as both sides came out with perceived victories, Gonzales said.
While Democrats will hold more control over committees in the Senate, Republicans have already threatened to use their newfound power in the House to launch various investigations into Democrat rivals. Gonzalez said it will be important, however, for both sides to keep focused on issues voters identified as top priorities, including the economy, crime and immigration issues.
Looking ahead to the 2024 election, how well President Donald Trump does could depend on how many Republicans challenge him in the primaries, Gonzales said. If there are several, that could split the vote several ways and make Trump more likely to get a bigger percentage of the votes, he said. If it is a match against only one or two other candidates, such as Florida Gov. Ron Desantis and/or Sen. Tim Scott of South Carolina, Trump could fare worse.
"I think we still have to say Trump is the favorite now," he said.
Gonzales said he would be surprised to see Biden run for re-election.
"Democrats did better in spite of Biden, not because of Biden," he said of the mid-terms.
Likely Democratic candidates could include Vice President Kamala Harris, Secretary of Transportation Pete Buttigieg, Michigan Gov. Gretchen Whitmer and Sen. Mark Kelly of Arizona, he said.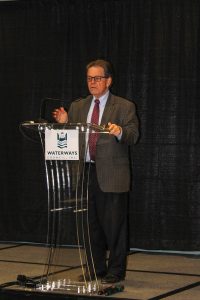 Economic Outlook
Arthur Laffer, economist and former economic policy adviser to President Ronald Reagan, spoke about what he sees as the pillars of economic prosperity. Laffer is the founder and chairman of Laffer Associates, an economic research and consulting firm. His influence in triggering a widespread tax-cutting movement in the 1980s earned him the distinction in several publications as the "father of supply-side economics."
"Economics is all about incentives, period," he said. "If you change the incentives, people change their behavior."
He said that of the 11 states that introduced a state income tax since the 1960s, "Every single one of those states declined on every single metric."
The "redistribution" of wealth, where policies seek to take money from top earners and distribute it through social programs to those earning much less, reduces total income because those at the top seek to use tax shelters to prevent paying more and those at the bottom feel they need to work less to get their needs met, he said.
Laffer also noted some of the findings from his recently released book "Taxes Have Consequences," cowritten by Dr. Brian Domitrovic and Dr. Jeanne Cairns Sinquefield and with the foreword by President Trump. 
When the federal income tax started in 1913, the top tax rate was 7 percent, and very few people had to file, Laffer said. By 1918, it was 77 percent. The highest tax ever on the top few earners was 94 percent in 1944.
"We have had a huge variation in our tax rate in our country," he said, but added that has given scholars the chance to see the impact of those rates.
To be prosperous, Laffer recommended five tenets of proposed economic policy: adopting the lowest possible tax rate on the broadest possible tax base; restrained government spending; sound money; regulatory restraint; and free trade with limited exceptions, such as for national defense.
"Trade is not a weapon of politics," he said, adding that free trade can create win-win situations for countries and should not be viewed as an "us" versus "them" game when trading with other countries. When carefully negotiated, he said, free trade can be a "win-win" for all countries involved.
Low-Water Response
Another feature of the symposium was an update from Jim Bodron, director of the regional business directorate and acting director for the programs directorate of the Corps of Engineers' Mississippi Valley Division.
He said that because of continued investment, the number of scheduled lock closures has increased while the unscheduled outages have decreased.
"Thank you for your efforts," he said of those who have continued to stress the need for more money to maintain aging river infrastructure.
Looking ahead, he said, the first work is upcoming on Upper Mississippi Lock 25 as part of the Navigation and Ecosystem Sustainability Project, as well as the second scheduled extended closure of the Illinois Waterway.
Work on construction projects has been hampered by "tremendous inflation," however, "and that's been reflected in our construction projects and our bid costs," he said.
Recent rains have helped the river rise in portions of the Mississippi Valley that have dealt with recent low-water conditions, he said, with all gauges south of Cairo, Ill., now rising. 
Both Memphis, Tenn., and Cairo had their lowest river levels in modern times this fall, he said, with the year on track to finish as the 15th lowest in annual rainfall in the past 150 years. The worst remaining low-water levels are in the area immediately surrounding St. Louis, Mo., he said.
While the Corps is hopeful the worst of the low-water conditions  is over, its plan includes the availability of dredges through the end of February if needed, he said.
Other Topics
Cary Sifferath, vice president of the U.S. Grains Council, spoke about the effect of Russia's invasion of Ukraine on grain exports worldwide. Before the invasion in February, Ukraine had been a major corn exporter, making up more than 16 percent of the world's exports with market growth having grown 84 percent over the last 10 years.
Ukraine had reduced the U.S. market share of corn exports in the Mediterranean Sea region in part because of its non-GMO advantage for all European markets concerned about biotech corn, Sifferath said. It was the fourth largest exporter behind the U.S., Argentina and Brazil.
Additionally, Ukraine made up 17 percent of the world's wheat exports before February 24, with most of that going to north Africa, he said.
Corn plantings and yields are now both down significantly, and while Poland, Hungary and Romania are accessible by rail and Romania also by barge, major challenges remain, he said. That includes the use of narrower, Russian-gauge railroad tracks in Ukraine that are unlike those in the rest of Europe.
Currently, Russia and the Ukraine are operating under an agreement that has been extended until March 19 to allow continued grain exports.
The situation is far from stable, however.
"Does Russia get ticked off next week and shut everything down?" Sifferath asked.
Access to capital, diesel fuel, fertilizer and labor remain limited, also, he said, telling stories of farmers wearing hard hats and bulletproof vests as they try to avoid hitting land mines while farming their fields.
The last speaker of the day was Matt Woodruff, chairman of the National Waterways Foundation, who spoke briefly, asking for continued support that makes waterways research possible.
He reminded those at the symposium that it has been NWF research that has made it possible to know that one 15-barge tow is the equivalent of 1,050 trucks and that one barge can move 675 miles on the same amount of diesel it takes to move a truck 151 miles, making movement by towboat both more economically feasible and environmentally friendly. 
"We're the greenest form of transportation," he said. "How do we prove that? It's because of work by the foundation."
The NWF is currently working on updating state waterways profiles, and donors can adopt a state to update its profile for about $7,000, he said. More information is available at nationalwaterwaysfoundation.org.