A focus on the energy outlook and on ongoing major navigation construction projects highlighted the second day of Waterways Council Inc.'s 19th annual Waterways Symposium.
Held for the first time in Paducah, Ky., on December 7-8, the symposium was co-sponsored by The Waterways Journal.
Difficulty Of Replacing Coal
Joe Craft, chairman, president and CEO of Alliance Resource Partners, the second largest coal producer in the eastern United States, spoke about the worldwide shortage of coal and lack of currently available renewable energy resources.
He began his speech by saying, "I want to thank everybody in this room for what you do for this country."
Sign up for Waterway Journal's weekly newsletter.
Our weekly newsletter delivers the latest inland marine news straight to your inbox including breaking news, our exclusive columns and much more.
Craft said he was amazed after speaking to several company representatives about their companies' longevity "and how long you all have been contributing to the energy needs in particular, that I'm associated with, and all the other goods and products and services and food, etc., that the world depends on." He used a football metaphor to explain the importance of the barge business to the energy sector and the coal business to the energy supply.
"It's almost like the special teams. When the kicker doesn't make the field goal or the center doesn't make the right snap, that's where you get the attention, but when it happens like clockwork, you don't get attention, and that's what you all do every day."
He continued, "And that's what we used to do in the coal business because we weren't out there trying to talk about it. We just wanted to keep the lights on, be reliable, to be there when we're needed. We didn't need the attention. We just needed to work day by day and do what everybody expected and run like clockwork, which is what we have been known for. And I think that if the government would get out of our way, that's where we would be for the next 50 years."
Craft was born and raised in Hazard, Ky. He graduated high school in 1968, and at that time coal energy was declining and President Lyndon Johnson came to eastern Kentucky to declare a war on poverty. While Craft was in law school, the energy crisis of the 1970s took place.
"All of a sudden the United States government came to the oil patch and said to the oil and gas guys, bring your money to Kentucky, and let's restart the coal industry because the country needs it, and that's where I got brought into the coal company," he said. "At that time the government loved us."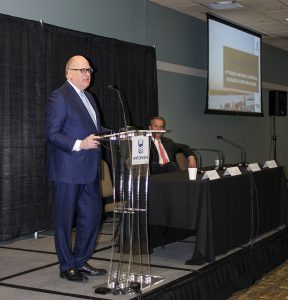 Craft was involved in writing government regulations for mountain-top removal, which the government preferred, because with it companies could get 90 percent of the coal seam as opposed to 35 percent with contour mining.
"Fast forward and we've got another energy crisis," he said. "This one was totally self-inflicted. It's all based on supply shortages. It bothers me when we look at what's happened with COVID through the energy crisis through the desire to stifle investments in oil, gas and coal how the economists continue to read the charts and try to relate to our current situation compared to history when we've never seen anything like this."
Craft said he wanted to spend his time mostly talking about how he sees the energy outlook five to 10 years ahead, but that he also would spend some time talking about the situation as he sees it this year, next year and in 2024.
"Because of the energy crisis and because of the encouragement of people in the oil, gas and coal business not to invest, energy is still short," he said. "It's short in America, and it's short around the world."
Coal companies are ramping up production to meet demand. By the end of the year, Craft expects Alliance Resource Partners to have produced and sold 36 million tons of coal, with 60 percent of that moving on the water, mostly on barges up and down the Ohio and Mississippi rivers.
At that production level, the coal is 98 percent sold out, he said. For 2023, the company hopes to increase production by an additional 2 million tons, most of it destined to the export market and moving by water. At that rate the company's coal is 90 percent sold out, he said.
By 2024, the company wants to increase coal production to 40 million tons.
"We believe that we're going to be oversubscribed next year like we were this year," he said. The following year we're at 60 percent. So in the near-term we still see shortages, and we still see support for high prices. We don't need these high prices, but the market is basically saying we want this so badly we will pay you these prices. In COVID and prior years, they weren't willing to pay us, so we need this to replenish our fleet and try to make sure we have the equipment and the reserves and we can be there for the long-term. The biggest challenge for all of us is what is that long term?"
Coal has become the "poster child" for environmentalists looking to address climate change, he said, "not because it's the right thing to do, not because it reduces emissions, only because it's an easy target."
The problem, he said, is that while it is relatively easy to shut down a coal plant, it's hard to replace it.
"It's that last part that our leaders are failing to recognize and acknowledge," Craft said. "We've got a situation in America where left to its own devices, we're going to lose half of our power plants within the next eight years."
While that statement is often repeated on the political circuit, he said, it fails to acknowledge that the country has no ability to replace that need for power.
"We need every plant that we have for reliability and the ability to meet the demand for electricity," Craft said. "It doesn't make sense when you have a supply shortage to take supply off the market, right? But some of the people don't get it."
Instead, he said, the Environmental Protection Agency is trying to continue rules that he argues have arbitrary compliance dates that are not based on science.
Meanwhile, he said, Saudi Arabia and OPEC Plus are cutting back oil volumes, and 2022 is expected to be a record year for energy usage.
"Fast forward to next year, and we're expecting even a higher consumption rate for electricity than in 2022," he said. 
He added, "We haven't even started with electric vehicles and things electrifying America. So we want to close down plants, and we want to electrify America, and we're trying to figure out how are we going to balance this and have security where we can live the normal life that we have without having curtailments from industry."
Internationally, the NATO countries' ban on oil, gas and coal coming from Russia adds additional pressure on the energy sector.
"I think the war is going to continue to lag," Craft said. "It's going to continue to be with us through at least mid-2023, and it's going to have continued effects."
While the common consensus among the national security community has been that Europe will be OK this winter because the countries have stockpiled as much energy as they can, "They're really concerned about next winter," Craft said.
The United States should be more concerned about domestic energy production as well, but government leaders don't fully understand the problem, he said. While coal makes up only 20 percent of the electric grid nationally, that does not hold true for individual states.
"Today there are 16 states that rely on coal for 30 percent or more of their electricity," he said. "There are 10 states that rely on coal for more than 40 percent of their electricity."
In Kentucky, Craft said, 70 percent of the electricity comes from coal, and in West Virginia, it's 90 percent. That coal is coming from plants built to last until 2040 to 2045 that may be shut down early under environmental policies, he said. "At the same time, natural gas prices have tripled," he said. "Kentucky has zero wind energy, one-tenth of 1 percent solar energy. What are we going to replace it with?"
Whatever it is, he said, he thinks it will take another 10 years to do so.
"We're basically rushing to do renewables," he said, but added that he thinks the timeline to make the transition "is significantly longer than the politicians want us to believe."
Additionally, he said, transitioning to renewable fuels will mean an impact on the ability to attract industry in states like Kentucky. He argued that the state has been successful in some of its recent efforts primarily because it has one of the four lowest rates of energy costs for high-consuming energy processes in the United States.
Construction Update
Three Corps of Engineers project managers gave updates on the Navigation and Ecosystem Sustainability Program (NESP), the Kentucky Lock Addition Project and the Upper Ohio Navigation Project.
Andrew Goodall, NESP regional program manager for the Rock Island District, began the discussion. He noted that on January 19, the Corps received the construction new start and appropriations needed to begin work on NESP.
"And I can tell you it was one of the most exciting days of my life," he said.
He called it "such an amazing opportunity for the Upper Mississippi River, not only to improve the navigation system but also to improve the environment along with it."
NESP includes seven new 1,200-foot lock chambers at Locks 20 through 25 on the Upper Mississippi River and at the LaGrange and Peoria locks on the Illinois Waterway. The work will balance both navigation and environmental needs at the same time.
As a whole, NESP received just shy of $900 million between the Infrastructure Investment and Jobs Act (IIJA), congressionally directed spending and the Corps Work Plan for 2022, he said.
The first set of projects are a new chamber to be built alongside the existing 600-foot chamber at Lock 25 in Winfield, Mo., along with a fish navigation project at Lock 22, near Saverton, Mo.
The Lock 25 project received $732 million through IIJA. The first construction contract to be awarded is the phase 1 lock wall construction project, which was awarded to Massman Construction on September 6. The notice to proceed was issued October 19. The project is a $10.1 million fixed-price contract with a 14-month period of performance.
The project team is working on the 35 percent design deliverable, he said. Meanwhile, design is also being advanced for the bulkhead supply contract and alteration or relocation of Missouri State Highway N.
Two major challenges are how to minimize impacts to the navigation industry during lock construction and how to mitigate the impact of construction market inflation and shortages in both labor and material availability, Goodall said. He stressed that early contractor involvement will allow better coordination between the Corps, navigation interests and the construction industry to help deal with both of those challenges.
The second navigation contract will build the new lock chamber at LaGrange Lock and Dam on the Illinois Waterway. Goodall noted that the two locks on the Illinois Waterway, at LaGrange and Peoria, are both being constructed landward of the existing locks instead of riverward. This means they can be constructed in the dry instead of the wet. It requires more excavation but helps to minimize navigation delays, Goodall said. The architect/engineer design contract for the LaGrange project has been awarded to Stanley Construction.
Adam Walker, chief of the project delivery section for the Nashville Engineer District, gave an update on the Kentucky Lock Addition Project. The lock is estimated to be operational in July 2029 and complete in September 2030. The project will need additional funding beginning in fiscal year 2025.
Steve Fritz, mega project manager for the Pittsburgh Engineer District, a position that includes oversight of both the Lower Mon and Upper Ohio projects, focused his attention on the Upper Ohio in his presentation.
The project includes removing existing 56- by 360-foot auxiliary chambers and creating new 110- by 500-foot main chambers at the Montgomery, Emsworth and Dashields locks, which requires modifications to each dam.
"The project itself is condition-driven," Fritz said. "During the feasibility study we did a reliability analysis, and we determined that the projects at each one of these facilities will be about 50 percent reliable in 2028 for Montgomery, 2031 for Emworth and 2035 for Dashields, so it is imperative that we keep these facilities moving so that we can keep moving that cargo."
Fritz added that approximately 10 to 15 million tons of bulk coal pass through the Upper Ohio system each year.
Lock design is between 60 and 90 percent complete at Montgomery, Fritz said. Design and real estate procurement for the Montgomery batch plant site are ongoing, he said. The projected cost for the Montgomery project, including the most recent inflation spike, has been calculated at $3.25 billion, but that is not a certified cost, Fritz said. The Corps expects to pursue a new cost certification in spring 2023. The first construction contract is likely to be awarded in 2024, and it should take eight to 10 years to build, he said.
Once the new chambers are constructed, the old ones at each facility will be deemed "fix as fail," he said.
At Emsworth, geotechnical investigations, modeling and real estate acquisition are ongoing efforts.
Fritz spoke frankly about the biggest project challenges to conclude his presentation.
"I think the biggest risk that I'm concerned about is one of these facilities would fail before we have an opportunity to recapitalize it, so again, we're maintaining those facilities so we don't get into that situation," he said.
Caption for top photo: Martin Hettel (standing) introduces Corps of Engineers project managers to speak about ongoing major navigation construction projects. They included (from left) Andrew Goodall, NESP regional program manager from the Rock Island District; Adam Walker, chief of the project delivery section for the Nashville District; and Steve Fritz, Pittsburgh District mega program manager. (Photo by Shelley Byrne)