Capt. Steve Pearson recently shared with this writer a photo of the Str. Bessie E. Merrill that was in a frame along with a poem written by Mrs. Charles Wamsley, whose husband had been a fireman on the Merrill. Steve says that he was gifted this some years back by Capt. Charles H. Stone at Christmas.
The Bessie E. Merrill was built at Jeffersonville, Ind., by Howards in 1911 as the General Craighill for the U.S. Engineers. It was first in the Wheeling District and later transferred to the Louisville District. According to Way's Steam Towboat Directory, the boat was a sternwheeler with a steel hull 133 feet by 28 feet. According to Engineers documents, the contract price on the boat was $27,550. Way's makes no mention of the machinery, but a notation on an Engineers photo taken in June 1932 indicates that the engines were 12's, 5-foot stroke, each rated at 135 hp. The notation also gives the information that it had two Peter Jensen Company Western Rivers-style boilers allowed 215 pounds pressure, and that the sternwheel was 14 feet, 8 inches in diameter and 18 feet, 6 inches in width.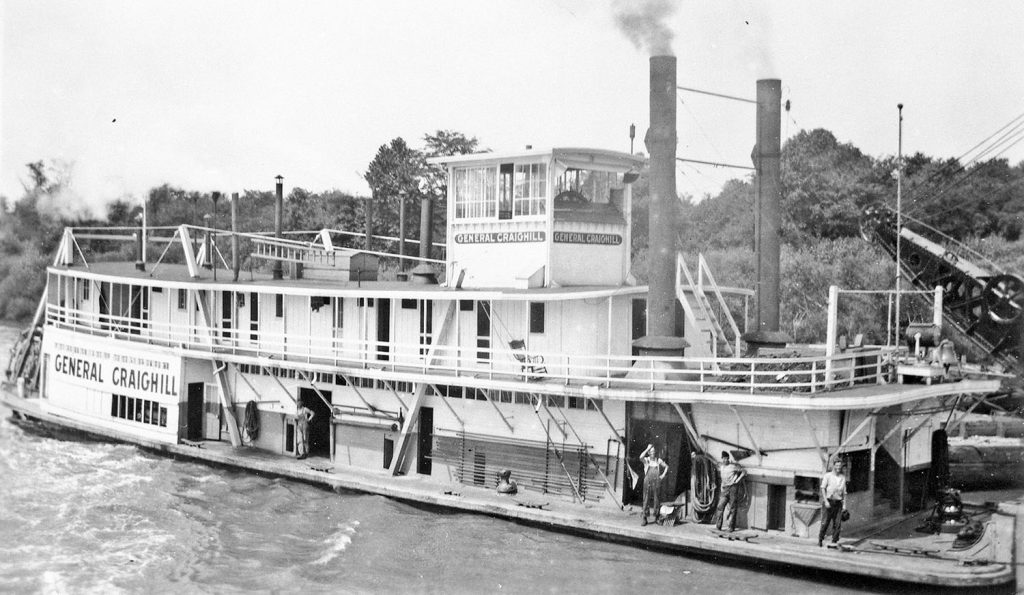 The General Craighill sank across the lower guide wall at Ohio River Lock 28 on December 6, 1914, and Way's states that the Str. Catharine Davis rescued the crew. The boat was raised and placed back in service. It originally had a tall pilothouse on the roof, but at some point after the 1932 photo it was shortened and moved forward on the cabin, almost pool style. In 1939 it was sold at a public sale to Capt. Charles C. Stone, Point Pleasant, W.Va., who renamed it Bessie E. Merrill after one of his daughters.
Capt. Stone used the boat for job towing on the Upper Ohio and Kanawha rivers. Capt. Charles C. Stone was often master, with his son, Capt. Charles H. Stone (known among friends and family as Charles Henry to differentiate from his father) as pilot.
Sign up for Waterway Journal's weekly newsletter.
Our weekly newsletter delivers the latest inland marine news straight to your inbox including breaking news, our exclusive columns and much more.
In 1943, the boat was sold to the French government and delivered to Slidell, La., dismantled and crated for shipment to the Congo River. Way's says that there is some doubt if it reached that destination. Jim Bupp, of Charleston, W.Va., who is related to the Stone family and spent some time on the Bessie E. Merrill as a youth, says that Capt. Charles C. Stone once told him that he sold the boat because coal was becoming difficult to get and was expensive due to World War II. Capt. Stone also dismantled his other steamboat, the Tu-Endi-We, at the same time, and operated only diesel vessels after this.
Following the first trips I made to the annual meeting of the Sons & Daughters of Pioneer Rivermen at Marietta, Ohio, with Bob Kennedy in the early 1970s, we would always stop on Sunday afternoon to visit with Capt. Charles C. Stone and his wife, usually enjoying the view from their front porch overlooking the confluence of the Kanawha and Ohio rivers. Capt. Charles Henry Stone became a very close friend over the years. He was a wealth of information and was just a pleasure to know and be around. I can well understand how Capt. Pearson treasures this Christmas present from him.
The poem included reads as follows:
"Capt. Charles Henry Stone awakes from a dream, it's time for the Merrill to be starting upstream.
He goes through the hall, at each door gives a knock – "Get up, you roustabouts it's now six o'clock."
Then down the stairway he goes with a bound; has the Merrill turned loose 'fore the deckhands get down.
Then when the Merrill is well on her way poor Capt. Stone thinks he'll rest for the day.
He opens the window to breathe the fresh air, then "Holy Moses, look coming there!"
What's wrong now, the Lord only knows; a line of men led by little Jack Rose.
Next comes Busy Lyons who's feeling quite tough, "If I have to work this way I've about got enough."
And there's Charley Sheline, he's having a fit; "If I have to wheel coal I'm sure going to quit."
Here comes fireman Wamsley, grumpy old soul; says "I can't make steam with this dirty old coal."
Then poor Uncle Lemuel is a few minutes late; says "They manage to use all the steam I can make."
Next engineer Faudree looks at his watch and smiles to himself as he sets up a notch.
Then the cook in the kitchen wipes tears from her eyes as she silently mixes the dough for her pies.
"I have lots of troubles, I'm telling you, cooking to satisfy this cranky old crew."
On the fleet there is trouble, from me take a tip; poor Ernest has had it when he goes after Rip.
He yells at him loudly "Come on down quick." Rip answers him weakly, "Can't do it, I'm sick."
When he gets to the locks there's a call from his mother; if it's not one thing wrong, it's another.
At the very next stop there's a call from his Dad; "Get that boat in on time or it's just too bad."
And so says Capt. Stone, "I'm sure in a dither; if the weather was warm I surely would wither."
So here's to the Bessie E. Merrill. What's wrong with her crew? They have "steamboatitis," I think, don't you?
Thanks to Capt. Pearson, and to all a Merry Christmas.
Caption for top photo: The Str. Bessie E. Merrill. (David Smith collection)