Captain's Poem Captures '88 Low-Water Drama
This fall's low water brought to mind the drought of 1988, when the barge industry faced similar hardships. Capt. Mike Rushing, now owner of Rushing Marine Service, participated in two convoys authorized by the Coast Guard as a means to get barges moving.
"It turned out to be a good thing, and the convoys were successful because a group of five towboats and their tows were required to stay together and work together during the voyage," he writes.
Rushing wrote a poem about one of the convoys, which, with his permission, we present below. The photo is part of a poster-sized artwork that his daughter made for him of the poem.
"True to the rhyme, we sat together in our living room with all the grandkids and told the story and read the rhyme," he writes.
Sign up for Waterway Journal's weekly newsletter.
Our weekly newsletter delivers the latest inland marine news straight to your inbox including breaking news, our exclusive columns and much more.
Here is Rushing's poem: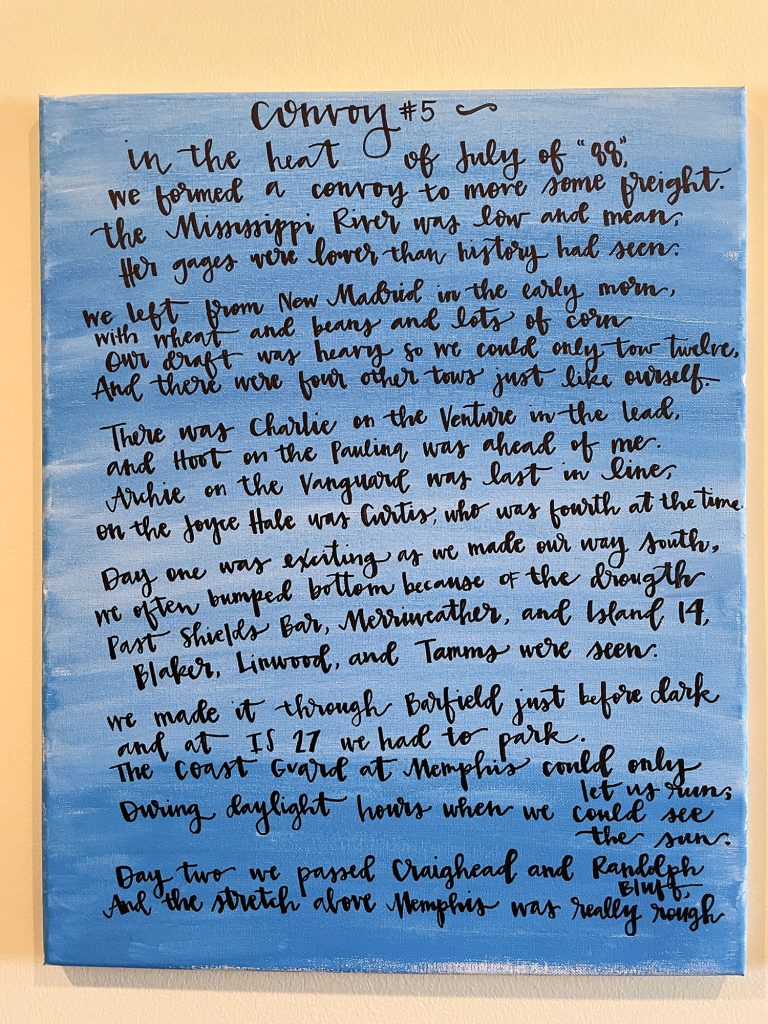 Convoy # 5
By Capt. Mike Rushing
In the heat of July of "88,"
We formed up a convoy to move some freight.
The Mississippi River was low and mean,
Her gages were lower than history had seen.
We left from New Madrid in the early morn,
With wheat and beans and lots of corn.
Our draft was heavy so we could only tow twelve,
And there were four other tows just like ourselves.
There was Charlie on the Venture, in the lead,
And Hoot on the Paulina was ahead of me.
Archie on the Vanguard was last in line,
On the Joyce Hale was Curtis, who was fourth at the time.
Day one was exciting as we made our way south,
We often bumped bottom because of the drought.
Past Shields Bar, Merriweather and Island 14,
Blaker, Linwood and Tamms were seen.
We made it to Barfield just before dark,
And at Island 27 we had to park.
The Coast Guard at Memphis would only let us run,
During daylight hours when we could see the sun.
Day two we passed Craighead and Randolph Bluff,
And the stretch above Memphis was really rough.
We made it through the hole at McAllisters Fleet,
Which turned out to be quite a feat.
We couldn't make Mhoons before nightfall,
So the trees at Norfolk held us all.
Tie off spots were far apart,
But from here we could get an early start.
The third day we planned to make some miles,
And pass up lots of big sand piles.
We made it to Peters where Hoot hit ground,
And the Paulina's face wires came unwound.
After a few short hours we were gone again,
And we made it around Battle Axe Bend.
We passed Flower Lake, Helena and Montezuma Bar,
Enroute to Burke Point if we could make it that far.
We started early that fourth day's morning,
Off and running as the sun was dawning.
Past Hughey, Robson and through the hole at Laconia,
Ludlow, Masons, Smiths Point and Victoria.
The Vanguard, Venture and Joyce Hale, too,
All traded tows before this day was through.
The time we lost turning would cause us to stay,
Well above Greenville to await a new day.
Our convoy now had some different names,
Only the Evelyn and Paulina remained the same.
The Inez Andreas and Crimson Duke,
The Sally Archer too, gave us a new look.
As we headed south this final day,
We found it much easier to make our way.
Vaucluse Bend wasn't as bad as we'd heard,
And Carolina Landing was not to be feared.
We passed mile 507 in the middle of the morn,
And called Group Lower on the radio horn.
Convoy #5 was now out of the zone,
Each of the vessels were now on their own.
We'll all remember this interesting trip,
As we moved heavy barges down the old Mississipp.
The convoy worked as history would tell,
We worked together so the trip went well.
Some other day in another time,
We'll all set back and read this rhyme.
And tell the grandkids how we moved the freight,
During the drought of "88."