For the 22nd year, Seamen's Church Institute (SCI) welcomed members of the inland river transportation community for the River Bell Awards Luncheon.
This year, the sold-out event was held immediately following Waterways Council Inc.'s Waterways Symposium on December 8 at the Paducah-McCracken County Expo Center. Jim Guidry, executive vice president of Kirby Marine Transportation Group, was honored with the River Bell Award. Frank Morton, founder and director of Turn Services, took home the River Legend Award. SCI also honored the crews of both the mv. Miss Niz of Marquette Transportation and mv. Michael J. Grainger of Ingram Barge Company with the Lifesaving Award.
Luncheon co-chair Merritt Lane III of Canal Barge Company announced the luncheon raised a record-breaking $460,000 in 2022 to go toward SCI's programs.
Ministry On The River
In an introductory video message, the Rev. Mark Nestlehutt, SCI president and executive director, announced that the organization has received $3.2 million in pledges toward its $5 million goal in its Ministry on the River endowment campaign to fund two new chaplains. Beginning in January 2023, one of those new chaplains will join SCI, working out of Houston, Texas, Nestlehutt said.
Sign up for Waterway Journal's weekly newsletter.
Our weekly newsletter delivers the latest inland marine news straight to your inbox including breaking news, our exclusive columns and much more.
After an invocation by the Rev. David Shirk, SCI's chaplain based out of Paducah, remembering mariners, families and those who have lost their lives in service to the country, the other luncheon co-chair, Damon Judd of Marquette Transportation, announced Paducah Mayor George Bray had proclaimed it "Waterways Week" in Paducah.
"Every year, as an industry, we look forward to River Bell because it's an opportunity for us to really immerse ourselves in the unique fellowship we have as an industry and it's also, most importantly, an opportunity for us to really honor our mariners by supporting an organization that does so much to support them," Judd said. "We all know, here, that our industry doesn't work without the hard work, dedication and true sacrifices of our mariners who are out there 365, working nights, working in the weather, working in the heat, every day, every year on our behalf."
He added that the work done by mariners underpins the critical supply chain, feeding and powering the world.
Phil Schifflin Jr., director of SCI's Center For Mariner Advocacy, later provided a brief look at what chaplains do, including crisis intervention and trauma-informed care that supports mariners, families and companies in the wake of tragedies.
"Our chaplains travel thousands of miles annually to meet mariners where they are," Schifflin said.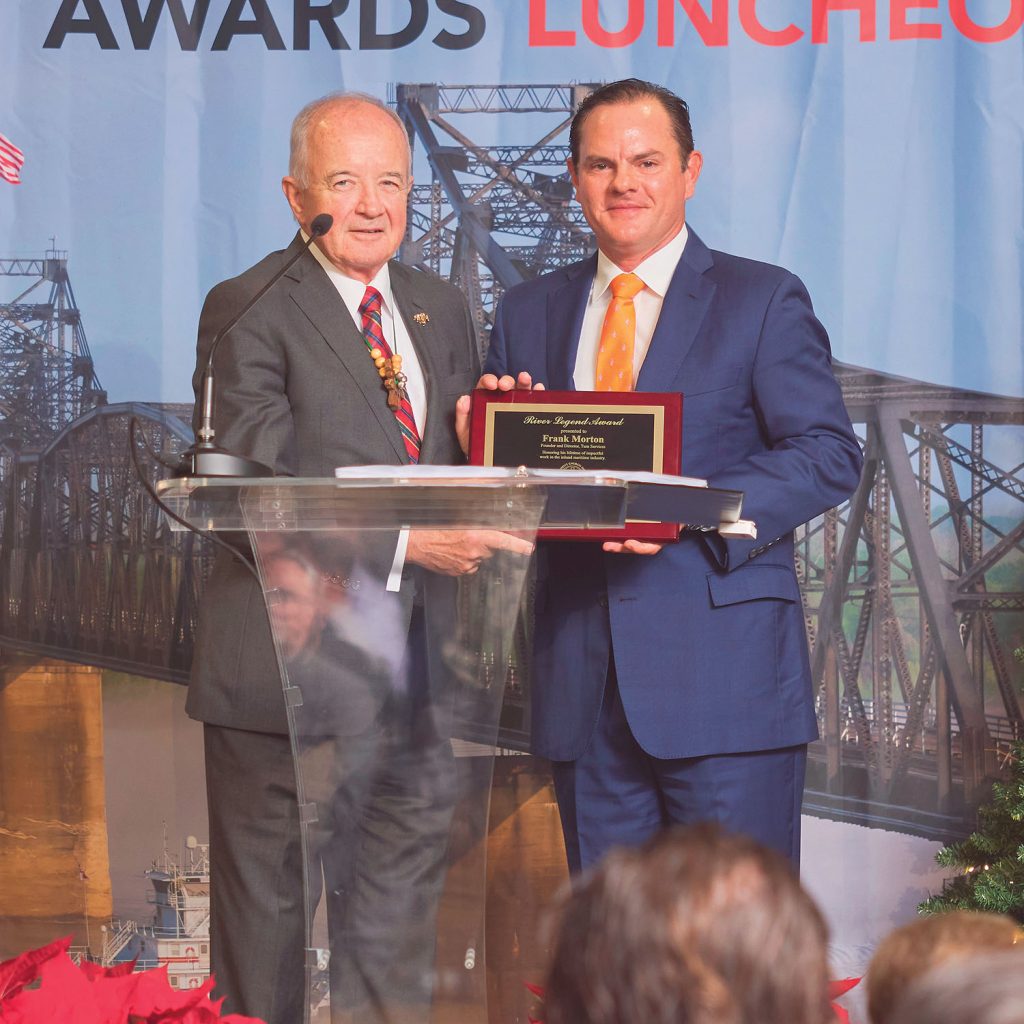 River Legend
Mario Munoz of Turn Services presented the River Legend Award to Morton. Munoz bestowed on Morton several honorary titles in his introduction, deeming him the professor of pilots, dean of deckhands, reverend of the river and bishop of boats, barges and battures.
He also added of him, "He never misses an opportunity to teach anybody about the river industry and its history."
In his acceptance speech, Morton focused his comments on deckhands, emphasizing the importance of putting more training, money and effort into "developing this rich source of talent." Morton said he believes SCI has a role in that, as do programs like Who Works The Rivers, military to maritime and social media campaigns like Turn Services' Turn Tuesday.
"But we need to do more to help our deckhands, to help our future," he said.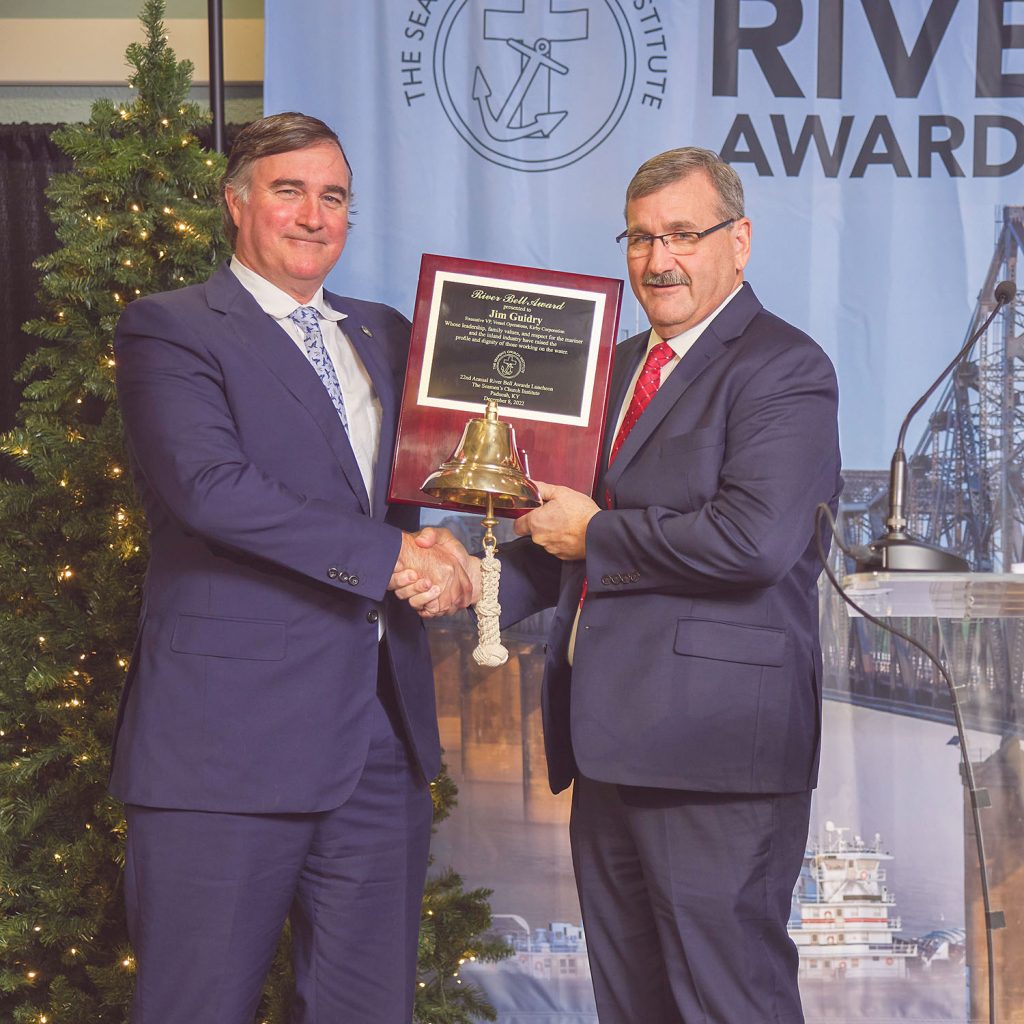 River Bell Award
Christian O'Neil, president of Kirby Transportation Group, presented Guidry with the River Bell Award, noting that his career with Kirby Corporation has extended nearly 40 years.
With his father in the industry, "Jim literally grew up with towboats in his back yard," he said. He also noted Guidry caught his first hitch at age 9, was turning valves at age 12 and at 16 had piloted a boat from Cal Bayou. He worked for the company every summer and school holiday since age 9.
"You might say he was born for his job," O'Neil said.
He added that while the industry now talks about growing employment and what people's motivations are for work-related tasks, Guidry's motivation has never been about him and is not a tool to achieve his goals. Instead, O'Neil said, it has always been directed toward others.
In his acceptance speech, Guidry said he was deeply honored to be chosen for the award and humbled because the other recipients are people he reveres and respects.
He offered advice to those just starting out in the business to listen to the mariners as their perspective is unique and cannot be duplicated. Set standards for yourself and adhere to them, Guidry said, and be sure that one of those standards is to hold mariners accountable and yourself more accountable. If you tell a mariner you will do something, make sure it happens, following up until the task is complete, as mariners do not trust easily and certainly do not trust anyone who doesn't keep their word, but are fiercely loyal when supported, he added.
He also noted the importance of the training that SCI provides, saying that training of mariners by mariners goes back to Christopher Columbus and beyond.
"I accept this award not on my actions or merits but on the actions and merits of countless mariners who have literally carried me when I was too small to cross a gangway, for Alpha Doucet, who taught me to load and pump barges and to steer, for those who stand the watch regardless of the weather, low or high water, pandemics and the aching desire to be home," he said. "We have progressed from simple vessels that move cargo with very little input from ashore to significant technology aboard our vessels, and while they still need very little input from us, they have learned to bear up under the intense input and the flood of data that are aboard our vessels today."
Life Saving Awards
When SCI was putting together the awards program, it received notice of 20 different incidences of mariners saving lives, so it was hard to pick the winners of the Life Saving Award as there were so many who were worthy of the honor, he said.
Mary McCarthy of Turn Services, who presented that award, also announced a new industry initiative, rolling out at the beginning of 2023, in which SCI will work with American Waterways Operators to create a database of life-saving events to show the industry's value in saving lives.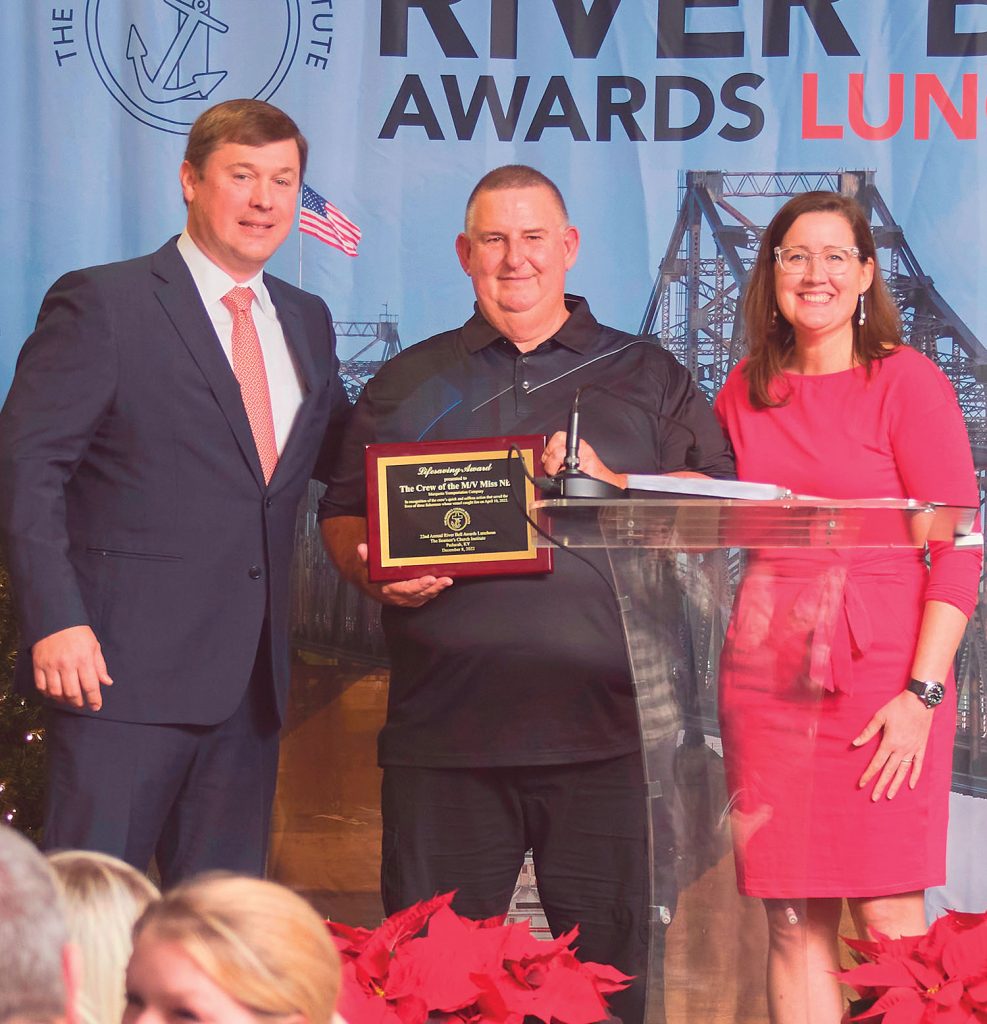 The crew of the Miss Niz, Capt. James Bordelon, Pilot Benton Eubanks, deckhand Wendell Neal and deckhand Chris Verdin, pulled survivors of a burning fishing vessel to safety in April.
As LaDonn Allen, Captain of Coast Guard Sector Mobile, Ala., noted in a letter of appreciation to Judd in his role as Marquette president, the commercial fishing vessel Phi Long Hai was trawling for shrimp in St. Andrews Bay when the crew noticed smoke coming from the engineroom compartment, immediately pulled up their nets and headed for shoal water. The captain tried to enter the compartment to combat the fire but was overcome by the smoke. When the smoke in the cabin was too strong to bear, the crew dropped anchor and tied two coolers together to make a makeshift raft. Given the location of their personal floatation devices, they were unable to don them before abandoning ship.
Bordelon was standing watch in the pilothouse of the Miss Niz when he saw what at first appeared to be seagulls trailing the fishing vessel as it transited about 800 to 1,000 yards past the Miss Niz's position.
"It wasn't until he had a closer look that he realized it was smoke, followed by flames," Allen wrote. "Springing into action, the captain instructed his deckhand to start the engines and get underway to render aid, if needed. While working in a different sector of the maritime industry, the crew of the ITV Miss Niz responded at the first sign of trouble without knowing the name of the vessel or the crew on board."
The three commercial fishermen were desperately hanging onto the makeshift raft cooler with their only light coming from one crew member's cell phone. Water temperatures were in the high 60s and the air temperature below 50 degrees while a front was moving in, causing high winds and rough seas.
"As the vessel burned and the realization of the situation set in, the three crewmembers looked for any signs of hope and assistance," Allen wrote.
The crew of the Miss Niz immediately started searching for survivors with its spotlight. Within a few minutes, Bordelon saw the glow from the crew member's cell phone and sounded the general alarm to alert the off-watch crew while slowly approaching the survivors. All three were transported on board, and then the Miss Niz met an awaiting emergency services crew at Andrew Marina, where all three survivors were assessed, released and safely returned to their families.
Allen wrote that Bordelon maintained a diligent watch and was quick to act when he sensed danger.
"The immediate and selfless act of the crew to jump into action and render aid showcased the camaraderie of the maritime community," Allen wrote in commending them.
Bordelon, speaking on behalf of the crew in accepting the award, said no recognition was needed as it was simply part of the code by which mariners live their lives.
"The only concern from the Miss Niz at the time was to help our fellow mariners in need," he said.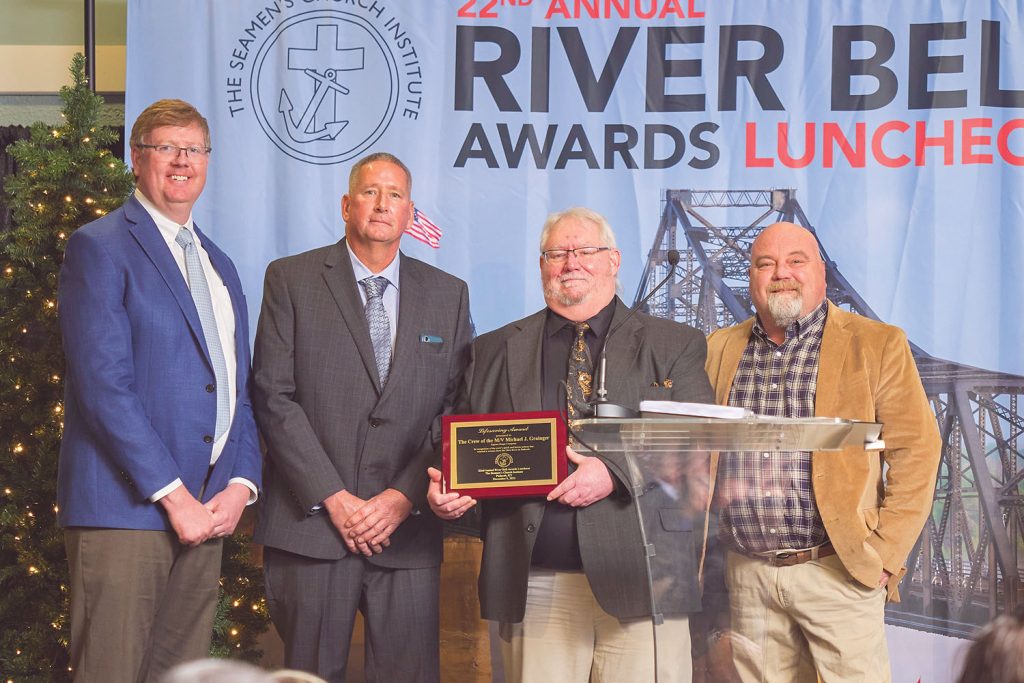 The other Life Saving Award went to the crew of the Michael Grainger: Capt. Joe Younge, senior mate Mate Mike White and senior deckhand Jason Lovell, who rescued a driver from a car who had driven through an opening of the flood wall in downtown Paducah and landed in the Ohio River in September. 
The Michael J. Grainger had just finished fueling at 3 a.m. and was headed back to its tow when the captain saw the car drive through the floodwall opening at a high rate of speed. The car went about 150 feet into the river.
"The crew took immediate action," SCI said in information provided about the award. "The Master quickly positioned the vessel to use the vessel's spot lights to help get a visual on the driver while the crew prepared and launched the skiff to assist the driver, who exited the vehicle and was attempting to swim back to the bank. Directed by the sounds of the stranded driver, the crew was able to maneuver the skiff close enough to throw her a life ring and tow her to shore, where the local emergency services were standing by."
The crew said they accepted the award "on behalf of all the rivermen out there, day in and day out, doing their jobs."
Caption for top photo: Jim Guidry addresses the audience after receiving the River Bell Award. (Photo by Brad Rankin, courtesy of Seamen's Church Institute)