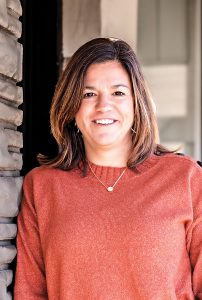 The year was 2006, and Errin Howard, mother of three, had just quit her job leading a Cincinnati-based environmental education program to stay home with her children. Then came a call from Mark Carr, who worked at AEP River Operations at the time, that would change the trajectory of her career and that of AEP's newly created education outreach program, RiverWorks Discovery.
Created in 2004, RiverWorks Discovery in 2006 consisted of a pair of 3D models that AEP officials would take to festivals and other events in the Midwest. Howard initially turned Carr down, but he was persistent, and she finally said yes.
"I knew nothing about river transportation, and I had all these questions before that event," Howard said.
Howard and a team from McGinnis Inc. set up the booth at the Tall Stacks festival in Cincinnati. Howard said the first thing she did was disassemble the 3D models and, with the team from McGinnis Inc., figure out how to put them back together. That exercise and constant questions throughout the week were indicative of Howard's curiosity and interest in learning more about the maritime industry.
Sign up for Waterway Journal's weekly newsletter.
Our weekly newsletter delivers the latest inland marine news straight to your inbox including breaking news, our exclusive columns and much more.
"They were really patient with me and taught me so much," Howard said.
"After that first event, I was so fascinated with what I'd learned."
After the festival in 2006, Howard agreed to represent RiverWorks Discovery on a case-by-case basis. What's more, she offered to expand its reach to schools in order to teach students about opportunities for careers on the nation's inland and coastal waterways. By 2008, Cincinnati Bulk Terminals and Ingram Barge Company had both begun supporting the program, thus expanding its reach.
"And by 2010, we had about 20 companies that were working with RiverWorks Discovery in some way," Howard said.
At that time, it was plain that RiverWorks Discovery, under Howard's leadership and with expanding support from the industry as a whole, had outgrown its initial expression as a program of AEP, so the company began looking for a way for RiverWorks Discovery to become part of an existing non-profit. In 2010, a willing partner came forward: the National Mississippi River Museum & Aquarium in Dubuque, Iowa. And by 2012, Howard was at the helm of RiverWorks Discovery full time.
Since becoming part of the National Mississippi River Museum, RiverWorks Discovery has forged partnerships with a host of primary and secondary schools and developed outreach programs designed for grade school, middle school and high school students alike. Classroom-based presentations from RiverWorks Discovery incorporate educational standards that children are already learning, but with a marine transportation connection.
Who Works The Rivers
In 2009, leaders from the Waterways Association of Pittsburgh approached Howard to ask if RiverWorks Discovery would develop programming or an event focused on career discovery and workforce development.
"Together, we brainstormed the idea that became Who Works the Rivers," Howard said.
That first Who Works the Rivers took place in 2011 at Pittsburgh's Gateway Clipper Fleet.
"It was incredibly successful, so I started reaching out to other cities," she said.
Since that first Who Works the Rivers in Pittsburgh, RiverWorks Discovery has partnered with scores of companies, organizations and ports in the maritime industry; with school systems from the Lower Mississippi to the Monongahela and everywhere in between; and with universities and technical and community colleges that offer maritime-related coursework, all in an effort to help high school students discover the career opportunities the maritime industry could offer them. Who Works the Rivers also gives students the valuable chance to meet real mariners, stevedores, heavy equipment operators, dispatchers, port captains and other personnel who move the goods and products on the nation's waterways that feed and power the world.
With Who Works the Rivers, schools bus students to a port, terminal or other maritime setting. Representatives from partner companies and agencies gather to speak to students on different aspects of the industry. Students rotate through stations focused on topics like the diversity of cargoes transported on the waterways, the role of the U.S. Coast Guard, the importance of fire safety and personal protective gear, and the skills needed to work on the rivers, such as rigging, line throwing and welding.
Next Level
In 2019, Howard began working with a group of New Orleans-area companies, led by the team at Turn Services and Associated Terminals, to take the group presentation portion of Who Works the Rivers to the next level. The team developed an interactive and graphics-based computer presentation on the Prezi platform. At each Who Works the Rivers event, the essentials of the presentation remain the same, but companies can individualize it to better connect with students in different regions.
"The New Orleans team of RWD supporters realized the value of what we were doing, but they said we've got to be more engaging," Howard said. "They all brainstormed on what the presentation should look like."
The final product included videos produced by ACBL and Turn Services' creative teams, featuring industry representatives from Canal Barge Company, ACBL, Turn Services, Associated Terminals and Ingram Barge Company.
The Prezi presentation came in handy in 2020 when the COVID-19 pandemic shut down school field trips and group gatherings. RiverWorks Discovery was able to offer virtual events using the Prezi presentation, along with social media.
Career Training
The recent growth of Who Works the Rivers has also coincided with a shift in schools and school systems as they focus more on career and technical training for students. Educators increasingly are reaching out to RiverWorks Discovery, not the other way around.
"The education system is now coming to us," said Dawn Lopez, vice president of marketing and public relations for Turn Services and Associated Terminals and a longtime supporter of RiverWorks Discovery. "Career and technical education has changed the equation, and we're now being approached by educators to help bring maritime into their career pathways."
Now, with field trips back on, Who Works the Rivers is back in full swing with nine events this past fall and close to a dozen planned for next semester. In November, RiverWorks Discovery held back-to-back events in New Orleans, with students from Jefferson Parish attending one day and from Orleans Parish the next. Most of those events were held at the Port of New Orleans headquarters. Students also visited Vue Orleans atop the Four Seasons Hotel, which commands an unmatched view of the Mississippi River. While there, members of the Crescent River Port Pilots Association and New Orleans-Baton Rouge Steamship Pilots Association led activities where students were able to sit between the sticks of a simulator and catch a glimpse of what it's like to pilot a vessel through the Crescent City.
Influencers
Howard said, while the content is crucial at Who Works the Rivers, she believes it's the people—the diverse group of mariners, stevedores, heavy equipment operators and shoreside personnel that help lead the event—that have the greatest influence on kids exploring a career in the maritime industry.
"These kids need to be able to look at who they're interacting with that day and say, 'That could be me,'" Howard said. "What I always tell our Who Works the Rivers partners is, 'Share your story.'"
Looking Forward
So what's on the horizon for RiverWorks Discovery in 2023? First off, Howard said her team is busy raising funds for and designing the organization's next traveling exhibit. The first exhibit traveled the country between 2013 and 2018, hitting 15 cities and reaching more than half a million individuals. The new exhibit will feature, among other things, a water table and a simulator and will focus on RWD's five C's—commerce, culture, conservation, careers and connectivity. Howard said RiverWorks Discovery has raised about $350,000 of the $1 million needed to design, build and transport the exhibit for its lifespan.
In addition, RiverWorks Discovery is in the process of forming an advisory board, which Howard expects will meet for the first time by the end of March.
"I think the board will do huge things for RiverWorks Discovery in 2023," she said, "and will help take us to the next level."
That board will represent the close to 200 maritime companies that now support RiverWorks Discovery as it seeks to recruit the next generation of leaders for the maritime industry. While the program's reach has grown since she arrived in 2006, one thing remains the same: Howard's passion for learning more about the maritime industry, and for telling its story.
"There's always something more to learn, and there are incredible people to learn from," she said.