Dan Mecklenborg of Ingram Barge Company and Tim Parker of Parker Towing were honored with the Achievement Awards from The National Rivers Hall of Fame last month in Paducah, Ky.
The recognitions were presented December 14 during the Waterways Council Inc.'s Waterways Symposium. The Achievement Award is the highest honor presented by the National Rivers Hall of Fame to a living person. It is given to those who make significant contributions to America's waterways. The National Rivers Hall of Fame was created in 1985 to tell the stories of the men and women of the rivers of America. It is housed in Dubuque, Iowa.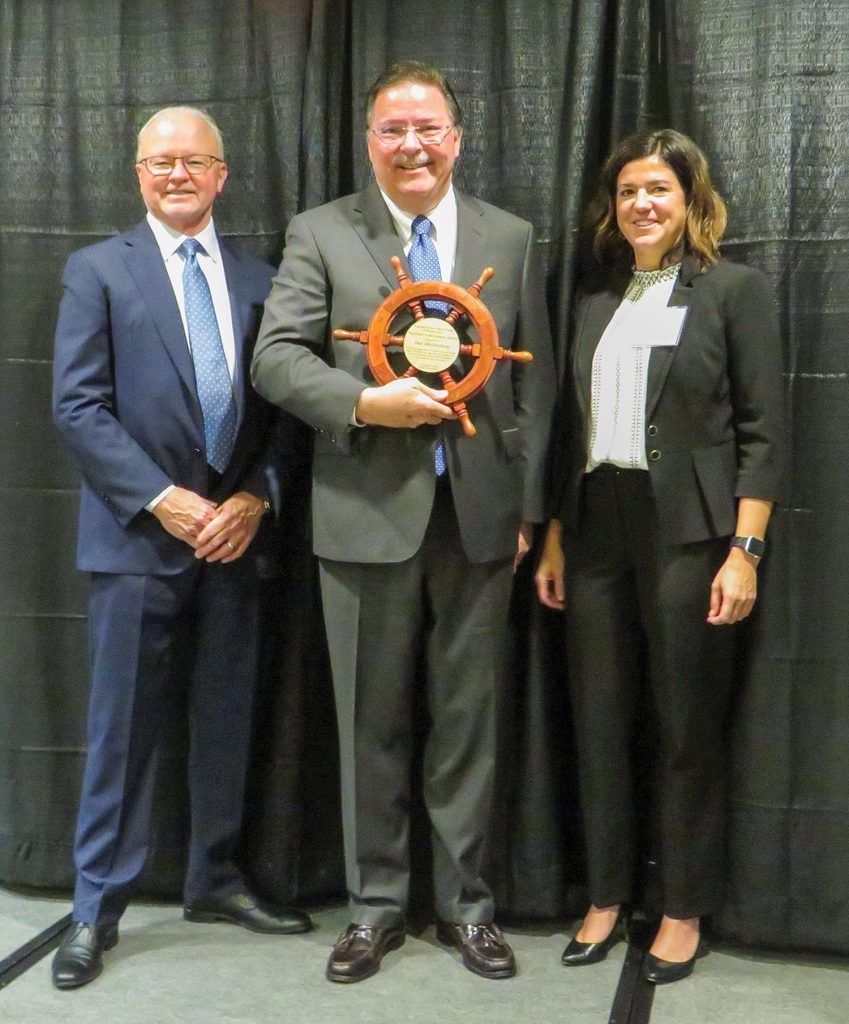 Dan Mecklenborg
Mecklenborg retired in 2022 from Ingram Barge Company, the largest dry cargo barge carrier on the nation's waterways.
He took his post as vice president, general counsel and secretary with the Nashville, Tenn.-based company in 1996 before his promotion to senior vice president and chief legal officer in 2002.
Sign up for Waterway Journal's weekly newsletter.
Our weekly newsletter delivers the latest inland marine news straight to your inbox including breaking news, our exclusive columns and much more.
Throughout his career, Mecklenborg has been involved in civic and professional organizations. He was chairman of the Inland Waterways Users Board in 2003 and rejoined the board in 2013 as Ingram's representative for the next six years. He was also one of the first board and executive members for Waterways Council Inc. and served as WCI's chairman from 2007 to 2009.
In 2005, Mecklenborg began his service to The Nature Conservancy's Tennessee chapter and on the conservancy's Great River Partnership, a global initiative to "conserve and restore the world's great river systems." The effort brought together scientists, navigation leaders, landholders, government officials, business representatives and residents with the goal of improving the health and function of large river systems. The chapter's efforts to improve stretches of the Mississippi River system were later replicated and adapted for use on the Yangtze River in China and the Parana River in Brazil.
Since 2010, Mecklenborg has served on the steering committee of America's Watershed Initiative, serving as chairman from 2018 to 2021. In 2016, he was named chairman of the National Waterways Foundation, which assists industry leaders in addressing public policy issues related to the nation's inland waterway system. Under his leadership, research accomplished included studies of how project selection in the Corps of Engineers is affected by benefit-cost ratio analysis, the impacts of lock outages and a modal comparison of domestic freight transportation and how it affects the general public.
Matt Woodruff, vice president of public and governmental affairs for Kirby Corporation, said Mecklenborg was often at work "behind the scenes" of major efforts by the navigation industry over the past several years, whether that was to get locks repaired, waterways funded, policies to become law or regulation or worthy causes to be supported.
"His insight, steady demeanor, his legal and business expertise all combine to make him a top draft pick whenever we were picking a team to take on any challenge the industry placed," he said.
Kim Lutz, executive director of America's Watershed Initiative, noted that Mecklenborg was integral in collaboration across multiple sectors and geographies for the benefit of the watershed.
Mecklenborg said he was honored to receive the award and wanted to especially thank Kurt Strand, president and CEO of the National Mississippi River Museum and Aquarium and the National Rivers Hall of Fame for his selection.
"To be selected to join so many giants of our industry is an unexpected but cherished capstone of my career," he said.
Mecklenborg said he had always advocated for greater effectiveness of the leadership team and lobbying resources for the inland marine industry and is happy to have seen that strengthen over the years until it now has wide bipartisan support.
"I can't wait to see what our new generation of leaders working as a team will be able to accomplish going forward," he said.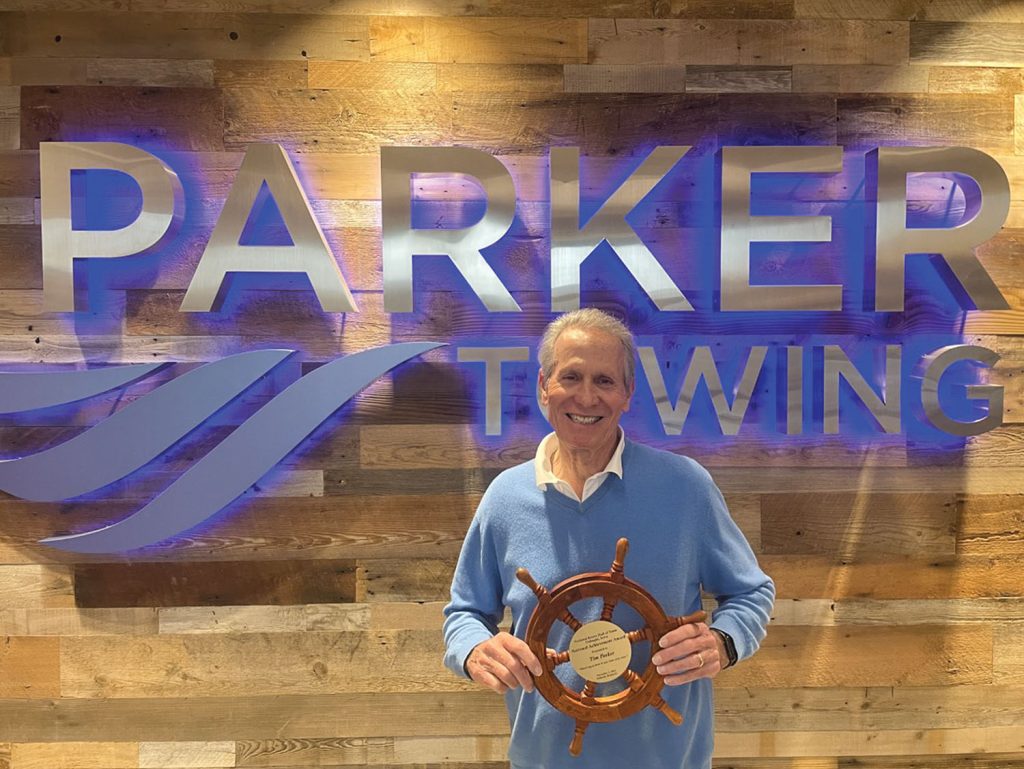 Tim Parker
Parker, chairman of Parker Towing Company, was unable to attend the conference in person, although he did appear via video to make brief remarks. His son, Tim Parker III, president and CEO, accepted the award at the symposium on his father's behalf.
Parker Towing Company is a family-owned company that has provided barge services throughout the inland waterways and Gulf Intracoastal Waterway for 80 years. The company's fleet of 35 towboats and more than 400 open and covered hopper barges and tank barges makes it one of the largest towing companies in the United States. Additionally, the company operates several terminals in Alabama and Tennessee.
Parker has been a part of the inland marine industry since 1974. His national leadership has included chairmanship of Waterways Council Inc. from 2016 to 2018, a period in which he helped achieve national reforms in the Corps of Engineers' delivery of lock and dam projects constructed through an existing public-private partnership. Towboat operators contribute revenue to the Inland Waterways Trust Fund through a diesel tax that, at that time, paid up to half the cost of capital improvements costs of major waterways projects. Parker's leadership helped to persuade Congress to raise the fuel tax by 45 percent to significantly increase investment in projects to achieve an effective program.
As part of his work with WCI, Parker has spent much of his time on Capitol Hill. In December 2017, Parker was called to testify before the Senate Subcommittee on Transportation and Infrastructure of the Environment and Public Works Committee for the hearing "Freight Movement: Assessing Where We Are Now and Where We Need To Go," focused on the need to invest in infrastructure to keep America competitive.
Additionally, Parker has been involved with numerous professional organizations, serving as president of the Alabama Chapter of the American Society of Transportation and Logistics, the West Alabama Traffic and Transportation Club and the Tennessee-Tombigbee Waterway Development Council. He currently serves on the board of directors for Mercedes-Benz U.S. International Inc.
He is a past member of the Inland Waterways Users Board, past chairman of the board of WCI and a current member of the WCI board of directors and executive committee, trustee of the National Waterways Foundation, a past chairman of the board of the Alabama State Port Authority and a past member of the board of directors for AmSouth Bank of Tuscaloosa.
In recognition of his efforts, Parker was recognized with the River Bell Award from the Seamen's Church Institute in 2016.
His involvement has also reached beyond his profession into local civic organizations. He and his wife, Cathy, were chosen as the 2014 Family of the Year for the United Way of West Alabama's Alexis De Tocqueville Society. He has also served as past board president and campaign chairman at United Way and on boards in the community, including the YMCA of Tuscaloosa, Okla., Tuscaloosa County Industrial Development Authority and others.
Tim Parker III wanted to send a special thank-you to his father.
"Thank you for blazing the path at Parker Towing," he said. "Thank you for being the leader as well as everything that you've been involved in in the industry. Anybody who has spent any time around you has heard you say the words 'paying your civic rent,' and I think this is the culmination of all the times you have paid your civic rent, whether that be through non-profits, charities, industry associations, things of that nature."
The elder Parker expressed his appreciation for receiving the award.
"I am flattered beyond belief," he said. "The National Rivers Hall of Fame is a great organization with a great history. I'm not sure I'm worthy of this award, but it's important, and I'm a river guy through and through, and the National Rivers Hall of Fame represents the industry as well as anybody could."