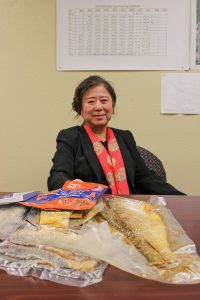 After delays related to the COVID-19 pandemic and the economic pressures that followed it, the International Fisheries Park in Wickliffe, Ky., broke ground earlier this month on one of several new businesses that hope to turn invasive Asian carp into useful products.
Nutrifish will primarily produce fish meal and fish oil for animal food additives, including both pet and livestock food. Completion of the new building is expected to take two to three months, finishing just in time for  manufacturing equipment to be installed.
Nutrifish is located next to the existing Two Rivers Fisheries, which receives carp from commercial anglers, cleans them, freezes them and exports them mostly to the Middle East for human consumption. Two Rivers Fisheries president Angie Yu said the buildings will be connected by a pipe, and Nutrifish will be able to use small fish as well as fish waste products Two Rivers cannot use. She anticipates that will allow Two Rivers to process as much as 100,000 pounds of carp per day instead of the 10,000 to 20,000 pounds employees currently process daily.
The increase in production means Yu anticipates growing relationships with commercial anglers to harvest the carp from surrounding rivers and lakes. Asian carp have become an invasive species known for jumping out of the water and causing injuries and damage to marine equipment as well as eroding the habitat of native game fish and thus decreasing regional tourism and related business.
Sign up for Waterway Journal's weekly newsletter.
Our weekly newsletter delivers the latest inland marine news straight to your inbox including breaking news, our exclusive columns and much more.
While those in the inland marine industry, along with fish and wildlife officials and those in environmental protection largely consider the fish a nuisance and have erected barriers in an attempt to prevent their spread, especially into the Great Lakes, Yu said the carp are an asset to her business as they are popular for eating in other countries. Additionally, she said, since a 10-year ban on fishing for them in the Yangtze River in China due to over-fishing, demand is at an all-time high.
She sees her business as perfectly positioned to solve several problems at once, by encouraging the regional harvest of Asian carp, thereby reducing their ability to reproduce and cause damage, while also stimulating the local economy and feeding those with an appetite for fish.
Except for  the United States, "The whole world eats Asian carp," Yu said. "We can make sausages, dumplings, cakes."
Pandemic Challenges
Although state and local officials have at time subsidized the amount paid to commercial anglers to harvest the carp, profit margins for processors in the United States are slim. That, combined with long supply chains, trade wars and issues with shipping, led several of them to close their doors between 2020 and 2022, Yu said. Two Rivers also struggled, and decided not to accept any carp from July through November 2022. It also shut down its separate receiving facility in Eddyville, Ky., on Lake Barkley.
Yu considered selling her business assets but realized those who had already bought lots in the developing industrial park needed the business as a supplier, so she pressed on. While waiting on those other companies to build, she has developed partnerships as a supplier for other businesses, including one in Chicago with whom she partnered to provide ground fish, and a pet food company based in Lexington, Ky. As the company is trying to save costs in shipping, Yu has herself driven more than four hours to Lexington in a pickup truck filled with 2,000 pounds of ground fish to save costs.
Yu has also worked to develop new overseas markets, including salt fish and smoked salt fish, for which she has prototypes sent to potential customers in the Caribbean and South America.
Yu was also able to obtain seed money from Potlikker Capital, a social justice charitable loan fund that helps farmers of color, that allowed her to add three blast freezers and three holding freezers to reduce wastage and better position her company for the future.
Two Rivers is now the largest processor and exporter of Asian carp in the country, Yu said.
"I see the future, so that's why I stay," she said.
Fisheries Park Development
A big part of that future is the fisheries park that Ballard County, Ky., has developed on property surrounding Two Rivers Fisheries. Announced in April 2019 as the only industrial park of its kind in the United States, available lots in the industrial park were sold, mostly to Asia-based companies, by October of that year. While they were eager to build, they had to wait through the winter before the county could install a gravel road bed, electricity, sewer and water service. Just as that infrastructure was being completed, in spring 2020, the COVID-19 pandemic hit, and the developers were unable to travel from Asia to the United States. Economic pressures on their businesses have since continued to hamper their efforts to develop the land.
Most of the businesses rely on Two Rivers Fisheries as a supplier of processed Asian carp. They include companies producing carp for human consumption as fish meatballs, fish cakes, dumplings or marinades, for fish meal used in animal food and for fertilizer products. One business also produces commercial fishing equipment.
"The only way [to be profitable] is to industrialize, make it a chain industry," Yu said.
Plans For The Future
One business with land purchased in the fisheries park is Express Fishing and Sport (EFS), which plans to dehydrate ground carp and turn it into fish jerky dog treats. Rather than wait for a building to be erected in the industrial park, which the company estimated would take at least a year, EFS has rented space inside Two Rivers Fisheries' 40,000-square-foot building and brought in a giant dehydrator. Yu said the company is only waiting for separate electric service to be connected to that part of the building to begin manufacturing the products.
Business elsewhere in the park is also picking up. Yu said the developer behind Duc Tran, a Vietnamese-owned producer of fish cakes and marinades, expects to visit the site in February to take the next steps toward construction.
One building has recently been erected on the site. Two Rivers Travel, an agri-tourism company, will serve as lodging for visiting developers or as an Air BNB for those seeking to experience rest and relaxation in a rural environment. Trellises for grape vines and flowers are in place, along with a gravel parking lot.
Yu sees the possibility of adding walking trails for visitors. She said while those who have lived their lives in the surrounding area may not appreciate it, the quietness and the opportunity to see the stars and the Milky Way are impressive for those who have lived their lives in large cities, especially internationally.
"I see so many opportunities," she said.
Caption for top photo: Employees at Two Rivers Fisheries clean Asian carp in preparation for freezing it and shipping it overseas where it can be made into products for human consumption. (Photo by Shelley Byrne)