With today's mobile workforce, longevity in any one place isn't as commonplace as it used to be. Decades spent in voluntary leadership, even less common. But one place where long-term service in both a single company and a single trade association come together is with Tuscaloosa, Ala.-based Parker Towing Company's Charles A. "Charlie" Haun.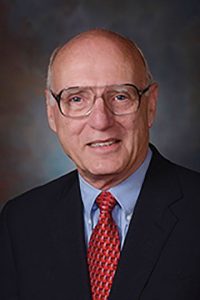 Haun, who joined Parker Towing in January 1975—48 years ago—and now serves as vice chairman of the company's board of directors, last year wrapped up 28 years as chairman of the Warrior-Tombigbee Waterway Association (WTWA), the trade organization representing stakeholders of the U.S. Army Corps of Engineers' Black Warrior-Tombigbee River Project. With Haun not seeking another term as WTWA chairman at the association's annual meeting in May 2022, members elected Horace Horn, vice president of external affairs at PowerSouth Energy, a power generation and transmission cooperative based in Andalusia, Ala. 
 Recalling that May 1994 annual meeting when he was first elected, Haun, almost 29 years later, still exuded a resounding sense of service to and admiration of the diverse set of people who make WTWA special.
"The association is composed of shippers, carriers, municipalities, suppliers, development organizations, industrial organizations, some professional organizations like lawyers and engineers—just plain business people who are dedicated to improving the waterway," Haun said. "[Parker Towing] had been a member of the association for many years, so I joined as a representative of the company. I was chairman of the users and operators committee. When it was time for the previous chairman to move on, I was elected chairman of the association."
Sign up for Waterway Journal's weekly newsletter.
Our weekly newsletter delivers the latest inland marine news straight to your inbox including breaking news, our exclusive columns and much more.
The association traces its origins to a group of navigation and business leaders who met aboard a Corps survey boat in Tuscaloosa in September 1949. That group formed the association soon thereafter, advocating for a survey of the waterway and the modernization of the locks and dams on the waterway. The waterway originally had 17 locks and dams, but thanks to the Corps' modernization work in the 1950s, the waterway now has six locks measuring 600 feet by 110 feet. Haun said two impressive facts about the Warrior-Tombigbee Waterway, or what the Corps calls the BWT, is its rapid growth after its modernization and the consistency of cargoes ever since.
"The prediction was that tonnage would reach 8 million within 40 years," Haun said of the construction of the six modern locks. "But as soon as they made those improvements, it greatly exceeded that growth."
Haun said the waterway actually reached that tonnage 14 years early, thanks to Alabama's natural resources and strong partnerships with the Corps and the U.S. Coast Guard.
"The waterway has been a huge development tool for the state, and it supports a lot of things," Haun said. "Typically, we do about 25 million tons per year on the waterway now."
Haun said commodities moved on the waterway and the percentages of those commodities had been remarkably consistent over the years.
"The largest commodity now is export coal," he said. "We're blessed in Alabama to have a good coking coal that goes to steel mills all over the world. We still have lots of good thermal coal, but thermal coal has really gone down. Now, with the situation natural gas is in, thermal coal shipments have picked up again, but it's nothing like it was 10 years ago."
Traffic on the river is driven by raw materials for steel coming in and moving up river, with finished products outbound, said Haun, who also noted that Alabama, through Nucor Steel and U.S. Steel, has a robust steel manufacturing industry. Besides thermal and metallurgical coal and steel products, the waterway also sees plenty of oil, asphalt, petrochemicals, forestry and agricultural products and aggregates. Still, coal accounts for close to half the tonnage.
Haun said the steadiness of the association over the decades has mirrored that of the waterway itself.
"The association has been very stable through good times and bad," he said. "We've been very fortunate in our association presidents over the years."
 The current president of the association is Wynne Fuller, who retired from the Mobile Engineer District in 2021 as operations chief. Past presidents include Larry Merrihew, Sheldon Morgan and Col. Offa "Buddy" Nichols. Whether it was the presidents of the association, his time as chairman or individual and organizational members, Haun said the mission was the same.
"We just try to promote the river and waterway as best we can," he said.
Reflecting on the fact that he was elected by his peers 28 times to serve as chairman, Haun said it was his honor to serve from the first year to his last, and every year in between.
"I was greatly satisfied," he said. "It's been a real pleasure being part of the organization. The entire time of my chairmanship, industry has grown, participation of municipalities has grown, just the people interested in the improvement of Alabama has grown."
Haun said he knows that will continue with Horn as chairman and with Fuller in his second full year as president. It's a living legacy Haun sees in his own company, Parker Towing, now in its third generation of family leadership. Parker Towing was started by Tim Parker Sr., whose son, Tim Parker Jr., now serves as chairman. Haun married Tim Parker Sr.'s daughter, Alice. After Haun graduated from the University of Alabama in the early 1970s with both a bachelor of science in chemistry and a juris doctorate, he worked at the University of Alabama before starting out as a personnel manager at Parker Towing in 1975.
In the years since, Parker Towing has grown and innovated with the times, Haun said.
"Our fleet has expanded with the growth of the waterway," he said. "We've also gone into port operations and established a number of stevedoring operations on the Warrior-Tombigbee and the Tennessee River. It's been a very successful move on our part."
The company operates a pair of machine shops in Mobile and terminals in north Alabama and Chattanooga, Tenn., with a forthcoming terminal under construction in Nashville. Parker Towing has expanded its tank barge business of late and, most recently, acquired Baton Rouge, La.-based General Marine Service.
Leading that charge is the third generation, which includes Tim Parker III as president and CEO; Chas Haun as executive vice president; Alison Phillips, Haun's daughter, director of communications; and her husband, Jared, who is director of business operations. Haun said his wife, Alice, was in charge of payables for many years, a role she inherited from her mother.
Haun said, with this next generation now at the helm of, arguably, Alabama's most recognizable towing company, he's more than confident in the future.
"It makes me feel real good," he said. "These transitions are rarely easy, but ours has gone as well as I could ever have hoped for."
Caption for top photo: At a recent Parker Towing christening, Charlie Haun, right, stands with his family: Chas Haun (son); Alison (daughter) and Jared Phillips and their children; and wife Alice Parker Haun. (Photo by Frank McCormack)