Capt. Dean Plaisance, Kirby Marine
Born in Galliano, La., and growing up in Larose, Capt. Dean Plaisance speaks in the French-inflected cadences of southern Louisiana, a region that has traditionally supplied a big contingent of towboat workers.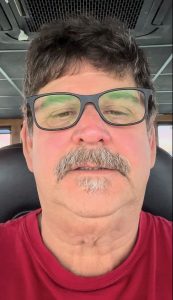 Plaisance's Dad had "done a little banking" before he turned to shrimping. "The shrimping was good in those days," Plaisance said. "Since then, the storms have eaten up a lot of the marsh. We've lost a lot of ducks in the flyway."
Plaisance himself shrimped in his teen years, then went to work for a small Gulf Coast outfit, Toups Marine Transport, founded by Anthony Toups, after his brother-in-law, Darrell Bouffanie, got him a job there. He remembers Bouffanie as being a good mentor who helped him get his start. Toups ran supply boats to the Gulf drilling rigs and along the Intracoastal Waterway. Plaisance worked for Toups from 1981, when he earned his first captain's license, through 1991.
A close friend worked for Kirby Marine and kept asking Plaisance to join him there, which he finally did in 1991. His first Kirby boat was the 800 hp. Mv. Frio, which also worked the Intracoastal Waterway. "We used to push two regulation petrochemical barges full of styrene from St. James to Houston; it took about four days."
Moving from a small outfit like Toups to Kirby, one of the biggest towing companies on the rivers, was an adjustment. "We had crews from all over the country; I remember a relief captain from New Jersey. We had a lot of meetings about safety and policies." Plaisance remembers when Kirby introduced electronic charting. TIt was one of the first towing companies to do so.
With Kirby, Plaisance increased his trip range as well, taking black oil and petrochemicals as far north as St. Paul. "I've been on the Ohio, Mississippi, Ilinois, Arkansas and Tenn-Tom rivers," he said. "The Ohio is probably the nicest to run, but I'm not particular."
His current boat, the 2,680 hp. mv. Kirby Crockett, has a 21-day-on, 21-day-off schedule, giving him plenty of time to relax and reconnect with his family. His oldest son is an executive chef in Houston, but his other two children have followed in his wake. His second son is a shore tankerman, and his daughter works for Edison Chouest. Plaisance recently welcomed the birth of his first grandchild, Maxx. "I could retire, but I enjoy what I do," he said. "I'll go for a few more years, then get on the trip list."
In his long career, Plaisance has weathered several storms—thankfully, without any serious incidents to report. He was anchored in a Kirby fleet during Hurricane Rita, when the water level rose 10 or 12 feet and a storm surge pushed some barges ashore, which he helped to tow back onto the water.
Plaisance is close friends with Kirby's Todd Belke, who started out as one of his deckhands, then became a tankerman, wheelman, captain and port captain, holding almost every position possible before his current one as vice president of operations.
Thirty-two years is a long career these days in any industry. For Plaisance, that longevity has a simple explanation. He said, "I'm very happy with Kirby and how they treat their people."