For this special Wheelhouse issue of The Wateways Journal we will look at two important "firsts" that changed the lives of pilots for the better.
In late 1929, the Howard Ship Yard & Dock Company, Jeffersonville, Ind., launched a steel hull for a sternwheel steam towboat that would create a lot of attention. The boat, named Wm. Larimer Jones, was for the Vesta Coal Company, a subsidiary of the Jones & Laughlin Steel Co., Pittsburgh, and was 136 feet by 34 feet. It had compound condensing engines that were 14's, 28's – 8 foot stroke built by the Frisbie Engine and Machine Company, Cincinnati, and rated at 800 hp. It was fitted with one Nelis steam generator, 100 degree superheat.
There were several mentions of the new boat in the July 12, 1930, issue of The Waterways Journal. The "Around the Falls at Louisville" column noted that the Wm. Larimer Jones, "new $300,000 Vesta Coal Company towboat" departed the Howard facility on July 2, 1930, en route to Pittsburgh. It said that "The new towboat is a distinct departure from old methods of construction in river towboats" and mentioned the Nelis steam generator provided in place of boilers. It did not mention another great innovation but did describe the outside color scheme as "white, trimmed in black, with dark green on the engine room bulkhead." The name painted on the bulkhead was in white, shaded in yellow and blue.
Capt. Jesse P. Hughes, who often penned a Huntington (W.Va.) news piece, had an entire column in this issue devoted to the new Jones. It had stopped at Huntington, and "river-minded residents" had the opportunity to inspect it. Capt. Thomas Cocaine was in charge of the Wm Larimer Jones, and J&L Transportation Manager C.D. O'Conner was also aboard. Capt. Hughes extolled many virtues of the new vessel, including "a nice easy scow bow, and a 16-foot rake at the stern" as well as the graceful shear line throughout the length of the hull. He noted that the superstructure was along the usual line of towboat style, including a nice pilothouse with a single stack behind it, which gave a somewhat "lake effect" to the appearance.
Sign up for Waterway Journal's weekly newsletter.
Our weekly newsletter delivers the latest inland marine news straight to your inbox including breaking news, our exclusive columns and much more.
Capt. Hughes then named the innovation that was causing the most "buzz" about this boat throughout the Upper Ohio River. It had no pilot wheel or tiller line, only a set of brass steering levers. Hughes said that this was "the most marked departure of any, from present day practice." Until this vessel came out, many boats had been outfitted with steam-assisted steering gear and levers, but the traditional pilot wheel had always been there as a back-up. From this point forward, no boat of any consequence would be built with a pilot wheel, and pilots would no longer be forced to stand at the side of the wheel when handling the vessel. He ended by saying "The Wm. Larimer Jones has the admiration and good wishes of all who have so far seen her."
The "Gallipolis Gossip" column by Frank Sibley that appeared in the same issue also gave many details about the Jones, most notably the absence of a pilot wheel. He also noted that the quarters had a "cooling and heating system … first ever to be installed in an Ohio River steamboat." While this issue had all of this "news" about this innovative sternwheeler, it also featured a lengthy story about  "Tunnel Screw Boats" by a Frank Ingrum, who seemed to see them as the future of the industry. There was news about the steam prop towboats being built by Dravo and Ward for the fledgling Mississippi Valley Barge Line, and on page 29 was an ad for Dubuque Boat & Boiler Company that featured a drawing of the large diesel prop Herbert Hoover that was under construction, a true harbinger of the future. The Howard yard delivered a sister vessel to the Jones named Titan later in 1930. Both boats would be dismantled and sold for scrap in 1953.
'Come See Me After The War'
During World War II, a young Robert L. Gray, working in the Marine Department of Ashland Oil & Refining Co. (AO&R) began noticing some strange things while he was attending company vessels at shipyards. What he was seeing was a strange apparatus mounted atop the wheelhouse of some military craft. He could get no one to explain what this mysterious thing was. The closest he came was when Bob Scatterday, a technician for Sperry Corporation, said, "Come see me after the war, and we'll talk about it." Gray ultimately found out it was an antenna for a device called radar.
Gray very much wanted to try radar on the AO&R towboat fleet, but Scatterday, whom he had become well acquainted with, discouraged the idea, saying that radar would never work in a narrow river environment. Gray remained insistent, and in mid-1946 a set was placed on the Jim Martin for a trial run. As predicted, it did not work well, but the Sperry people aboard for the trial saw enough that they thought it could be tweaked enough so that it would work.
In November 1946, AO&R had the Tri-State at the Dravo Neville Island, Pa., shipyard for maintenance work. The Tri-State had been built by Calumet Ship Yard & Dry Dock Company in 1942. It was 145 feet by 31 feet and was powered with a pair of National Superior diesels totaling 1,610 hp. It was the third of the "big" boats of the Ashland fleet, near duplicates built by Calumet, the Ashland entering service first in 1941 with Fairbanks-Morse 37E diesels of 1,600 hp. and the Paul Blazer, which came out later in 1941, with National Superior engines and 1,610 hp. While the Tri-State was at Dravo for this maintenance the Sperry technicians installed a modified radar set. When the boat departed southbound out of the Pittsburgh area it had Capt. T. Kent Booth aboard as master and Capt. Henry Dixon as pilot.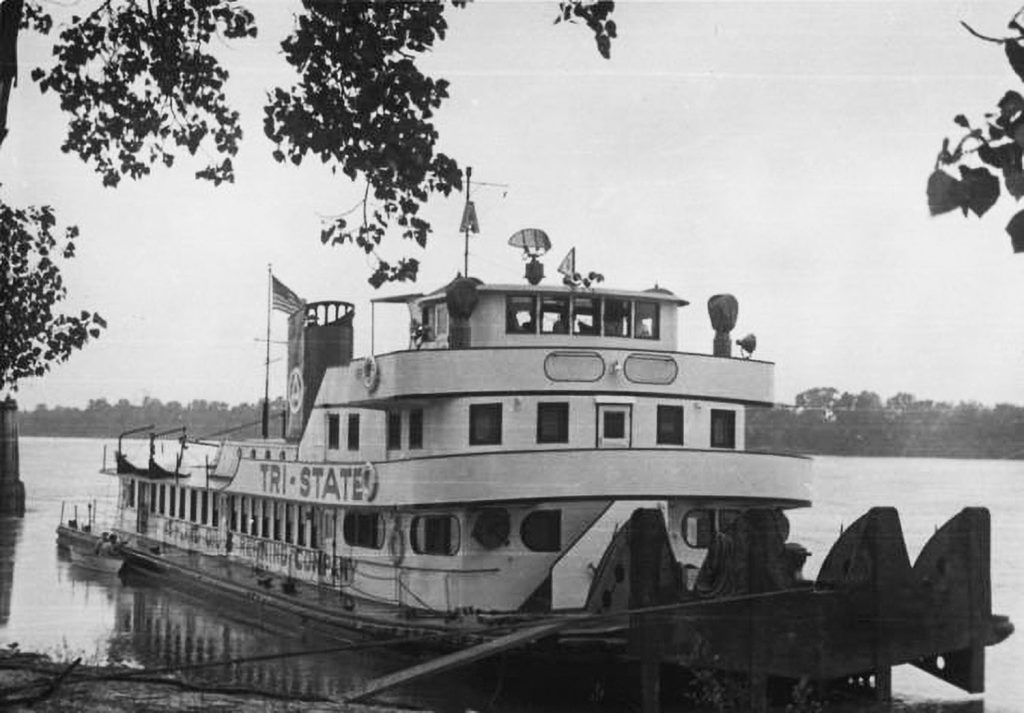 The radar was an instant success. A lot of running time had previously been lost at night simply due to dark, hazy stretches of river. In the first month of operation utilizing the radar the Tri-State saved so much running time that Paul G. Blazer, head of AO&R, approved the purchase of sets for the rest of the company fleet. Within a few years it was unthinkable for a towboat to navigate without a radar set. In 1990 Robert L. Gray was inducted into the National Rivers Hall of Fame for his efforts in bringing radar to the rivers, as well as his early advocacy of the use of depth sounders and other innovations. He passed away on May 1, 2014, at the age of 96.
The Tri-State was retrofitted with a new stern and kort nozzles at Dravo in the late 1940s. It was sold in 1960 and renamed Reliable by Reliable Towing Company, sold in 1965 to Tennessee Towing, and again sold in 1968 to Elk Towing and renamed Diane Bosworth. It was transferred in March 1970 to M/G Transport and in July 1970 to Jeff-boat. It lives on today as the Susan C. McBride for McBride Towing Company, Louisville, which acquired it from Jeffboat in 1971.
Caption for top photo: The Wm. Larimer Jones at work. Note no pilot wheel visible in pilothouse. (David Smith collection)