Op-Ed: Amending The Inflation Reduction Act To Save Our Waterways
By Robert Murray
President, National Association of Waterfront Employers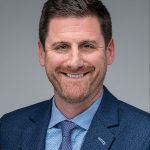 As the U.S. turns its attention to improving the health and safety of our communities, marine terminal operators (MTOs) have an opportunity to play a critical role in reducing emissions that impact people and our planet. Ports have historically relied on diesel-powered equipment to transport and handle cargo, and government has begun taking action to reduce emissions generated by trucks, cranes and other cargo-handling equipment. In August 2022, the government passed The Inflation Reduction Act (IRA), which includes $3 billion to fund decarbonization efforts across America's ports.
Part of the allocated budget is designated to help port authorities and operators switch to zero or near-zero emissions equipment. While this is a unique moment to accelerate port cleanup efforts and protect waterways, the legislation has three major flaws that could impact port operators' ability to adhere to the program's provisions.
1) No transitional approach to retiring old equipment. Pushing for rapid equipment transition feels like the right thing to do amid the urgency of the climate crisis, but moving too quickly could do more harm than good. Switching to electric-powered equipment within a certain timeframe means that some diesel-fueled tools won't get used to their fullest extent before being taken out of service. This effectively reduces the ROI of thousands of machines with remaining operational life, a challenging outcome for small ports that may have a hard time rebounding from lost value in their diesel equipment.
2) Minimal American-made equipment options. To boost the U.S. economy, the IRA includes a mandate for port operators to purchase electric equipment made in the U.S. While it's an excellent idea in theory, not all of the specialized port equipment is produced in America. Unfortunately, machines purchased from overseas manufacturers don't qualify for the program—leaving port operators with no way to subsidize these expensive costs. Unsubsidized equipment investments would likely be out of the question for ports that handle smaller cargo volumes as it would take longer to earn the money back.
Sign up for Waterway Journal's weekly newsletter.
Our weekly newsletter delivers the latest inland marine news straight to your inbox including breaking news, our exclusive columns and much more.
There's also the challenge of lengthy production timelines. Although equipment manufacturers and battery suppliers are developing electric port equipment, there is still a one- to two-year wait for some models. These wait times will hit small ports hardest since they often lack the relationships with manufacturers and the resources to pay for equipment years ahead of time.
3) Infrastructure support. Preparing to launch zero- and near-zero emissions equipment fleets drives a dramatic shift in the use of electricity at a port. The physical footprint of each port needs to be adapted to include infrastructure for charging heavy machinery and vehicles, as well as onsite locations to charge equipment. Port operators are not prepared to handle updating the utility infrastructure without ample support and guidance from utility engineers.
To ensure port emissions can be mitigated smoothly, operators should ask the EPA for a more transitional approach to equipment replacement—one that allows for the purchase of specialized equipment outside of the country. Finally, advocates should encourage the EPA to include methods for supporting utility infrastructure changes necessary for the successful shift to zero- or near-zero equipment.
About the Author
Robert Murray is president of the National Association of Waterfront Employers (NAWE), which represents the U.S. marine terminal operator (MTO) and stevedoring industry in Washington, D.C. NAWE promotes marine cargo efficiency, security and health, a clean environment, international trade and economic growth through advocacy, education and industry cooperation.