In the early 2000s, Austin Sperry, co-founder and president of Metairie, La.-based Maritime Partners LLC, was sailing competitively on the Star Class sailing circuit. It was more than a decade before he would team up with Bick Brooks to start the company that now has a fleet of close to 2,000 inland towboats and barges on long-term charter.
At that time, though, Sperry was pursuing a different dream: the 2004 summer Olympics, and meeting people along the way.
"When you race around the country and the world, you form a pretty tight bond with those other competitors," Sperry said. "It's like a fraternity."
And in the course of competing in the Star Class fleet, Sperry met another premier sailor who would become a lifelong friend and mentor: Andy Macdonald, an accomplished attorney. Sperry described Macdonald, better known as Andy Mac, as one of the smartest and most successful people he's ever met, someone who "always saw the bigger picture."
Sperry and Macdonald teamed up to train for the 2004 Olympic trials, but their time under sail was much more than that.
"When we were sailing, I'm asking him business questions and he's asking me sailing questions," Sperry recalled. "That was a real win for me. Sailing was secondary. We didn't win the Olympic trials, unfortunately, but it was a great experience."
Fast forward to 2015, when Sperry and Brooks were preparing to launch Maritime Partners. Sperry arranged for Macdonald to fly up to New York City to meet with Brooks for an hour to discuss the venture. That one-hour meeting lasted five.
"Andy came on as our first attorney," Sperry said. "He really was a key part."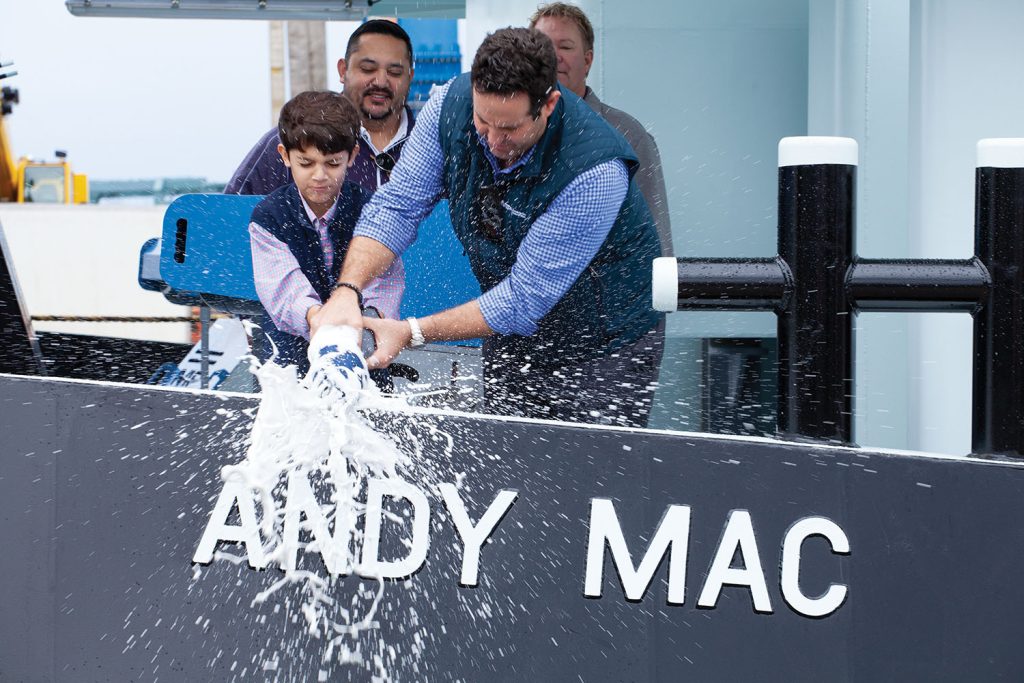 Macdonald was the attorney who handled the legal side of Maritime Partners' first towboat lease, which famously brought in $40 a day. In those early days, Sperry said, Macdonald "helped us push forward when, maybe, we didn't believe." Sperry said, in those early days, Macdonald would conclude his emails to Sperry and Brooks with "We Will Win."
Macdonald was also one of the first people who reached out to Sperry on November 30, 2022, after Maritime Partners successfully acquired the fleet of the late J. Russell Flowers.
"He sent Bick and me a text after we closed the deal," Sperry said. "He said he was really proud of us, and that was the last time I heard from Andy or had any communication with him."
Tragically, Macdonald died of a heart attack the next morning.
"I woke up that morning feeling like we could take on the world," Sperry said. "I got a call about 6 a.m., and I thought it was going to be the press or somebody calling about the deal we closed just the day before. Instead, it was one of my sailing buddies from Miami, who asked if I was sitting down and that Andy Mac had just passed away. He was on the way to the airport to go sailing in Miami, pulled over, and unfortunately had a heart attack and passed away."
Macdonald was 72 years old. He is survived by his wife, Karen; three children, Collin, Jory and Rachel; and their spouses and children.
Sperry said Maritime Partners planned to name a boat after Macdonald several years ago, but the vessel charterer at that time instead opted for a name of their choosing.
"That $10,000 change order came in. We had to grind his name off," Sperry said.
And so, still grieving the loss of his close friend and mentor, Sperry, along with the team at Maritime Partners, decided to name its latest new-build towboat from Steiner Construction in Bayou La Batre, Ala., after Macdonald.
"He was never around to see what a special day this is and what an accomplishment this is by the men and women of the shipyard, the vendors and all the bits and pieces that go into making this thing what it is today," said Sperry, speaking at the February 10 christening for the mv. Andy Mac. "It's hard to talk about Andy. I miss him. I love him. I wouldn't be here without him."
Reflecting on his years-long relationship with Macdonald, Sperry said he cherishes the simple times, like sitting with Macdonald in his kitchen, drinking a beer, and just talking together. He also honors Macdonald in his day-to-day business life, like in his approach to business culture.
"Andy didn't like wearing sport coats and ties," Sperry said.
Sperry also mentioned Macdonald's decisiveness and willingness to take a risk, like at the start of the 2004 Olympic Classes Regatta in Miami. Nearing the start of the race, in a fleet of 58 Star Class sailboats, Macdonald noticed a shift in the wind and said he and Sperry should port tack the fleet, a daring move that involves starting the race on a port tack, with the others on a starboard tack.
"We did it and port tacked the whole fleet," Sperry said. "It was a special moment. After the race, many members of the fleet came up to us and gave us a lot of credit for pulling that off with such a sophisticated fleet."
Sperry said that's emblematic of just who Macdonald was.
"All the young guys in the Star sailing class, we're better people because he was in our lives," he said.
Andy Mac Specs 
The Steiner Construction-built mv. Andy Mac is a 2,600 hp. towboat designed by Farrell & Norton.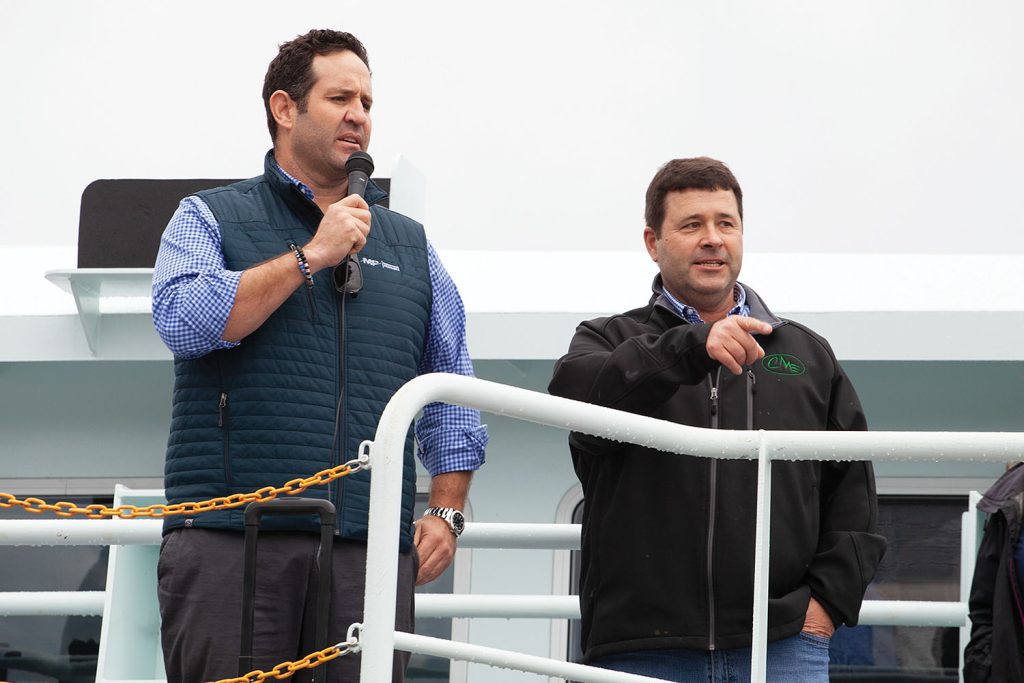 The vessel, a twin to the mv. Kevin Goldstein, which Steiner delivered to Maritime Partners last month, is 100 feet long by 34 feet wide by 10 feet, 6 inches high with a draft of 8 feet, 6 inches. A retractable pilothouse boat, it has an overall height of 30 feet, 6 inches when the pilothouse is raised and 17 feet, 6 inches when it is lowered.
The twin-screw boat is powered by two Cummins QSK38 Tier 3 main engines that each provide 1,300 hp. at 1,600 rpm. Cummins Mid-South supplied the main engines. The Reintjes 665 reduction gears from Karl Senner have a 6.04:1 ratio. The engines turn two 80-by-51-inch stainless steel wheels from Sound Propeller on 8-inch shafts with Simplex seals and Johnson Duramax bearings.
Inside the hull is tankage for 42,600 gallons of fuel, 30,850 gallons of ballast/wash water and 8,380 gallons of potable water. The Andy Mac also carries 1,390 gallons of dirty oil and 600 gallons each of lubricating and gear oil.
Auxiliary power is provided by two 99 kw. QSB7 Cummins generators that are Tier 3 and IMO compliant. The auxiliary and main engines are cooled by East Park Duraweld keel coolers. The vessel's two steering and four flanking rudders are controlled by an electric-over-hydraulic system from Gulf Coast Air & Hydraulics, which also furnished the engine alarms. A remote operating system is located in the engineroom.
There are quarters for a crew of six, with a pair of double rooms and two single staterooms. Each of the crews' rooms has a double bunk bed that measures 39 by 75 inches. There is a shared shower and toilet. The staterooms have their own adjoining shower and toilet. The boat's interior is trimmed in Spanish cedar with white pebble FRP on all walls and overheads.
The galley contains a freestanding refrigerator and freezer and a 48-inch stainless steel combination range and oven. The hardwood cabinets and an island cabinet are covered with granite countertops. There is a lounge equipped with an entertainment center.
In the pilothouse, there is a full Furuno navigation system from Wheelhouse Electronics. The system includes two Furuno radars, a depth recorder, AIS system and bridge navigational watch alarm system; Standard Horizon VHFs and loud hailer system; and two 18- by 12-inch computer monitors for engine alarms and gauges.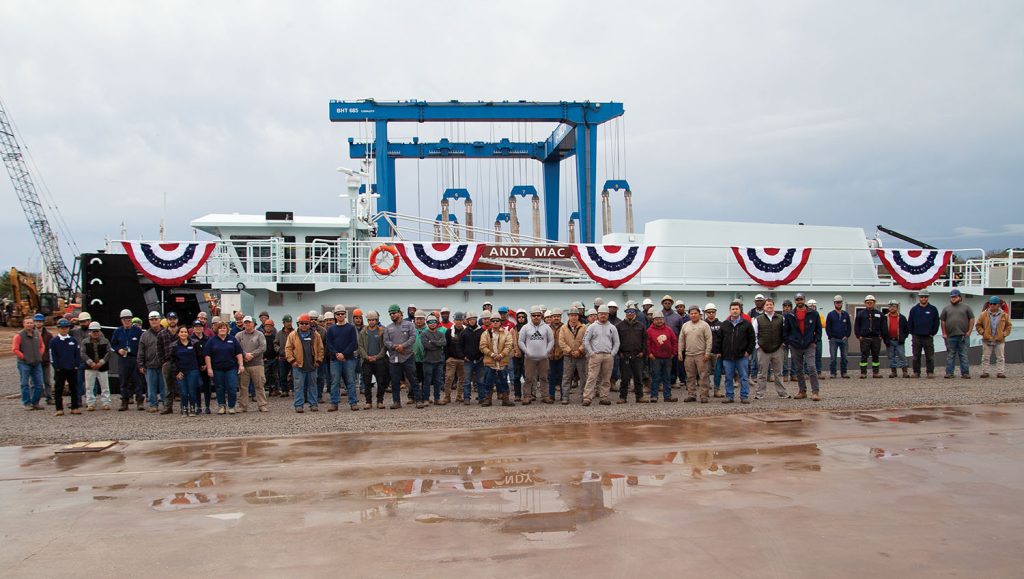 The air conditioning and heating system is a split-type unit with separate head units for staterooms and the wheelhouse. Hiller Systems supplied the fire safety equipment. Fendering is by Schuyler. Sherwin Williams provided the paint.
Besides Sperry speaking about Macdonald, the christening for the mv. Andy Mac featured remarks from Bubba Steiner, founder of Steiner Construction, and Rep. Jerry Carl (R-Ala.), who represents Alabama's first congressional district.
To officially christen the mv. Andy Mac into the Maritime Partners fleet, Sperry asked Max Macias, son of Martin Macias, an account manager for Fairbanks Morse, to break the bottle of champagne.
"Andy Mac loved kids, he loved his grandkids," Sperry said, "so at the last minute I thought Andy would love the idea of a young man christening his namesake. Max stepped in and did a great job to honor the legend."
Other Boats At Steiner Construction 
Steiner Construction's 24-acre facility is crowded with several other boats in various stages of construction. There are two 88-foot, 2,600 hp. towboats for Evansville (Ind.) Marine Service due for completion in April and August, respectively; a 120-foot, 3,400 hp. towboat for Maritime Partners that is due out in January 2024; and an 82-foot, 2,520 hp. towboat for American Commercial Barge Line that is slotted for a July 2024 delivery.
Caption for top photo: The mv. Andy Mac, built by Steiner Construction, is powered by twin Cummins QSK38 Tier 3 main engines.