Sailors' Snug Harbor Sustains Retired Mariners, Regardless Of Where They Served
Life, with all its twists and turns, rises and falls, can be a lot like a river. Sometimes it's even like the Mississippi of old, an alluvial or meandering river prone to dramatic course changes.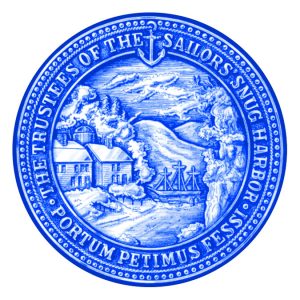 Mariners understand that metaphor better than most, and sometimes they live it.
And for more than 200 years, an organization called Sailors' Snug Harbor has been offering assistance to retired mariners—both brown water and blue water—in need of financial help.
Sailors' Snug Harbor traces its origins to June 5, 1801, the day Capt. Robert Richard Randall, a mariner and New York City farm owner, died. Randall's will, reportedly authored by founding father Alexander Hamilton and Daniel Tomkins, future governor of New York and vice president of the United States, directed proceeds from Randall's estate to be used to build a hospital on the site of his farm, located in what is now Greenwich Village, and dedicate it "to maintain and to support aged, decrepit and worn-out sailors."
Sign up for Waterway Journal's weekly newsletter.
Our weekly newsletter delivers the latest inland marine news straight to your inbox including breaking news, our exclusive columns and much more.
"All these years later, we're still carrying on Capt. Randall's wishes," said Jay Brooks, executive director and governor of the trustees of Sailors' Snug Harbor.
Initially, Sailors' Snug Harbor carried out its mission by purchasing a 130-acre farm on Staten Island and opening dormitories for retired mariners. By the start of the 20th century, there were more than four dozen buildings and 1,000 mariners living there. In 1976, the organization shifted gears by moving its operation to Sea Level, N.C., where it operated another resident facility. Then, in the 2000s, Sailors' Snug Harbor transformed from a residential facility to providing direct assistance to mariners regardless of their location in the United States, with direct vendor payments for housing costs, insurance, car expenses or other living needs.
"Today, we have about 350 mariners spread out over 33 states," Brooks said. "These are the highest numbers we've had since the 1950s."
Since its inception in the early 1800s, Sailors' Snug Harbor has aided close to 17,500 mariners.
Historically, Sailors' Snug Harbor focused on blue-water mariners from the United States. More recently, though, the organization has begun reaching out to the brown-water industry as well.
"A few years ago, we opened it to inland mariners," Brooks said. "We have deep-sea mariners all over the country. About 10 percent are inland, but it's slowly increasing each year."
Brooks said he knows inland maritime jobs tend to pay well and that not every mariner will need help from Sailors' Snug Harbor. However, crises can alter anyone's future and their present needs.
"We try to help those most in need," he said.
Like Nancy Avery, who served as a cook aboard towing vessels for 17 years. A native of Michigan, a longtime resident of southeast Louisiana and a current resident of McComb, Miss., Avery retired in 2001 after she was disabled. In the early 1980s, Avery had been a route driver and not enjoying her job. She got to talking with someone who was helping her move, and that person suggested, "Well, you should come work where I work." She called the towing company and was quickly hired as a cook, working 30 for 30.
"I love to cook, and I love to travel," Avery said. "If ever there was a job that was tailor-made for me, it was that one."
Joyfully, Avery recalled her daily routine when at work: up at 3:30 a.m., in the galley by 4 a.m., breakfast served at 5 a.m.
"After breakfast, I'd sit down, have my coffee and get a start to my day so that I was totally awake," she said.
Lunch was served around 11 a.m., and supper was at 5:30 p.m.
Avery bragged about her gumbo and the fried shrimp she'd cook on Fridays. Rather than buying breaded shrimp, she would peel and devein the shrimp herself.
"I liked a wide variety," she said. "I had one captain say that was the best thing about me. I cooked both Yankee and Southern."
She also enjoyed challenges, like cooking for one of her captains who had a lot of dietary restrictions. Serving her crew mates and looking after their wellbeing was a natural part of life aboard a towboat, Avery said.
"Most of the time, it was just like a big family," Avery said. "If they like the cook, they'll do just about anything for 'em. It was just like having seven brothers. I'd go back today if I could."
Avery said she was devastated when she was forced into retirement, not only because of the lost camaraderie, but also because of the financial strain.
Then came a Christmas card from Sailors' Snug Harbor with a check inside.
"I was flabbergasted," she said.
A follow-up letter came after that, and now the organization helps her with her house payment.
"They've been my angel, they really have been," Avery said. "They really have been my saving grace."
Avery said she still doesn't know how Sailors' Snug Harbor found her. She just knows she's thankful.
Brooks said, especially with inland mariners, getting the word out about how Sailors' Snug Harbor can help has been a challenge. Much of that work has involved emailing or calling companies or just word of mouth.
Sailors' Snug Harbor will have a booth at IMX 2023, which will be May 31 through June 2 in Nashville, Tenn. Brooks will be there, eager to meet mariners and company leaders alike.
To be eligible, mariners must have at least 2,555 days (or around 14 years) on the water; be at least 60 years old, with some exceptions; have a proven financial need; be a resident of the United States; and have less than $75,000 in assets, excluding a primary residence, with some exceptions.
Brooks said the average age of a mariner receiving assistance is 78, with 40 mariners over the age of 90. Two or three World War II veterans are currently part of the program. Brooks encouraged mariners to spread the word about the Sailors' Snug Harbor.
"Our No. 1 way of connecting with people is a mariner telling a former shipmate about us," he said. "Our goal is to let every merchant mariner know about us."