About 50 members of the Central Ohio River Business Association (CORBA) and their guests toured the Nucor Steel Gallatin plant in Ghent, Ky., as part of their winter meeting March 16.
The meeting also included the presentation of the Friend of the River Award to Capt. Alan Bernstein, president and CEO of BB Riverboats.
Importance of Barging In Steel Production
Tony Nath, Nucor Steel Gallatin's material handling and shipping day supervisor, said the group was the largest gathering so far to tour the facility following its recent $650 million expansion.
After splitting into several small groups, participants donned protective gear, including heavy jackets, gloves, ear protection and safety glasses. They toured the melt shop, caster, rolling mill and galvanizing line.
Sign up for Waterway Journal's weekly newsletter.
Our weekly newsletter delivers the latest inland marine news straight to your inbox including breaking news, our exclusive columns and much more.
Nath said the expansion has increased Nucor's capacity at the plant from 1.6 million tons per year to 3.2 million tons. The expansion has allowed the plant to increase its use of barged-in scrap steel as a feedstock, he said, with about half of the scrap steel now being barged in, primarily by River Metals Recycling. The steel may have previously been used in cars or refrigerators and recycling keeps it from filling up landfills or being dumped illegally.
The expansion, completed earlier this year at the 28-year-old facility, added a new furnace and additional rolling capabilities, Nath said. The electric arc furnaces take about 35 minutes to turn scrap steel into liquid steel at 3,000 degrees Fahrenheit.
Nucor's $650 million capital investment produces wider steel coils, with a 73.5-inch mill edge. These wider coils can weigh up to 96,000 pounds each.
"The plan is to put that wider, heavier material on barges," Nath said.
Nucor Gallatin's increased use of moving products by barge is in part due to taking advantage of grant programs such as the Marine Highway program.
The river is also essential to production as it is a water source for the factory, with more than a million gallons of water sprayed on steel slabs during external cooling.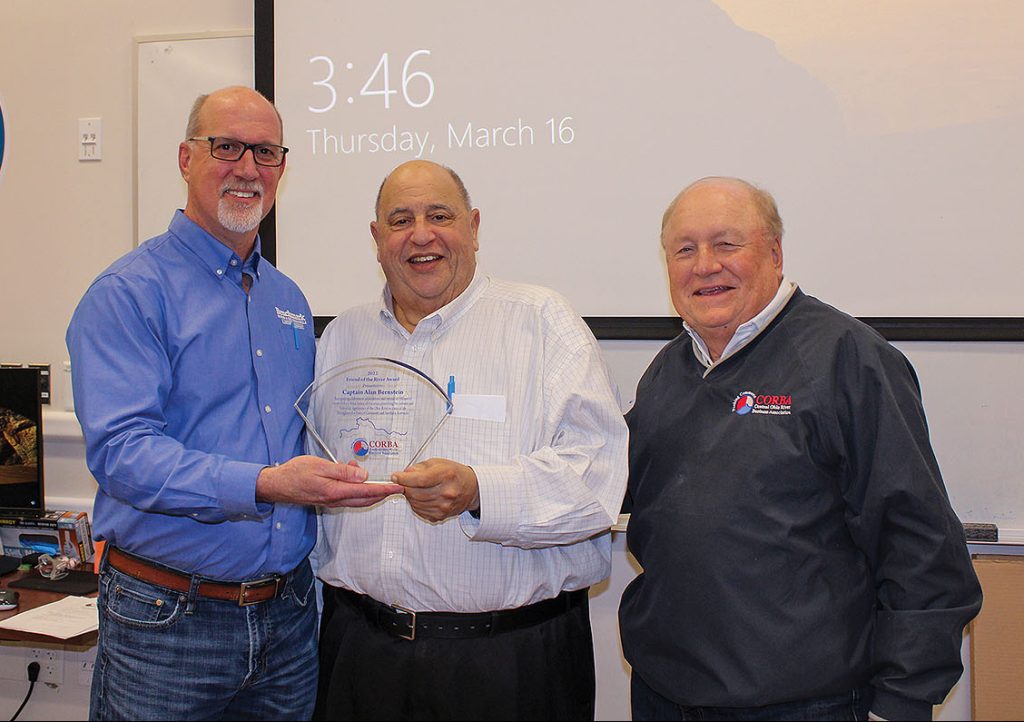 Honoring A 'Friend Of The River'
Following the tour, CORBA Executive Director Eric Thomas presented Bernstein with the Friend of the River Award for 2022.
Bernstein began his love of the rivers working as a deckhand and in the dining room on the Delta Queen as a teenager during a summer job in 1970.
"I just sort of fell in love with it," he said. "It was magical, absolutely magical."
In the mid-1970s, he and his father bought the Mike Fink, a steam-powered towboat, and converted it into a dockside restaurant in Covington, Ky.
"People used to ask if there were excursions," Bernstein said. In 1979, the Bernsteins established BB Riverboats, named after Ben Bernstein and Betty Blake, a close personal friend and river industry veteran from the Delta Queen Steamboat Company.
The company's first excursion boat, the Betty Blake, was a 400-passenger sternwheeler and offered its first passenger cruise in 1980. Later boats included the Becky Thatcher and Mark Twain. The Bernstein family bought the Belle of Cincinnati in 1999. Today, the Belle of Cincinnati and its sister vessel, the River Queen, take an average of 250,000 passengers on excursions on the Ohio River each year from their homeport in Newport, Ky.
The company is a key partner in the region's Tall Stacks festivals, which have taken place in the Cincinnati area in 1988, 1992, 1995, 1999, 2003, and 2006.
Bernstein is also a founding member of CORBA, which was established in November 2011 as a trade association representing local businesses conducting commerce primarily along the Ohio River in the tri-state region of Ohio, Kentucky and Indiana. He served on the steering committee.
"Anything having to do with the river, Alan's in, 100 percent," Thomas said in presenting Bernstein with the award, calling him a true champion and ambassador.
"I don't think there is a greater ambassador on the inland river system, particularly for the Ohio River, than Alan Bernstein, and I mean that with all sincerity and whole-heartedly," Thomas said.
The award recognizes a lifetime achievement in service on the inland rivers of the United States while preserving the cultural significance of the Ohio River as a way of life.
Upcoming Events
Other business at the meeting included reminders of upcoming events.
CORBA's 8th annual golf outing will take place April 17 at Aston Oaks Golf Club in Cincinnati. While it is a sold-out event, sponsorships are still available and help to fund programming, including a scholarship program.
CORBA is also sponsoring the upcoming OKI Conference on Freight, which will be held in Cincinnati and northern Kentucky on September 5-7.
Later this month, CORBA also plans to award a $1,000 scholarship to a student in Northern Kentucky University's global supply chain management program who wins an essay contest with subject matter focused on maritime transportation and logistics.
Caption for top photo: About 50 Central Ohio River Business Association (CORBA) members and their guests toured Nucor Steel Gallatin in Ghent, Ky., as part of the trade organization's winter meeting. (Photo by Shelley Byrne)