SCI To Honor Steger At Luncheon
The Seamen's Church Institute (SCI) will hold its annual Maritime Training Benefit Luncheon on April 20 at the Marriott Marquis hotel in downtown Houston. The luncheon, which brings together the Gulf Coast and Gulf Intracoastal Waterway maritime communities, supports SCI's Center for Maritime Education.
Each year, SCI recognizes an industry leader at the Maritime Training Benefit Luncheon, and this year the honoree will be Dennis Steger, longtime industry leader and founder of Channel and Lynchburg shipyards. Besides his shipyard work, Steger also started a medical clinic in the Houston area.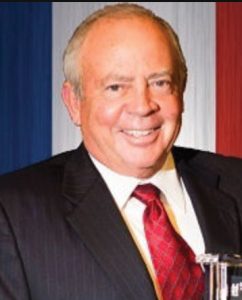 Steger is a former chairman of both the Shipyard Council of America and Lone Star Bank, where he was also director. A resident of LaPorte, Steger has served as director of the Water Authority Board there and the city's 20-year planning committee. A longtime supporter of the Houston Livestock Show and Rodeo, Steger has served as that organization's vice president and remains on several committees. Most recently, Steger served on the board of directors for the Culinary Institute of Houston from 2009 to 2021.
"The Seamen's Church Institute takes great pride in the high-quality training we provide to our industry partners to ensure safe vessel operation and overall mariner preparedness through our training centers in the Houston Ship Channel and Paducah, Ky., as well as through our eLearning modules," said SCI President and Executive Director Mark Nestlehutt. "It is also a privilege to recognize and celebrate the lifetime work of Dennis Steger, a giant within our industry and community."
In addition to the agency's mariner training work, SCI also provides legal advocacy through its Center for Mariner Advocacy, operates a center for seafarers within Port Newark and has a team of chaplains at work on the nation's inland waterways and coastal waters through its Ministry on the River.
Registration for the luncheon will begin at 11 a.m., with the event following from 11:30 a.m. to 1 p.m. Information regarding registration and sponsorships is available online at www.seamenschurch.org/mtbl-register.