Eymard Marine Construction & Repair Inc., a busy shipyard on the Harvey Canal near New Orleans, recently completed a 78-foot towboat for Lydia Ann Channel Fleet, a Rockport, Texas-based provider of fleeting and fuel services and an operator of towing vessels on charter. It is the 46th towboat that Eymard Marine Construction has built since it started in 2007, although the number of boats built before then by the Eymard family totals 100.
Named Isabella Juliette, and designed by Entech, the boat departed the yard April 1 after receiving its Certificate of Inspection. It is the third of four vessels that LAC Fleet will christen this fall. The first two are the mv. Frances Diane, built by Intracoastal Iron Works, and the mv. Lindsey Elaine, built by Diversified Marine Services. Details on the fourth boat are undisclosed for now.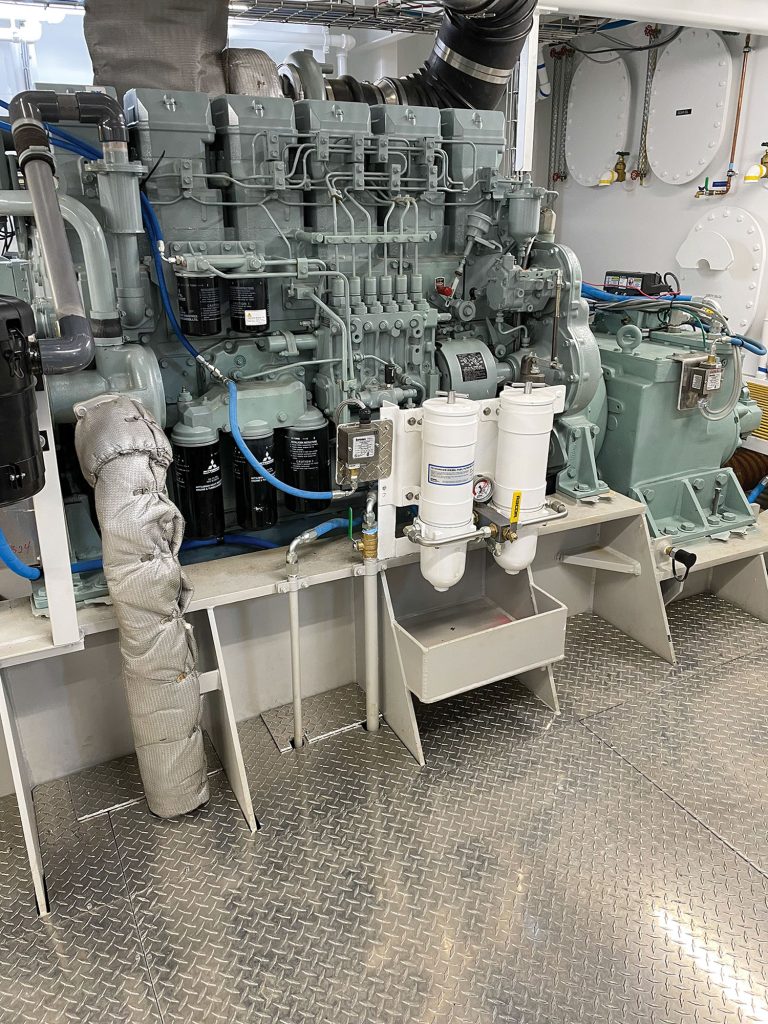 The Juliette features a pair of S6R2-Y3MPTAW Mitsubishi Tier 3 engines rated 803 hp. at 1,400 rpm. (Laborde Products). The engines are mated to Twin Disc MG 5321 reduction gears with a ratio of 5.96:1 (Sewart Supply). The vessel's Sound 76- by 66-inch, four-blade propellers (Jefferson Propeller) have 7-inch shafts. Shaft seals are Wärtsilä (Dale's Welding), and the bearings are Duramax (Donovan Marine).
Ship service power aboard the Isabella Juliette comes from a pair of John Deere 99 kW generators (Marine Systems Inc.). When fully loaded with fuel, water and oil—28,270, 12,824 and 1,357 gallons respectively—the pilothouse provides an eye level of 33.6 feet. Vessel width is 34 feet. The boat is equipped with Duramax engine and gear coolers, jacket water and after coolers (Fernstrum), and a Duracooler generator cooler (Donovan Marine). All the vessel's functions are monitored by engine alarms and fire detection systems (Unlimited Control & Supply).
The custom-designed, electric-over-hydraulic steering system utilizes a three-pump set-up that allows both main and flanking rudders to run on an auxiliary pump controlled from the wheelhouse (Hydra Force). The Juliette is equipped with a Seahorse 12-man MSD unit (Donovan Marine).
The new vessel is fully stocked with the latest electronics and communication equipment (Wheelhouse Electronics) including two Furuno River Radars with 19-inch monitors, an Alphatron swing meter, Furuno AIS system and sounder and four Standard VHF radios.
The vessel has air-conditioned and heated (Blair Plaisance) crew accommodations for seven crewmen in five staterooms and four bathrooms. The deck house features vinyl plank flooring, FRP paneling and acoustic ceiling tiles throughout. The galley is furnished with a refrigerator freezer having two French doors, an ice maker, cooking range and microwave (Bon Marche).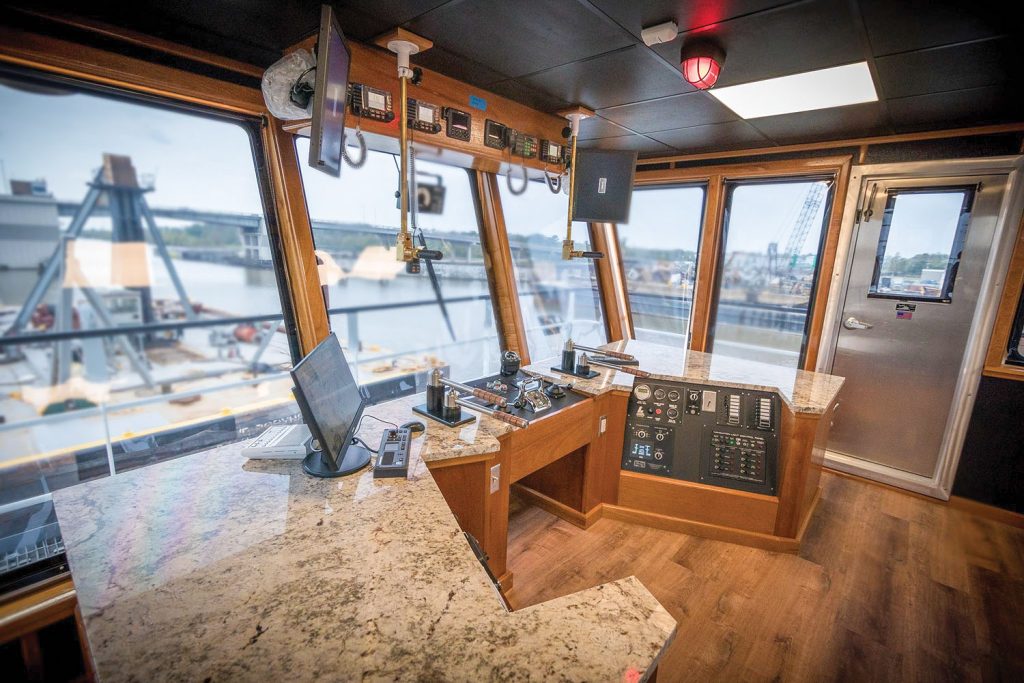 The boat's hull is fully protected by marine fendering (Schuyler). On-deck features include two 40-ton Patterson deck winches, kevel chocks and two 50-ton roller buttons (Donovan Marine).
Currently in various stages of construction are two other vessels at the crowded but efficient boat yard. At one point, the company had to lease the yard next door to make room for an extra jig and to organize steel and other equipment. "We had sort of an assembly line going," said Lisa Eymard, chief financial officer. "We build the hulls upside down on one of the jigs. At the same time, the deckhouses are being built on a slab and in the shop close by."
The key to the yard's efficiency is close coordination between the in-house carpenters and electricians and the vendors and then with McKinney Salvage, which flips the hulls and lifts the vessels into the water when they are ready, Eymard said. "We have about 30 guys in the yard and three jigs."
About LAC Fleet
LAC Fleet was created in 2015 to address the lack of barge fleeting space in the Corpus Christi area. The founder, Todd Maise, worked for Settoon Towing in Pierre Port, La. He was director of operations for Settoon Towing for five years, having spent 10 years before that with Blessey Marine Services as port captain and director of operations.
Maise enlisted the partnership of several Corpus Christi businessmen when he launched the new company. While it began primarily as a fleeting operation in the Corpus Christi area, LAC Fleet has since become a substantial exporter of fuel to Mexico thanks to its affiliation with a Harlingen, Texas, firm named Titan Fuel. Together they operate 20 30,000-barrel tank barges and one 10,000-barrel tank barge dedicated to the transportation of diesel fuel and gas from various collection points along the GIWW to a terminal in the Port of Harlingen. From there, the product is trucked to Mexico.
The fleet has capacity for about 250 barges, with 68 mooring pilings stretched across about 8,000 feet on the Lydia Ann Channel. The fleet is located between Miles 531 and 533 on the GIWW.