Friends and coworkers from the Louisville Engineer District remembered Jackie Lee Anderson on April 27 with the christening of a vessel named in his memory.
The 2,000 hp. Z-drive mv. Jackie Lee Anderson will be used to maneuver the wicket lifters, which are used to raise and lower the wickets at Olmsted Lock and Dam, replacing a boat the district previously chartered from Marquette Transportation.
Most of the ceremony paid tribute to Anderson, recognizing the unique combination of dedication to his work, love for friends and family and his own special brand of humor that led colleagues to vote to name the boat after him.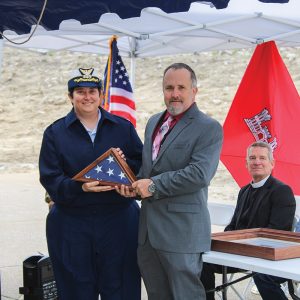 Anderson began his career on the Ohio River in 1995 as a land-based supply employee with a major towing company. In 2010, the Corps of Engineers selected him for the Student Temporary Program (STEP) in affiliation with West Kentucky Community & Technical College. He completed the program and was hired as an operator at Lock and Dam 52. Throughout his career he received numerous awards, recognizing him for his dedication and tireless efforts and in keeping Locks and Dams 52 and 53 maintained and operational.
Sign up for Waterway Journal's weekly newsletter.
Our weekly newsletter delivers the latest inland marine news straight to your inbox including breaking news, our exclusive columns and much more.
"Always do what it takes to get the job done" was something he frequently said, and it held true in high water and low water, in the freezing cold and the blazing heat.
While serving as a lock and dam operator at Smithland Locks and Dam, Anderson passed away on April 9, 2016, after a long battle with pulmonary fibrosis.
Waylon Humphrey, chief of operations for the Louisville Engineer District, recalled that whenever he traveled to the locks and dams "I knew there was one teammate I could count on seeing, and that was Jackie Lee."
When crews were working to lift the antiquated wooden wickets into place, section by section, Anderson was the one who kept the fleet perfectly positioned, Humphrey said.
Now, those working to lift the Olmsted dam's much more modern wickets into place during low water will have a similar view.
"Every time they turn and look toward the stern, they will see the mv. Jackie Lee working alongside them," he said.
Luther Helland worked with Anderson day in and day out. He recalled the funny moments, such as Anderson claiming to be the long-lost brother of Kid Rock.
"And anything that had wheels, it had to be a NASCAR," he said. "It didn't matter if it was a forklift."
Anderson's father, Jack Anderson, said his son was a hard worker, always willing to learn as much as he could about the locks and dams.
"In true Jackie Lee fashion, he has brought us together again," he said.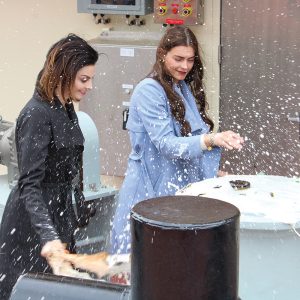 Brian Holcomb, project engineer for the Louisville district, thanked Marquette for the five-year charter of the mv. St. James during the scoping, design and construction of the mv. Jackie Lee Anderson.
"The charter provided valuable training and lessons learned during the design process, and Marquette Transportation provided excellent support to the Olmsted team," he said. "It has been a key component in the timely operation of the dam at Olmsted and providing navigable waters."
The ceremony also included a blessing by the Rev. David Shirk from the Seamen's Church Institute, the presentation of U.S. and U.S. Army Corps of Engineers flags to Olmsted Lockmaster Jeff Griffin and the presentation of a portrait of the mv. Jackie Lee Anderson to Anderson's daughters, Haley and Mia, before they broke two bottles of champagne to formally christen it.
Looking around at those gathered for the ceremony and a tour of the vessel, Mia Anderson said, "It makes us very proud of the mark our Dad left on people."
She added that it also made her and her sister even more appreciative of their river family.
Vessel Specs
The mv. Jackie Lee Anderson is 82 feet long and 36 feet wide with a depth of 11 feet at midship. It has a pilothouse eye level of 34 feet, 6 inches. The vessel was built by Thoma-Sea Marine Constructors LLC and completed April 11.
It will accommodate 14 crew members, headed by Capt. Shane Byassee, who formerly served as the Olmsted lockmaster.
The Jackie Lee Anderson features two Tier 4 Caterpillar C32 engines, each producing 1,000 hp. at 1,800 rpm. They operate two Steerprop SP14-WD Z-drives enclosed in kort nozzles and have four-blade, 59-inch propellers.
Ship service power comes from two 99kW, 480-volt Tier 3 Northern Lights generators.
The Jackie Lee Anderson also has WEKA box coolers and tankage for 15,200 gallons of fuel, 7,102 gallons of potable water, 674 gallons of gear oil and 552 gallons of lube oil.
On deck are two Patterson 60-ton single-drum winches and a Schoellhorn-Albrecht SA1817-10E-40 above-deck electric capstan.
DEX-O-TEX provided the epoxy flooring. Navigation electronics are by Furuno, with Icom radios supplied by Beier Radio. Air conditioning and heating are from Juneau Marine Refrigeration & Air Conditioning. Fire safety equipment comes from Hiller Marine. Schuyler Maritime provided the 11- by 12-inch fendering around the full perimeter. Paint and coatings are from Sherwin Williams.
The vessel is classed by the American Bureau of Shipping (ABS) as a Class A1 with a Maltese Cross for use as a government towing vessel in towboat river service.