The morning of Saturday, May 6, the CSX movable rail bridge that spans the Mobile River at Mile 14 incurred a mechanical issue that left the bridge in an inoperable, "cattywampus" position, rendering rail and vessel traffic impassable.
The Mobile Engineer District sent out a notice to mariners later that evening announcing the closure.
"The extent of the damage to the bridge structure's mechanical and electrical systems is unknown at this point," Navigation Bulletin 23-30 stated. "CSX has a bridge engineer and crew en route to assess the damages and begin repairs."
By then, a handful of vessels was already clustered on either side of the bridge.
Sign up for Waterway Journal's weekly newsletter.
Our weekly newsletter delivers the latest inland marine news straight to your inbox including breaking news, our exclusive columns and much more.
Once on scene, the CSX repair crew was able to identify the mechanical issue and begin emergency repairs, which first involved lowering the bridge.
"Movable bridges are at their most stable state when fully closed, and the safest option was to keep the bridge in a stable position while repairs were made," Sheriee Bowman, a spokesperson for CSX, said. "The bridge was opened for vessels as soon as repairs were complete."
Repair crew members were able to lower the bridge by around 1 a.m. Sunday, May 7.
"Train traffic resumed at a reduced level of service shortly thereafter," Bowman said.
Temporary repairs were completed shortly after noon Monday, May 8, with navigation restored by early afternoon. By then, there were about 10 tows waiting to continue southbound, with almost that many headed north.
"Normal operations for mariners and train traffic has resumed, and the bridge is opening on-demand, per federal regulation," Bowman said. "The bridge is operating at a reduced speed with no reported impacts to maritime or railroad traffic. The mechanical issue did not impact the structural integrity of the bridge."
"We experienced our first delay with the CSX bridge closure at 0700 on May 6," said Chas Haun, executive vice president of Parker Towing Company. "This was the first of seven tows total that were impacted by the temporary closure. After two days of navigating the logistical challenges posed by the closure, all tows cleared traffic the afternoon of May 8."
The Mobile District issued a follow-up navigation bulletin the next morning.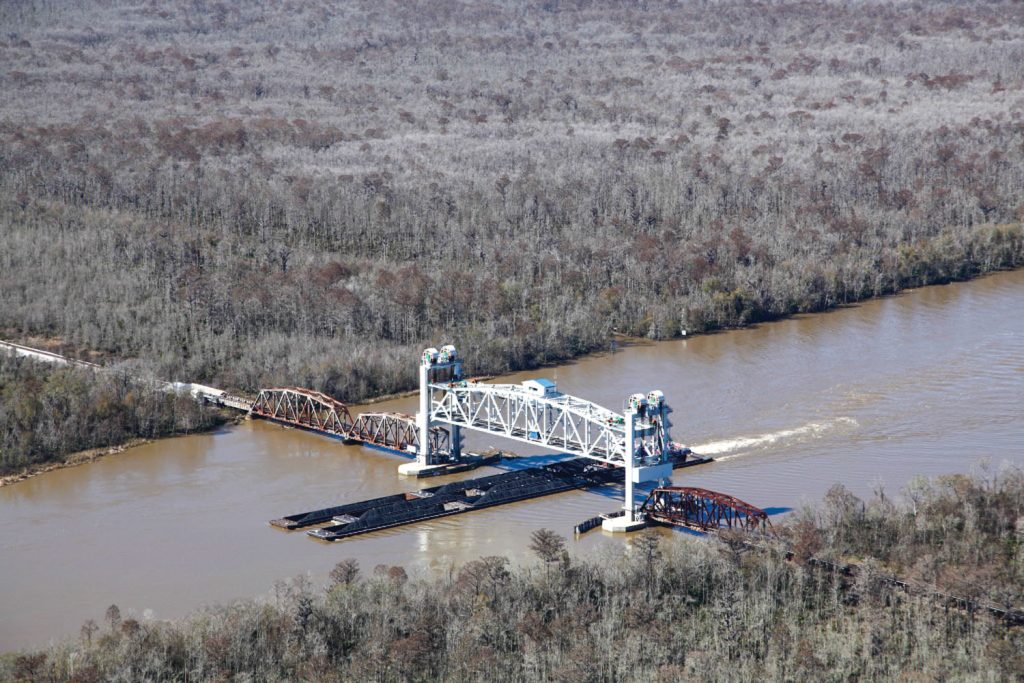 "While the bridge is under temporary repair status, a bridge tender and maintenance staff will be onsite 24/7 until the permanent repairs are made," Navigation Bulletin 23-31 stated. "Bridge tender phone [is] 251-434-1317.
According to the Mobile District, CSX will coordinate 6- to 10-hour temporary closures of the bridge to navigation as replacement parts arrive and repairs are made. CSX will give notice at least 72 hours prior to any closure.
"There may be several temporary closures," the navigation bulletin stated. "Once repairs are complete, the bridge will return to using the automated system."
For further information, contact Chad Brumelow at the Black Warrior-Tombigbee/Alabama-Coosa Project Management Office or Anthony Perkins, project manager, at 205-752-3571.
The rail bridge at Mile 14 on the Mobile River is one of 45 movable bridges CSX maintains across navigable waterways, the most of any Class I railroad. The original bridge at that site was a swing span that dated to 1925. That span offered a 146-foot horizontal clearance for vessels, according to CSX, which often required tows to trip through the bridge.
In 2009, CSX announced funding and the award of a contract to Scott Bridge Company of Opelika, Ala., to replace that span with a vertical lift span that would boost horizontal channel clearance to 300 feet and offer a vertical clearance of 60 feet.
That $72 million project was funded primarily through the American Recovery and Reinvestment Act of 2009. The new span opened to navigation in November 2011.
Caption for top photo: "Cattywampus" lift span of CSX Railroad bridge at Mobile River Mile 14 on May 6. (Photo courtesy of Mobile Engineer District)