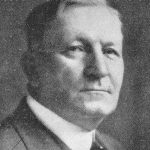 In 1921, the Eichleay Contracting Company, Hays, Pa., constructed a very large steam sternwheel towboat at their yard located on the left bank of the Monongahela River near Pittsburgh. The boat had a steel hull measuring 207 by 45 feet and condensing engines that were 20's, 45's – 9-foot stroke with horsepower that was estimated to be in the range of 1,500. The six return-flue boilers were fired by coal. This vessel was equipped with one of the first installations of automatic stokers to feed these boilers. The owner was West Kentucky Coal Company, and it would bear the name Charles F. Richardson after the well-known president of that firm. Richardson made his home at Sturgis, Ky., and would die at age 78 at St. Louis on July 17, 1939.
When new, the Richardson towed coal from the Paducah, Ky., area to points on the Lower Mississippi River. Way's Steam Towboat Directory says that Capt. William M. Crow was master of the boat at that time, and one of the pilots was Capt. Henry Buckingham Nye, veteran of the Combine coal towing days. Capt. Nye had been a pilot aboard the fabled Sprague for some 13 years.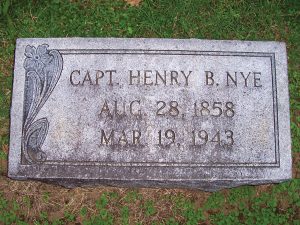 Born at Pomeroy, Ohio, in 1858, Nye later settled at Paducah. He would continue working aboard the Charles F. Richardson until he retired in 1934. He died at Paducah on March 19, 1943, and his obituary was prominently featured in The Waterways Journal. Nye is buried in the Elks Section of Oak Grove Cemetery, and some years ago, I strolled through that picturesque place and found his grave. For many years, a navigation light on the right bank of the Lower Mississippi a few miles below Cairo was known as Henry Nye light.
Capt. Fred McCandless was master of the Richardson later when it performed some towing feats that attracted a lot of attention. In 1938, the big boat towed 61 pieces of equipment belonging to the U.S. Engineer Department from Paducah to Cincinnati on the Ohio River. It was on charter to Commercial Solvents Company in 1939 and was towing between New Orleans and Peoria, Ill. In 1941, with McCandless as master, Capt. Cal McCandless, pilot and Arthur Simpson, chief engineer, the Richardson delivered a tow of fuel oil to St. Paul, Minn. The size and power of this boat, coupled with these towing accomplishments, attracted much attention. It was a surprise, and somewhat of a mystery then, that at the beginning of World War II in 1942 it was sold to the Mississippi Valley Barge Line Company and laid up at Cincinnati.
Sign up for Waterway Journal's weekly newsletter.
Our weekly newsletter delivers the latest inland marine news straight to your inbox including breaking news, our exclusive columns and much more.
About any towboat that could turn a wheel was working during those crucial war years, yet the big Richardson remained idle. Way's indicates that it was perhaps the sole boat that did so during those "boom river traffic days." It may have well been the only large steam-powered towboat tied up during that time, but the Inland Waterways Corporation (Federal Barge Line) also had its large diesel towboat Herbert Hoover laid up at Cairo during those years. I have heard speculation that a labor shortage was a prime reason for these boats not working when their power would have been sorely needed, but I have never seen any definitive reasons in print.
The Charles F. Richardson remained tied up following the war, and the Valley Line ultimately dismantled it at Cincinnati. The remains of the boat became a part of the Valley Landing there for many years. The pilotwheel was presented as a gift to the Sons & Daughters of Pioneer Rivermen who in turn allowed it to grace the ceiling of the Gun Room dining room at the Hotel Lafayette at Marietta, Ohio. During a remodeling project at the hotel in 1985, the pilotwheel was transferred to the Ohio River Museum at Marietta.
In a somewhat interesting aside, the big diesel Herbert Hoover that had been laid up at Cairo was sold to the Valley Line in 1948, which took it to Dravo for a refurbishing and repowering. It was renamed New Orleans and would operate for them until about 1965.
At some point, the Richardson was sold to the Bernstein interests who had intentions of rebuilding it into a floating restaurant for the Cincinnati/Covington, Ky., area. It was towed to Chattanooga, Tenn., for the rebuilding but sank there and was scrapped.
Caption for top photo: Str. Charles F. Richardson in coal towing days. (David Smith collection)