Amid the crowd gathered for the opening of a new U.S. 60 bridge over the Cumberland River in Smithland, Ky., Muriel Dickerson stood out.
Dickerson, 102, was living in nearby Salem when the old bridge was dedicated in 1931 and remembered how important it was to have the bridge, which connects the northern and southern halves of Livingston County, Ky. She has continued to live in the community her entire life, going across the bridge on a regular basis.
She wasn't about to miss the dedication of the new bridge on May 15.
"I just wanted to be here so bad," she said, with a wide grin from under the shade of an umbrella held by her daughter, Beulah Holt.
Sign up for Waterway Journal's weekly newsletter.
Our weekly newsletter delivers the latest inland marine news straight to your inbox including breaking news, our exclusive columns and much more.
What Dickerson didn't expect was getting to be part of the ceremony.
Dickerson was greeted by Kentucky Gov. Andy Beshear before the ceremony, and he turned to her again at its conclusion.
"Ma'am, I can't do this on my own," he told her. "I'm going to need your help."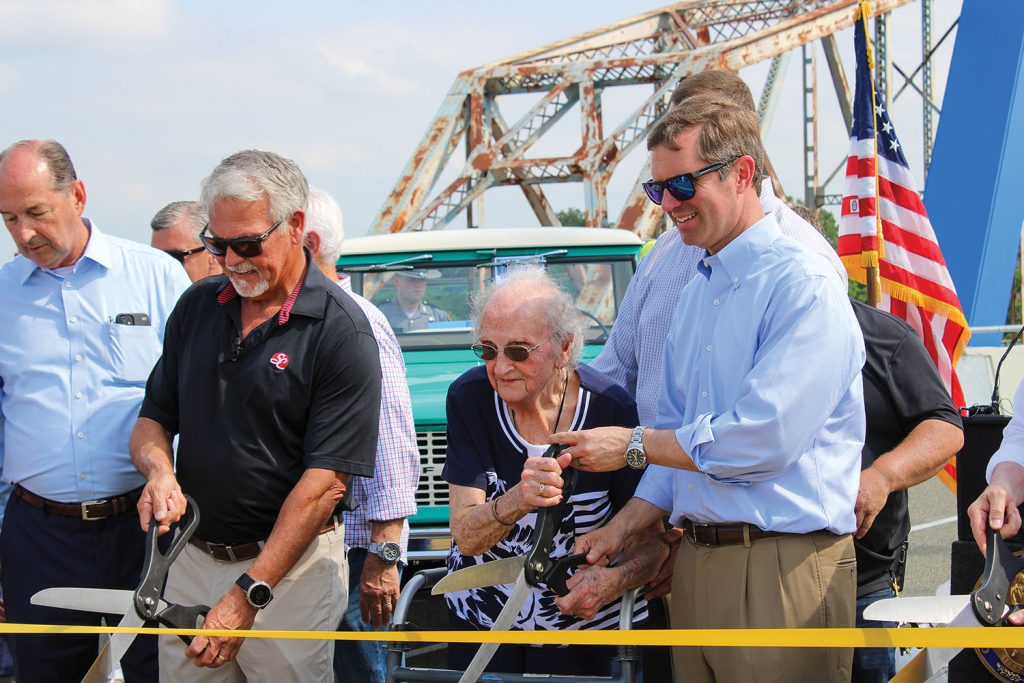 Along with other state and local dignitaries, Dickerson helped cut the ribbon to ceremonially open the Jim R. Smith Memorial Bridge, named for the founder of the bridge's prime contractor, Jim Smith Contracting Company. Smith was a Smithland native.
The new bridge was planned with consideration given to both the traffic that will be traveling on it and under it.
Simulators from Seamen's Church Institute's Center for Maritime Education in Paducah, Ky., were used to help determine pier placement and bridge alignment. The simulations helped to determine that at normal pool the bridge piers should be out of the water to help prevent hits from passing tows, said Keith Todd, spokesman for the Kentucky Transportation Cabinet's District 1 office in Paducah.
American Bridge Company built the bridge's steel superstructure at the Paducah-McCracken County Riverport Authority beginning in July 2021, providing another link to the maritime industry. The truss was built atop four jumbo barges and three 120-foot barges provided by Paducah Barge and McDonough Marine Service. James Marine reinforced the jumbo barges to handle the 6.7-million-pound load, which included both the truss and temporary supporting steel.
When completed last September, three Excell Marine towboats floated the 700-foot-long span on barges on the Tennessee, Ohio and Cumberland rivers, a 14-mile, four-hour trip, before construction crews jacked it up and into place.
May 15 Ceremony
Jim Smith Contracting Company provided a catered lunch of hamburgers and hotdogs before the bridge dedication and offered an opportunity for the public to walk over the bridge  before it opened to vehicle traffic later in the afternoon. Parked on the bridge for the occasion were two vehicles, a 1931 Ford Model A representing the year the previous, the Lucy Jefferson Lewis Memorial Bridge, opened, and reproduction of a 1966 Ford Bronco, the vehicle Jim Smith drove when he started his contracting business.
Kentucky Supreme Court Justice Shea Nickell was one of those in the crowd. His wife's family is from Livingston County, along with some of his own ancestors.
"Now that we have the Smithland bridge to join with the Ledbetter bridge [crossing the Tennessee river in south Livingston County], it opens the door for greater development for the entire region, which hopefully will bring more jobs and prosperity," Nickell said. "Besides that, it is just good to be here for such a historic occasion for the community."
The new bridge, including the approaches, is 1,912 feet long and 40 feet wide with two 12-foot driving lanes and 8-foot shoulders. Kentucky Transportation Secretary Jim Gray said that extra width will make it much easier for farm equipment to cross it without escorts to stop traffic. Additionally, as it is located near Livingston Central High School and nearby middle and elementary schools, the new bridge will be safer for school buses to cross.
"Kentuckians are going to love their new bridge, which will make their commutes safer," Beshear said. "This standout bridge assembled at the Paducah Riverport and transported to Smithland showcases the ingenuity used to usher in a much-needed structure that will be treasured for generations to come."
Beshear said inadequate infrastructure had been a burden on western Kentucky for too long, but added that is changing, both with the construction of the new bridge and other projects, including a new Interstate 69 bridge to be built over the Ohio River between Henderson, Ky., and Evansville, Ind.
"You see what we're doing on the river and with the rail because western Kentucky deserves every bit of infrastructure to compete with not only every other region of the state but region in the country because, let me tell you, we are booming in a way we never have in economic development before," he said.
He added that western Kentucky is now the hottest region of the state for new job growth.
While the 1931 bridge required a toll of 25-35 cents for most vehicles, 50 cents for trucks and 5 cents for livestock, the new bridge is a "$63.6 million upgrade," Beshear said.
He also said it was fitting to name the bridge after Jim Smith and noted that Jim Smith Contracting Company had chosen to expand its business in Grand Rivers, also in Livingston County, in 2021.
State Rep. Randy Bridges called Smith a dear family friend who started his business by completing repairs to his own backhoes and bulldozers at night so they would be ready for work the next morning. The company is now one of the largest bridge and road work contractors in the state.
"He had a vision, and he worked his tail off to achieve that vision," Bridges said.
He called the bridge naming a small gesture of the state's appreciation but, with the accompanying highway sign, unveiled as part of the ceremony, also a highly visible reminder of Smith's legacy.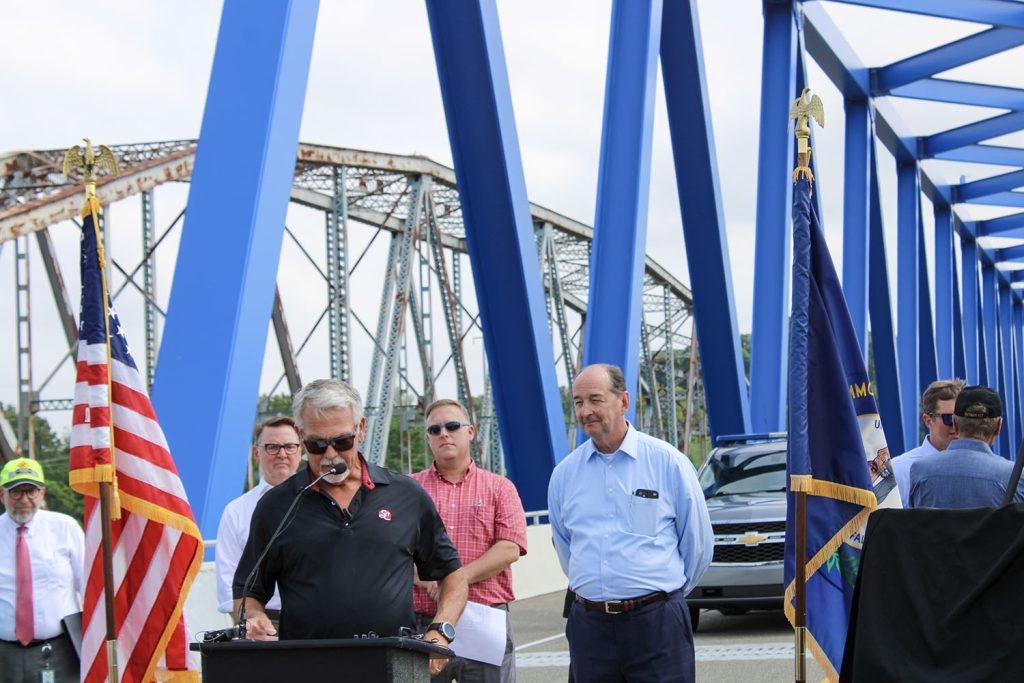 Rex Smith, president of Jim Smith Contracting Company and one of Jim Smith's sons, said his father would have thought the bridge was a monumental achievement for both the company and for western Kentucky.
"He did everything he did, thinking about what kind of impact he was going to have in the world," Smith said.
He also noted that the bridge was built on time and under budget.
"On behalf of the Smith family and Jim Smith Contracting, I would like to thank the General Assembly and Gov. Andy Beshear for honoring my father, Jim R. Smith, with this monumental tribute," he said. "He would be so humbled to know that this incredible piece of economic infrastructure bears his name in the place he loved the most, Smithland, Ky. It was always his passionate vision for the region that propelled him to risk, build and dream great things for Livingston County. This fabulous structure that serves to connect this county bifurcated by the Cumberland River, will stand to greet its visitors now and forever."
With traffic now moved to the new bridge span, work will begin to prepare the 1931 bridge for demolition in August. Final roadway resurfacing and finishing of the new bridge's surface is scheduled to be complete by December.