In the last column we looked at the Husky, built by F.W. Olcott at Paducah in 1937 as the initial vessel of the Upper Mississippi Towing Corporation. UMTC sold it in 1948 to Canton Towing Company, Canton, Mo. The boat was 90 by 22 feet and had 700 hp. from a pair of Superior diesels, and kort nozzles had been added at St. Louis Ship in 1946.
The boat was equipped with radio early on, with a call sign of KBRZ. In 1950 that was changed to WA 5963.
In January 1951 the boat was sold to the Pure Oil Company, Chicago. In the April 7, 1951, issue of The Waterways Journal, J. Mack Gamble was still reporting the boat in his Upper Ohio News as the "Husky No. 1." The boat had traditionally been known as that since UMTC had two other boats that were named Husky II and Husky III.
In the April 21, 1951, issue of the WJ, Gamble mentioned the boat under a new name, reporting that "The Pure Oil towboat W.Z. Keeley was down on April 9 with one empty and one pump boat. Capt. Claude Brown was aboard." The boat had actually been renamed W.V. Keeley, after an executive of Pure Oil. Gamble continued to report the boat as " W.Z." until his column in the issue of July 28, when it was noted that the "W.V. Keeley was down with two empties. Capt. Lee Wiatt was in charge with Capt. Dana Young, pilot." Pure utilized the boat primarily on the Upper Ohio and Kanawha rivers.
Sign up for Waterway Journal's weekly newsletter.
Our weekly newsletter delivers the latest inland marine news straight to your inbox including breaking news, our exclusive columns and much more.
In June of 1952, a young George M. "Mike" Hager had graduated from high school in Charleston, W.Va., and was looking for a summer job. He heard from a neighborhood friend that Pure Oil needed someone aboard their boat on the Kanawha. He found his way to the dock where the Keeley was discharging and Capt. Claude Brown, then a port captain with Pure, hired him as an oiler. He actually boarded the boat a few days later at the Marietta Manufacturing Company shipyard at Point Pleasant, W.Va. Hager worked the rest of the summer aboard the Keeley, and now at age 89 can vividly recall virtually every day of what was then an adventure to him.
While he may likely be the last remaining crew member from the W.V. Keeley in its Upper Ohio and Kanawha days, Hager recalls Capts. Lee Wiatt, Don Hamett and Otto "Ott" Aeiker among those who stood watches aboard the boat that summer. He also remembers deckhands "Happy" Cox of Vevay, Ind., and Don Reese from the Charleston area. Hager, who now lives in Huntington, W.Va., went on to college and eventually retired as an air traffic controller, but says "I often wish I had stayed on the river!"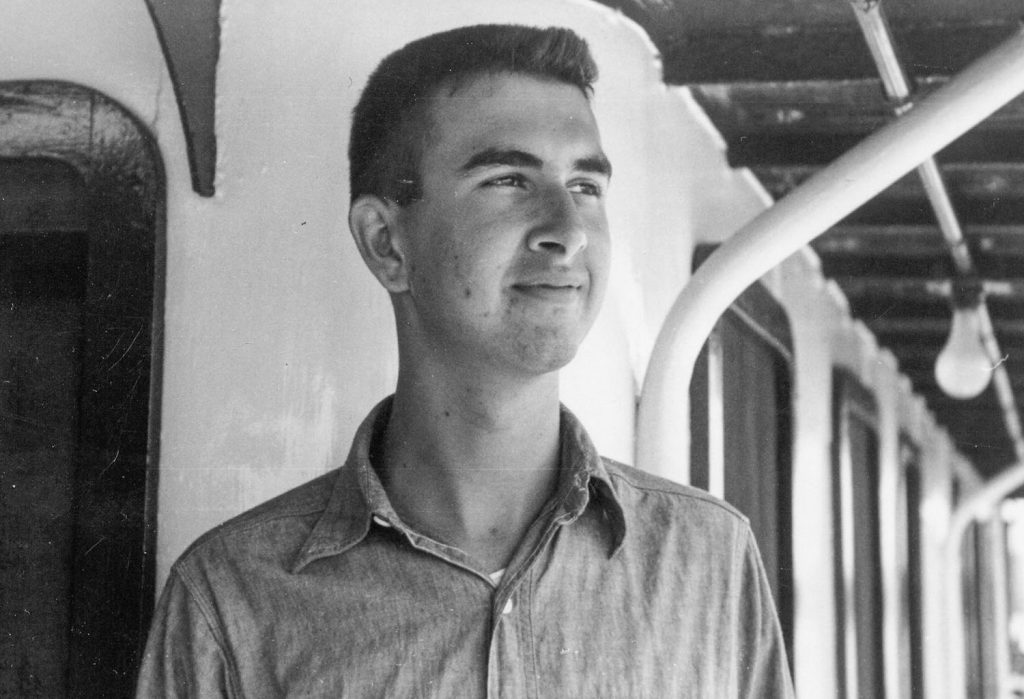 This writer met Mike Hager several years ago through a local barbershop chorus. The first time I attended, the director had asked what I did for a living, and I answered that I had worked on the river all my life. A tall, white-haired man with a deep bass voice perked up and asked "You work on the river?" When I answered in the affirmative, he responded "I did too, in 1952!" I asked what boat and he enthusiastically replied "The W.V. Keeley, WA 5963!" and I knew I had encountered a kindred spirit.
The Keeley went on in Pure Oil service (without Mike Hager), unchanged in appearance from its days as the Husky until October 1958 when it was sold to Hannah Inland Waterways Corporation, Lemont, Ill. It was rebuilt and converted to a retractable pilothouse boat at St. Louis Ship. Photos taken immediately after this rebuilding show it still named W.V. Keeley, but Hannah soon renamed it Mary E. Hannah. It was sold in 1961 to Clark Marine Service, Baton Rouge, and renamed Clark Marine. In 1963 it was on the Missouri River, operated by Kansas City Towing Service, and named Big John. In 1964 it was again sold, this time to Delta Concrete Company, Bellaire, Ohio. That same year, the original Superior engines were replaced with a pair of GM 8-268A engines totaling 1000 hp. In April 1970, it was sold to Dravo Corporation, Pittsburgh, and again in 1971 it was sold to Paul Suchko, West Newton, Pa., which renamed it Helen K. In 1973 it was sold to G&C Towing, Point Pleasant, W.Va.
In 1974 Crew Towing Company, New Albany, Ind., purchased the boat. In 1976, it was repowered with a pair of Cat D353 engines of 850 hp. In August 1977, it was renamed Debra Beth, and was often seen towing in the Louisville, Ky., area until sold in July 1984 to J.D. Shake Construction Company, Madison, Ind. In 1998, the boat once again changed hands when it was sold to Aquarius Marine Inc., Ludlow, Ky. and renamed Alexandra M. In September 2005, it was sold to Specialty Marine Service LLC, Olive Branch, Miss. August 2006 saw it sold to Tribal Marine Inc., Houma, La., and renamed Mary Alice. It was sold a final time in July 2009 to Tippy's Towing Inc., Morgan City, La.
The Mary Alice was last listed in the 2014 Inland River Record and appeared in the Off The Record section of the 2015 IRR, shown as "out of documentation." Once hailed in its UMTC days as one of the "biggest little towboats," this venerable towing vessel, built on the bank at Paducah, survived through 16 owners and under nine different names for some 77 years.
Caption for top photo: Painting of the W.V. Keeley by Mike Hager's father. (Courtesy Mike Hager)
Capt. David Smith can be contacted at davidsmith1955obc@gmail.com.