Book Review: Voices On The River: 22 Days On The Delta Queen
If you haven't had the opportunity to take a trip aboard the Delta Queen, reading Dennis Brown's "Voices on the River: 22 Days on the Delta Queen" is the closest literary equivalent you can have. From the more than 60 trips Brown took aboard the "Queens" (Delta, Mississippi and American), he distills three weeks aboard the Delta Queen as loose threads on which he strings dozens of stories about rivermen and the historical figures connected to the river towns at which the DQ stops. His leisurely narrative covers cruises on the Mississippi and Ohio Rivers—first, east from St. Louis to Pittsburgh; then south to New Orleans.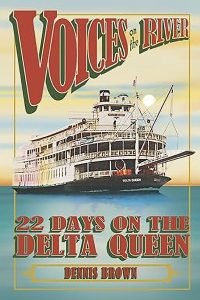 Besides being a lifelong river and Delta Queen enthusiast, Brown spent seven years as a publicist for CBS Entertainment, meeting lots of people in show business. Several of his DQ gigs were working trips, as he introduced a 1982 TV mini-series called The Blue and the Gray shown as part of the cruise, in which Gregory Peck played Abraham Lincoln, and which Brown helped publicize.
Brown skillfully interweaves his river stories with his showbiz stories, expert at relaying unexpected twists or little-told incidents.  Many of Brown's showbiz friends either shared his interest in riverboating or had some connection with the Delta Queen, or both. As you might expect of a successful publicist, Brown is interested in people of all kinds, the obscure as well as the famous, once-famous or near-famous. When telling anecdotes about celebrities or historical figures connected with the rivers, or the port towns where the DQ stops along the way, Brown always manages to relay new angles or unexpected details.
Waterways Journal readers may be most interested in the series of conversations Brown has with Capt. Frederick Way, with whom he shared a DQ cruise when Way was 85. From Capt. Way, Brown gets plenty of stories about the DQ's history. He shares another cruise with John Hartford, the country musician with a life-long love of the river who became a licensed river pilot after his musical success. 
Sign up for Waterway Journal's weekly newsletter.
Our weekly newsletter delivers the latest inland marine news straight to your inbox including breaking news, our exclusive columns and much more.
Brown is interested in tracing little-known connections to the rivers. Just one example of many: Richard Bissell, the novelist whose memoir became the basis for the successful Broadway play "The Pajama Game," also held a pilot's license, and he wrote a fictional account of a towboat trip during a flood.
Since the cruises happened in 1986, most of the celebrities and public figures Brown meets or recalls are of a certain generation: President Jimmy Carter, Gregory Peck, Roy Rogers, Louisiana humorist Justin Wilson, actor Rip Torn and former New Hampshire Gov. Lane Dwinnell.
"Voices on the River" is the type of book you can dip into, set aside and take up again, or to re-read, at the leisurely pace of a winding river. It's available from amazon.com.